Fire Doors, Life Safety, and Hardware: Avoiding code confusion
March 27, 2014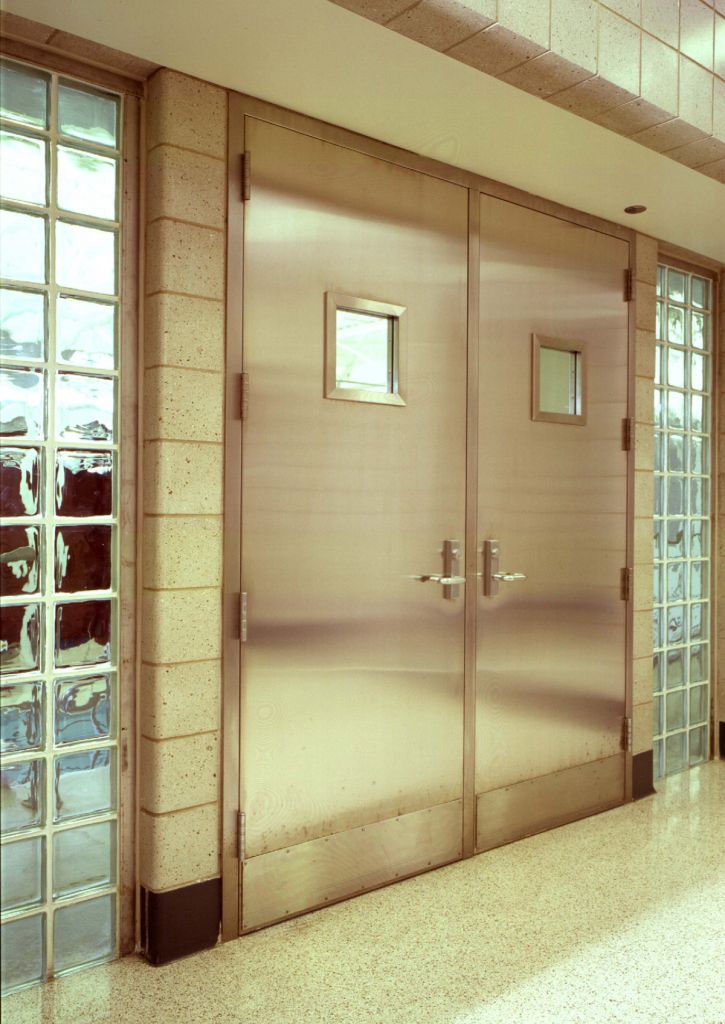 By Alan D. McMurtrie, DAHC
It is an all-too-common tale: a job is finished, and it is time for the inspectors to show up and sign-off on the entire project. Unfortunately, they find the doors and hardware are not to code. This comes as a surprise. After all, the design team relied on the same code information used on its last building in Ontario and… this facility is in Québec, which has different requirements.
This scenario is why it is important to get hardware consultants involved early in the planning of a building. With the hardware consultant collaborating from the beginning, problems can be avoided later. After all, building codes will ultimately tie into the planning for the access control system being proposed. While Canada is recognized around the world for its building safety, it is the country's codes that ensure someone is taking the responsibility—and liability—for life safety, fire doors, and security.
The challenge is there is such a wide range of codes: the National Building Code of Canada (NBC), the Québec Construction Code (QCC), the provincial Alberta Building Code (ABC), Ontario Building Code (OBC), British Columbia Building Code (BCBC), and other local city variations. These codes have been developed over time to incorporate best practices and ensure new build methods and materials can be used. (For instance, NBC includes numerous reference documents that form the complete building code.)
The result of all these codes is design/construction professionals can face an overwhelming amount of information. To make matters worse, some inspectors are not fully aware of every aspect of the building and, as a result, miss some important points related to doors and hardware.
Sorting through the codes
The NBC reference document for fire doors is the U.S. National Fire Protection Association (NFPA) 80-2007, Standard for Fire Doors and Other Opening Protectives. Under its Section 6.4.4–Locks or Latches, latch projection needed for pairs of doors is determined by how the manufacturer has tested its doors with various types of locksets. Depending on the testing, a 19-mm (¾-in.) latch throw may be required. Further, under NFPA 80-2007, Section 5.2–Inspection, owners are required to have their fire doors inspected annually, document their condition, and repair any deficiencies "without delay."
What is the solution for meeting code requirements? Since door hardware specification consultants focus solely on a small part of the NBC or other local codes, they are familiar with the codes related to doors and hardware. Manufacturers can provide help early in the project.

In another example, NBC's reference document for life safety is NFPA 101-2009, Life Safety Code, which includes Section 7.2.1.5.9.2 (discussed later in this article). Many interior designers want to use lever designs from Europe, to which the building owners agree provided there is a dead-bolt on the building master key system. However, this installation creates two operations—one to unlock the door and another to unlatch it. Except on a residential dwelling unit, a door must unlatch with a single motion. This seems simple and straightforward enough, yet it is still one of the most commonly missed code violations.
This problem is easily solved by asking the manufacturer to show a selection of designer levers that can be used on their mortise locks, as this allows additional dead-bolt and latch-bolt retraction with the lever.
By getting into more details on issues regarding the codes, a design professional will be able to see how little items can potentially cause big problems with a contractor. For instance, it is so easy to install frames that are not within specified tolerances (square, plumb, twist) that meet NFPA 80. Likewise, it may 'make sense' to rework fire doors or frames to accept electrical access control hardware, but this cannot be done.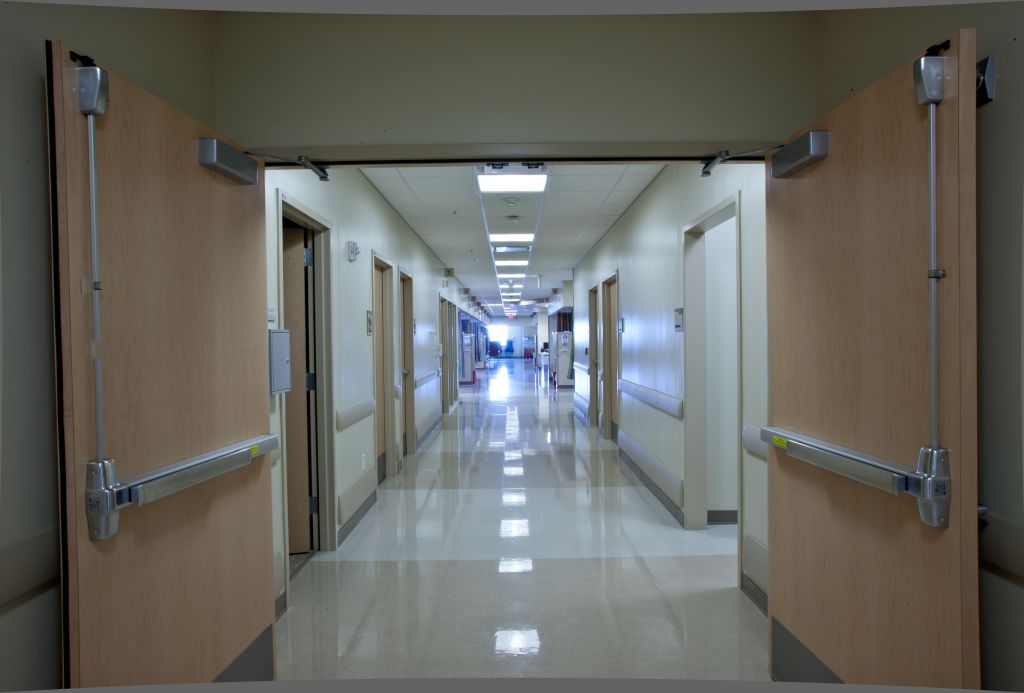 The purpose of the fire codes listed in NBC and the 2006 OBC is to ensure the containment and prevent the spread of a fire to other parts of the building.1[4] This helps protect the occupants, as well as reduces property damage. Fire-rated openings include the entire assembly—door, frame, and hardware—and all need to be tested, labelled, and compatible. Both NBC and OBC requirements for fire doors are covered under NFPA 80-2007. The specifics for Ontario are covered in the following paragraphs.
4.8.4.1–Undercut
The maximum undercut allowed on a fire door is 19 mm (¾-in.).
6.1.2−Swinging Fire Door Components
A fire door assembly consists of components that are separate products incorporated into the assembly and allowed to have their own subcomponents.
6.1.4−Operation of Doors
All swinging fire-rated doors must be closed and latched at the time of a fire.
6.3.1.7–Clearance
The clearance between the door and frame at the head, hinge or latch jamb shall not exceed 3.175 mm ± 1.6 mm (1/8-in. ± 1/16-in.) for steel doors. The clearance between the door and frame at the head, hinge, or latch jamb shall not exceed 3.175 mm for wood doors. These limitations also apply to the meeting edges on pairs of doors.
6.4.1−Closing Device
Unless otherwise permitted by the authority having jurisdiction (AHJ), a closing device must be installed on every fire door. All closing mechanisms shall be adjusted to overcome the resistance of the latch mechanism so positive latching is achieved on each door operation.
6.4.1.2−Coordinating Device
Co-ordinators are required if the latch bolt or astragal can prevent the inactive door from closing and latching.
6.4.3.1–Hinges
Mortise or butt hinges shall be ball bearing steel (or stainless steel), labelled continuous hinges as permitted in accordance to their listing or off-set pivots with intermediate pivots in accordance to their listing.
Mortised hinges shall be fastened to the door and frame with steel machine screws and be at least 114 by 102 mm (4 ½ by 4 in.) while surface hinges shall be fastened with steel through-bolts. Doors up to 1524 mm (60 in.) high shall have two hinges and one additional hinge for every extra 762 mm (30 in.) or fraction thereof.
6.4.4−Locks or Latches
Any lock, latch, or fire exit hardware shall meet both life safety (i.e. single motion to unlatch) and fire protection requirements. All single doors and the active leaves on pairs of doors shall have an active latch that cannot be held retracted, unless it projects automatically upon fire alarm.
The inactive leaf on pairs of doors not required for exit purposes may have automatic flush bolts, except where panic hardware is required. Listed manual flush bolts or listed surface bolts can be used on pairs of doors to rooms not normally occupied. Doors in a means of egress shall not have deadbolts unless retracted when the latch bolt is retracted (i.e. simultaneous latch retraction and interconnected locks).
6.4.5−Protection Plates
Protective plates more than 406 mm (16 in.) high require specific door manufacturer's listing. To not need a label, the plate has to be located within the bottom 406 mm of the door. In other words, a stretcher plate needs a label because it is mounted above this area. Larger field-installed protection plates must be labelled and installed in accordance with their listing.
6.4.7–Astragals
Doors swinging in pairs, where located in a means of egress, shall not be equipped with astragals that inhibit free use of either leaf. Pairs of doors that do require astragals must have at least one attached in place to project approximately 19 mm (3/4 in.) or as otherwise indicated in the individual published listings.
6.4.8−Gasketing
Gasketing on fire doors or frames shall be furnished only in accordance with the published listings of the door, frame, and gasketing material manufacturer.
6.5–Installation
All devices shall be installed in accordance to the manufacturer's instructions and adjusted to function as described in the listing.
NFPA 80-2007, 5.2.1–Inspection
Fire door assemblies shall be inspected and tested not less than annually and a written report shall be signed and kept for inspection by the AHJ. Doors, frames, and hardware are tested and Underwriters Laboratories (UL)- or Intertek Testing Services (ITS)-labelled based on performance. No single door leaf may exceed 1219 mm (48 in.) in width or 3.1 m (10 ft) in height.
Life safety and door hardware
The purpose of the life safety codes is to ensure the means of free egress of the occupants in the building from any location in the event of a fire or other emergency condition. This includes any door between an occupied area and the public way. The building occupancy determines the need for certain types of door swings and use of acceptable hardware with assembly occupancy being of the highest concern. The wording for these codes vary depending on the jurisdiction, however, the primary reference document is NFPA 101-2006.
There is somewhat of a long occupancy section. It defines a structure according to its use and how many people are within the building. This, in turn, also sometimes defines the type of door hardware that must be used. A hardware consultant will always start with that section to ensure compliance. Other highlights of NFPA 101-2006 (Chapter 7, "Means of Egress") are explored below.
7.2.1.2.4−Minimum Door Width
Door openings in a means of egress shall not be less than 820 mm (32 in.) in clear width, measured with the door open at 90 degrees.
7.2.1.4.2−Swing
Hinges or pivoted swing type doors shall swing in the direction of egress travel where serving a room or area with an occupancy load of 50 or more people. However, in Québec, this is needed in rooms or areas with an occupancy load of 60 or more people. This is also required for high-hazard occupancies and other codes require it for exit enclosure doors.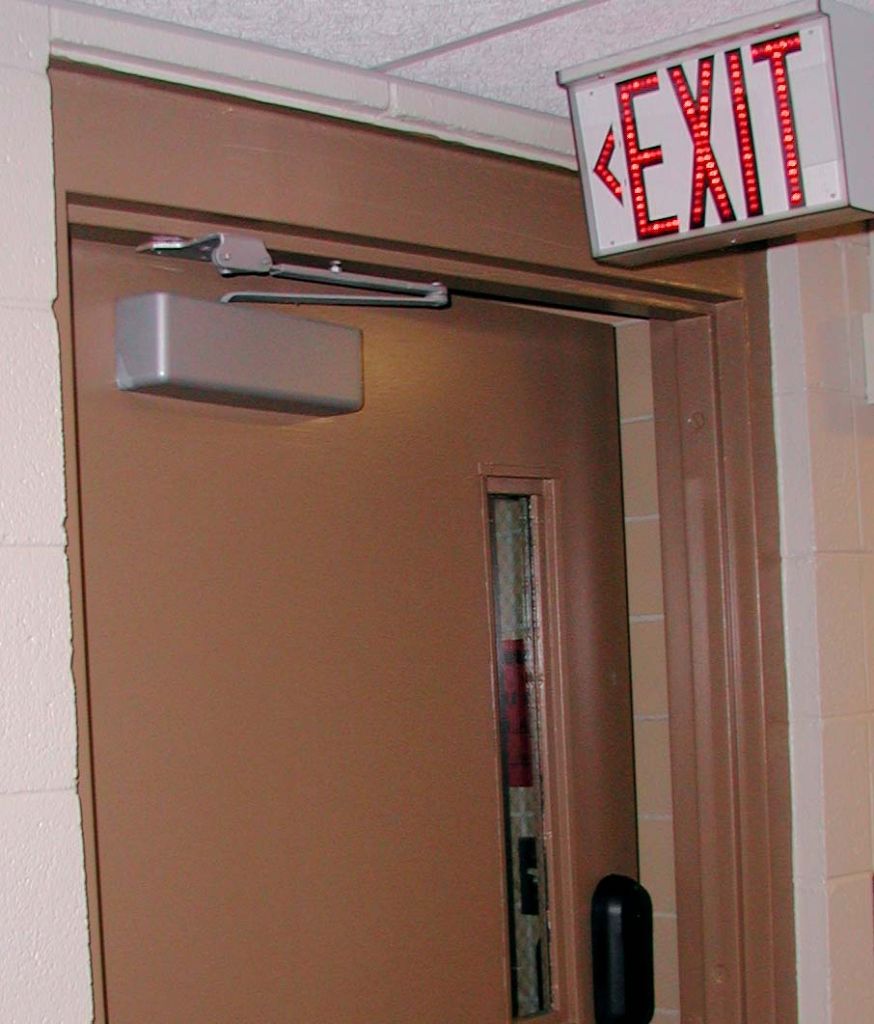 7.2.1.4.5−Force to Open
The forces required to fully open any door manually in a means of egress shall not exceed 67 N (15 lbf) to release the latch, 133 N (30 lbf) to set the door in motion, and 67 N (15 lbf) to open the door to the required width when applied at the latch side of the door.
7.2.1.4.5.2−Force to Open
The forces required to open an interior door without a door closer shall not exceed 22N (5 lbf) when applied at the latch side of the door.
7.2.1.5−Locks, Latches, and Alarm Devices
Per 7.2.1.5.1, doors shall be arranged to be opened readily from the egress side whenever the building is occupied.
Per 7.2.1.5.2, the lock, when provided, must not require keys, tools, or special knowledge for operation from the egress side.
Per 7.2.1.5.7, stair enclosure doors serving more than four storeys shall meet one of the following:
re-entry from the stair to the building interior;
automatically release of the lock to allow re-entry upon activation of the building fire alarm system; or
select re-entry in accordance with 7.2.1.5.7.1.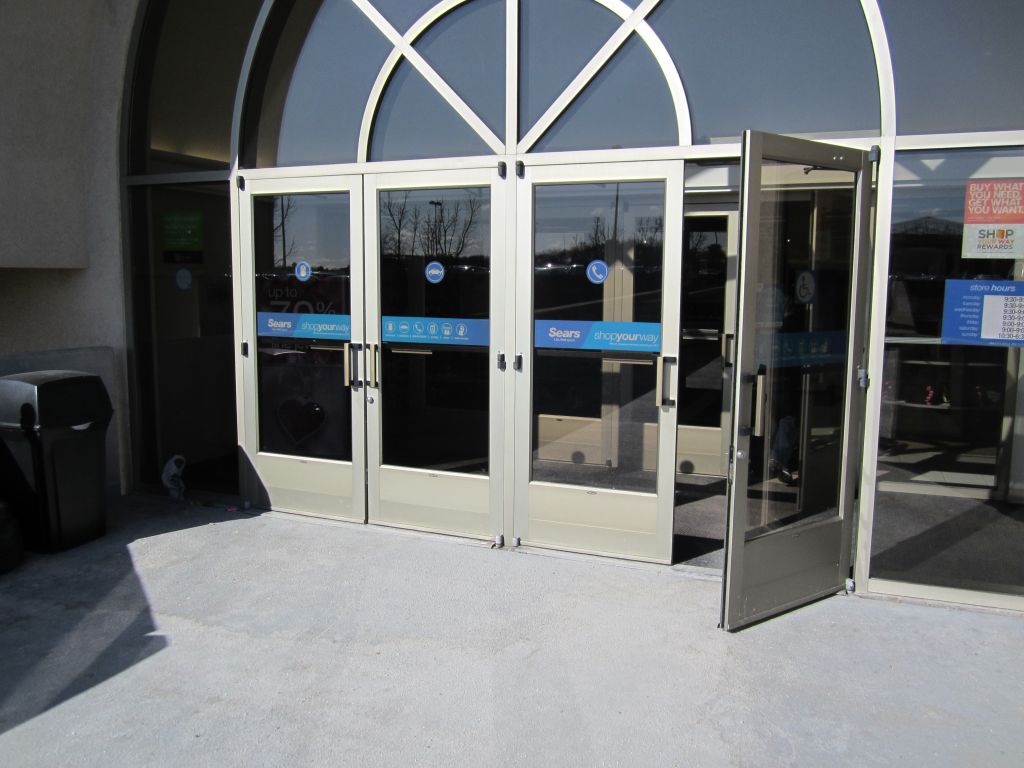 Per 7.2.1.5.7.1, stair enclosure doors shall be permitted to be equipped with hardware that prevents re-entry to the interior of the building provided the following criteria are met:
at least two floors have access;
there are not more than four floors between cross-over floors;
re-entry is permitted at the top or next to top floor;
cross-over floors are marked; and
each stair door indicates the location of the nearest cross-over floor.
Per 7.2.1.5.8, if a stair enclosure allows access to a roof, the door must remain locked or allow re-entry to the stair.
Per 7.2.1.5.9.1, the releasing mechanism for any latch or locking device will be located not below 865 mm (34 in.) and not more than 1220 mm (48 in.) above the finished floor.
Per 7.2.1.5.9.2, the releasing mechanism for any latching or locking device will open in one operation (except in residential occupancy—7.2.1.5.9.3).
Per 7.2.1.5.10, where pairs of doors are required in a means of egress, both doors must release by one of the following methods:
both leaves must be active when exit devices are used; or
self-latching flush bolts on the in-active leaf of non-exit doors.
Per 7.2.1.5.11, no device shall be installed on doors where exit devices are required that restrict or prevent opening the door for the purposes of egress (except as permitted by 7.2.1.6–Special Locking Arrangements).
7.2.1.6.1–Delayed-Egress Locks
Magnetic delay locks or delay-egress exit devices are used in many jurisdictions and are permitted under the 2010 NBC, but not the 2006 OBC. When permitted, delayed mag-locks or delayed-egress exit devices must be connected to the building fire alarm system to release on activation of the alarm or when there is a power interruption. A fire alarm pull station must be installed beside the door, and the door cannot automatically reset after the alarm is turned off. The door must have signage to advise occupants of the delay and the delay cannot be more that 15 seconds (30 seconds in certain approved conditions).
7.2.1.7−Panic Hardware (exit) and Fire Exit Hardware (cUL exit)
Per 7.2.1.7.1, where a door is required to be equipped with panic hardware or fire exit hardware (100 occupants or more) on assembly, educational, and daycare occupancies, the device must meet the following criteria:
actuating portion of a push-pad or cross bar will cover not less than half the width of the door;
will be mounted not below 865 mm (34 in.) and not more than 1220 mm (48 in.) above the finished floor; and
be constructed to release with not more than 66 N (15 lbf) in the direction of egress.
Importance of the door hardware consultant
Regardless of the quality and craftsmanship of the door hardware being specified, if it is not properly incorporated into a building, the full value goes unrealized. Hardware consultants are well-versed on local and national building codes, the unique needs of various types of facilities, and access control and egress requirements—all the things needed to specify door hardware solutions.
In addition to recommendations, good hardware consultants communicate any issues or areas of concern and work to identify the best solutions. They provide customized solutions that are both esthetically and functionally appropriate.
Hardware consultants also prepare a complete hardware specification, hardware sets, and numerical door index. The consultant should:
provide product catalogue cuts and riser diagrams/electrical elevations;
assist with product substitution requests, application and product questions/requests for information (RFIs), and the value engineering process;
review and comment on hardware submittals;
offer certified training on building codes, open architecture, electronic access control, vertical market topics, and mechanical hardware;
consult on necessary building codes to ensure fire, life-safety, and accessibility requirements are met;
review building programming, product options, and potential conflicts with security issues; and
conduct jobsite reviews, pre-installation meetings, and post-installation inspections.
This level of before-project planning will help ensure the building passes its door inspection at the end of the project.
Notes
1 The codes discussed in the remainder of this article meet the present needs for building in Ontario. Every other province from Prince Edward Island to Québec to British Columbia could have changes to these and other codes as well. Additionally, while the code development process typically takes years, people frequently fail to follow the process so they are caught unaware once the new code is adopted. In other words, one should not blindly use the information below to quickly spec out the next project. Having a door consultant check out the latest codes is critical. (back to top[7])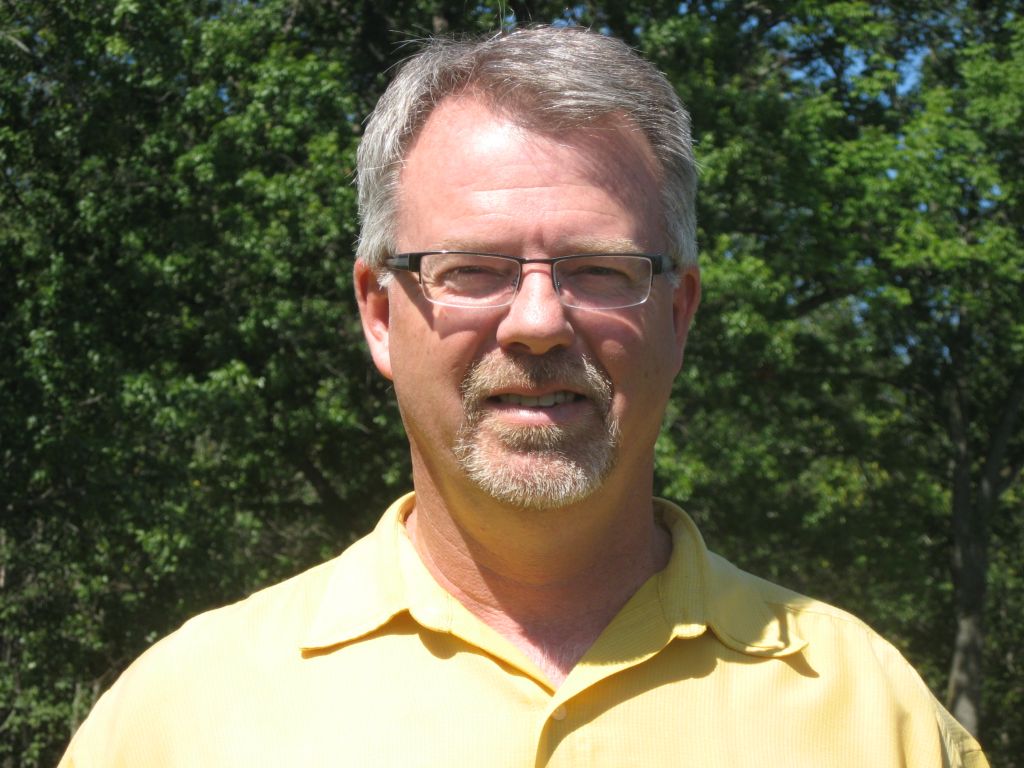 [8]Alan D. McMurtrie, DAHC, is the national specifications manager for Allegion Canada. He is a certified distinguished architectural hardware consultant. McMurtrie is a member of the Door and Hardware Institute (DHI), specifying architectural hardware for design professionals with 28 years of experience in the total openings industry. He can be contacted via e-mail at alan.mcmurtrie@allegion.com[9].
Endnotes:
[Image]: http://www.constructioncanada.net/wp-content/uploads/2014/06/Stainless-SteelHI.jpg
[Image]: http://www.constructioncanada.net/wp-content/uploads/2014/06/Von_Dup98_99Exit_2002HI.jpg
[Image]: http://www.constructioncanada.net/wp-content/uploads/2014/06/Cross-Corridor-Fire-Doors-LBR.jpg
1: #note1
[Image]: http://www.constructioncanada.net/wp-content/uploads/2014/06/13-216pic1.jpg
[Image]: http://www.constructioncanada.net/wp-content/uploads/2014/06/Stairwell-Reentry-2.jpg
top: #note2
[Image]: http://www.constructioncanada.net/wp-content/uploads/2014/06/Drew.jpg
alan.mcmurtrie@allegion.com: mailto:%20alan.mcmurtrie@allegion.com
Source URL: https://www.constructioncanada.net/fire-doors-life-safety-and-hardware-avoiding-code-confusion/
---