By getting into more details on issues regarding the codes, a design professional will be able to see how little items can potentially cause big problems with a contractor. For instance, it is so easy to install frames that are not within specified tolerances (square, plumb, twist) that meet NFPA 80. Likewise, it may 'make sense' to rework fire doors or frames to accept electrical access control hardware, but this cannot be done.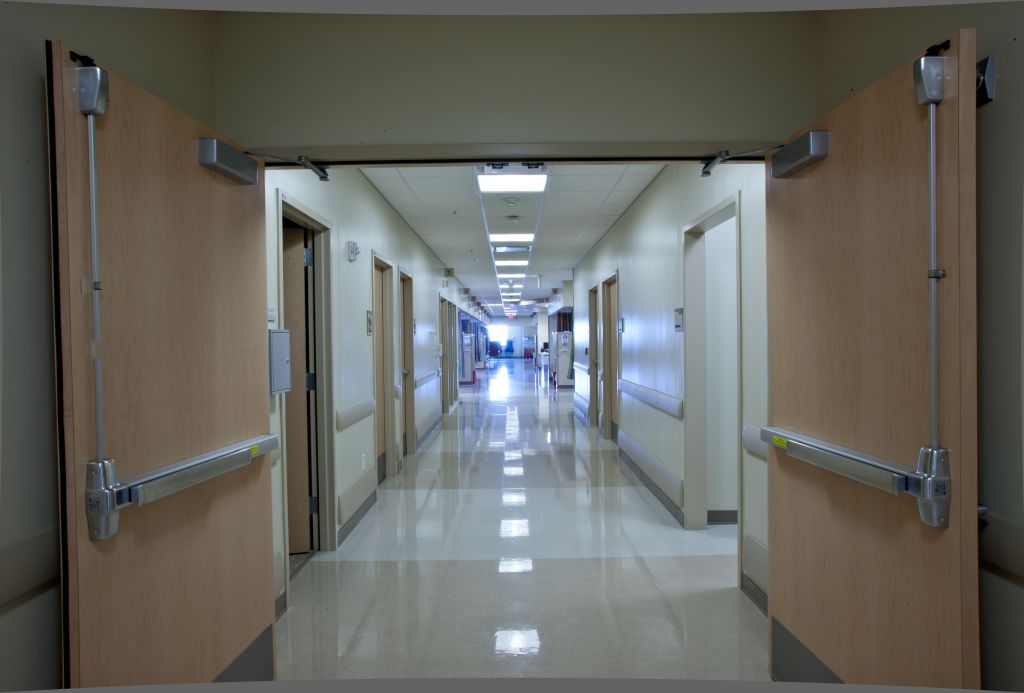 The purpose of the fire codes listed in NBC and the 2006 OBC is to ensure the containment and prevent the spread of a fire to other parts of the building.1 This helps protect the occupants, as well as reduces property damage. Fire-rated openings include the entire assembly—door, frame, and hardware—and all need to be tested, labelled, and compatible. Both NBC and OBC requirements for fire doors are covered under NFPA 80-2007. The specifics for Ontario are covered in the following paragraphs.
4.8.4.1–Undercut
The maximum undercut allowed on a fire door is 19 mm (¾-in.).
6.1.2−Swinging Fire Door Components
A fire door assembly consists of components that are separate products incorporated into the assembly and allowed to have their own subcomponents.
6.1.4−Operation of Doors
All swinging fire-rated doors must be closed and latched at the time of a fire.
6.3.1.7–Clearance
The clearance between the door and frame at the head, hinge or latch jamb shall not exceed 3.175 mm ± 1.6 mm (1/8-in. ± 1/16-in.) for steel doors. The clearance between the door and frame at the head, hinge, or latch jamb shall not exceed 3.175 mm for wood doors. These limitations also apply to the meeting edges on pairs of doors.
6.4.1−Closing Device
Unless otherwise permitted by the authority having jurisdiction (AHJ), a closing device must be installed on every fire door. All closing mechanisms shall be adjusted to overcome the resistance of the latch mechanism so positive latching is achieved on each door operation.
6.4.1.2−Coordinating Device
Co-ordinators are required if the latch bolt or astragal can prevent the inactive door from closing and latching.
6.4.3.1–Hinges
Mortise or butt hinges shall be ball bearing steel (or stainless steel), labelled continuous hinges as permitted in accordance to their listing or off-set pivots with intermediate pivots in accordance to their listing.
Mortised hinges shall be fastened to the door and frame with steel machine screws and be at least 114 by 102 mm (4 ½ by 4 in.) while surface hinges shall be fastened with steel through-bolts. Doors up to 1524 mm (60 in.) high shall have two hinges and one additional hinge for every extra 762 mm (30 in.) or fraction thereof.

Control the content you see on ConstructionCanada.net!
Learn More.