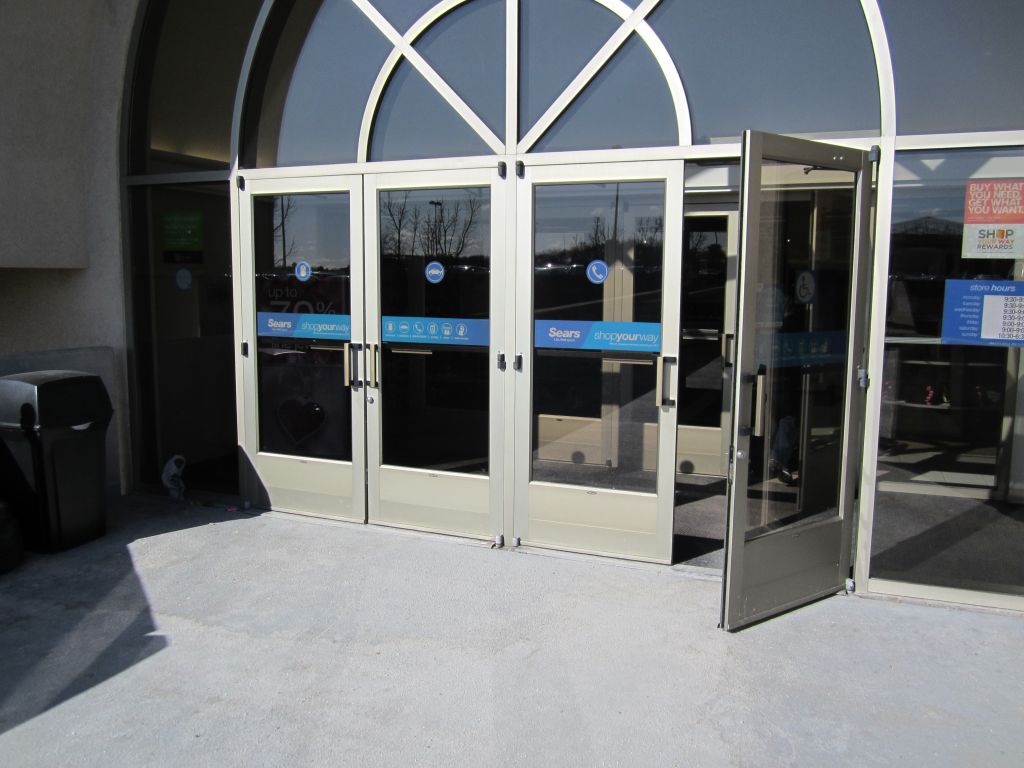 Per 7.2.1.5.7.1, stair enclosure doors shall be permitted to be equipped with hardware that prevents re-entry to the interior of the building provided the following criteria are met:
at least two floors have access;
there are not more than four floors between cross-over floors;
re-entry is permitted at the top or next to top floor;
cross-over floors are marked; and
each stair door indicates the location of the nearest cross-over floor.
Per 7.2.1.5.8, if a stair enclosure allows access to a roof, the door must remain locked or allow re-entry to the stair.
Per 7.2.1.5.9.1, the releasing mechanism for any latch or locking device will be located not below 865 mm (34 in.) and not more than 1220 mm (48 in.) above the finished floor.
Per 7.2.1.5.9.2, the releasing mechanism for any latching or locking device will open in one operation (except in residential occupancy—7.2.1.5.9.3).
Per 7.2.1.5.10, where pairs of doors are required in a means of egress, both doors must release by one of the following methods:
both leaves must be active when exit devices are used; or
self-latching flush bolts on the in-active leaf of non-exit doors.
Per 7.2.1.5.11, no device shall be installed on doors where exit devices are required that restrict or prevent opening the door for the purposes of egress (except as permitted by 7.2.1.6–Special Locking Arrangements).
7.2.1.6.1–Delayed-Egress Locks
Magnetic delay locks or delay-egress exit devices are used in many jurisdictions and are permitted under the 2010 NBC, but not the 2006 OBC. When permitted, delayed mag-locks or delayed-egress exit devices must be connected to the building fire alarm system to release on activation of the alarm or when there is a power interruption. A fire alarm pull station must be installed beside the door, and the door cannot automatically reset after the alarm is turned off. The door must have signage to advise occupants of the delay and the delay cannot be more that 15 seconds (30 seconds in certain approved conditions).
7.2.1.7−Panic Hardware (exit) and Fire Exit Hardware (cUL exit)
Per 7.2.1.7.1, where a door is required to be equipped with panic hardware or fire exit hardware (100 occupants or more) on assembly, educational, and daycare occupancies, the device must meet the following criteria:
actuating portion of a push-pad or cross bar will cover not less than half the width of the door;
will be mounted not below 865 mm (34 in.) and not more than 1220 mm (48 in.) above the finished floor; and
be constructed to release with not more than 66 N (15 lbf) in the direction of egress.

Control the content you see on ConstructionCanada.net!
Learn More.