Life safety and door hardware
The purpose of the life safety codes is to ensure the means of free egress of the occupants in the building from any location in the event of a fire or other emergency condition. This includes any door between an occupied area and the public way. The building occupancy determines the need for certain types of door swings and use of acceptable hardware with assembly occupancy being of the highest concern. The wording for these codes vary depending on the jurisdiction, however, the primary reference document is NFPA 101-2006.
There is somewhat of a long occupancy section. It defines a structure according to its use and how many people are within the building. This, in turn, also sometimes defines the type of door hardware that must be used. A hardware consultant will always start with that section to ensure compliance. Other highlights of NFPA 101-2006 (Chapter 7, "Means of Egress") are explored below.
7.2.1.2.4−Minimum Door Width
Door openings in a means of egress shall not be less than 820 mm (32 in.) in clear width, measured with the door open at 90 degrees.
7.2.1.4.2−Swing
Hinges or pivoted swing type doors shall swing in the direction of egress travel where serving a room or area with an occupancy load of 50 or more people. However, in Québec, this is needed in rooms or areas with an occupancy load of 60 or more people. This is also required for high-hazard occupancies and other codes require it for exit enclosure doors.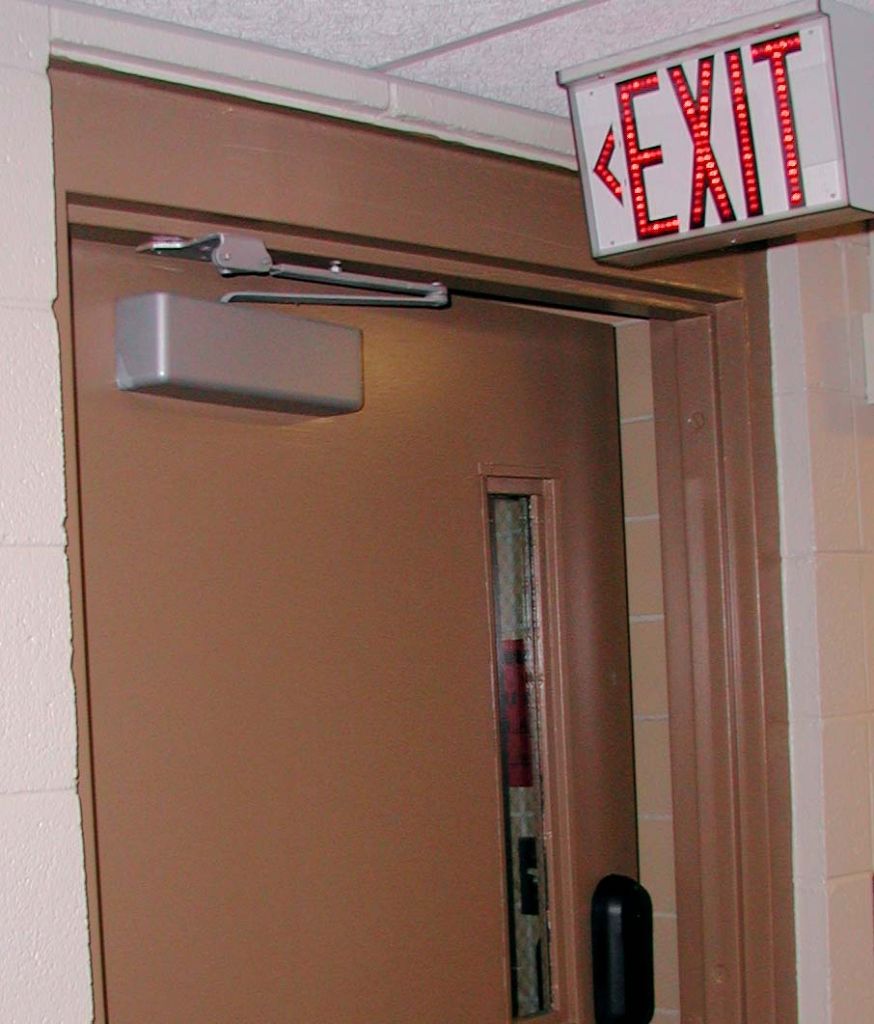 7.2.1.4.5−Force to Open
The forces required to fully open any door manually in a means of egress shall not exceed 67 N (15 lbf) to release the latch, 133 N (30 lbf) to set the door in motion, and 67 N (15 lbf) to open the door to the required width when applied at the latch side of the door.
7.2.1.4.5.2−Force to Open
The forces required to open an interior door without a door closer shall not exceed 22N (5 lbf) when applied at the latch side of the door.
7.2.1.5−Locks, Latches, and Alarm Devices
Per 7.2.1.5.1, doors shall be arranged to be opened readily from the egress side whenever the building is occupied.
Per 7.2.1.5.2, the lock, when provided, must not require keys, tools, or special knowledge for operation from the egress side.
Per 7.2.1.5.7, stair enclosure doors serving more than four storeys shall meet one of the following:
re-entry from the stair to the building interior;
automatically release of the lock to allow re-entry upon activation of the building fire alarm system; or
select re-entry in accordance with 7.2.1.5.7.1.

Control the content you see on ConstructionCanada.net!
Learn More.