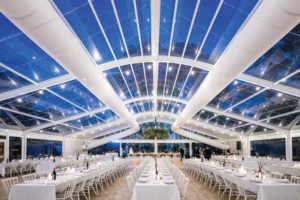 In addition to linear vents, engineers may often design fabric duct with precise surface permeability via a standalone distribution method or in combination with any vent combinations. This also promotes more uniform airflow, temperatures, and efficiency.
Conclusion
There is no doubt inflation, supply chain disruptions, and other residual effects of the pandemic continue to affect Canadian construction projects and delay their completion. However, there might be a silver lining to this dark cloud. Once projects are ready for HVAC completion, choosing fast-installing ventilation materials can help speed up projects. Further, the effects of the pandemic might also prompt the construction industry to look elsewhere for more suitable, alternative building materials, which will also offer energy efficiency, durable esthetics, and high performance for building owners now and in the future. Both metal and fabric duct have a place in the construction industry. Architects, specifiers and design/build contractors should examine every project scope for the best choice.
Notes
1 See "Michigan Cannabis Grow-Op Increases Yields with HVAC System Retrofit," HVAC Insider, hvacinsider.com/michigan-cannabis-grow-op-increases-yields-with-hvac-system-retrofit.
2 Learn more about "Project Files: Episode 29—Aquatic Center at Mylan Park," ACHR News, achrnews.com/articles/143470-project-files-episode-29-aquatic-center-at-mylan-park.
3 Read this article on fabric ducts, constructionspecifier.com/fabric-duct-solves-hvac-engineering-challenges-for-48-m-aquatics-center.
4 Consult "Thermal Comparison Between Ceiling Diffusers and Fabric Ductwork Diffusers for Green Buildings," ScienceDirect, sciencedirect.com/science/article/abs/pii/S0378778811002970.
5 Access this report, "Mechanical engineering student makes discovery in ductwork" by Jesa Wolthuizen, Iowa State University College of Engineering News, news.engineering.iastate.edu/2012/05/25/mechanical-engineering-student-makes-discovery-in-ductwork.
Authors

Brian Refsgaard is president of FabricAir in Suwanee, Georgia, a manufacturer of fabric air dispersion duct. Refsgaard joined FabricAir's sales staff in 1990 and became the firm's CEO in 1999. Today, the FabricAir Group operates 13 sales companies globally and offers a full line of fabric duct and accessories. Refsgaard can be reached at br@fabricair.com.

Simon Khaled, P.Eng., is the Master Group's air distribution product director for eastern and central Canada, as well as business development director for ventilation and engineering business solutions. Khaled has an engineering degree from Polytechnique de Montreal and is a member of American Society of Heating, Refrigerating and Air-conditioning Engineers (ASHRAE) and Building Owners and Managers Association (BOMA) Quebec. Khaled can be reached at skhaled@master.ca.

Control the content you see on ConstructionCanada.net!
Learn More.