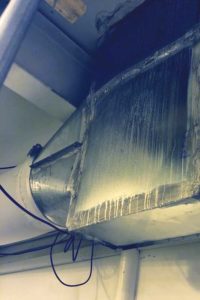 Fabric esthetics
While fabric duct can be more esthetic than the external ribbing and protruding registers common with spiral metal duct, it can sag and deflate when the air handler is off or operating at partial capacity. As a result, the fabric duct industry has taken great strides to reverse this disadvantage by using internal and external support systems which give it a near or 100 per cent inflated appearance.
Shape retention innovations include metal or fibreglass internal or external support hoops. Depending on the manufacturer, these supports are factory installed and do not require assembly on-site. However, some types may require additional labour. Visible external hoops affect the streamlining of the duct surface, but do not add friction loss. While internal hoops are not visible from the outside, if left exposed inside the duct, they can add significant friction loss. However, if the internal hoops are enclosed in fabric sleeves, the friction loss decreases significantly.
Another esthetic advantage of fabric systems is the diversity of colours and patterns available. One must paint exposed metal duct, typically in the field, when colours are important to the interior design. For instance, owners regularly specify corporate and school colours, logos, and even patterns on fabric duct systems. Architects can select essentially any repetitive pattern, such as coffee beans for a coffee shop, fruits and vegetables for a grocery store, or camouflage for an outfitter store to supplement or enhance the interior design theme. These same patterns and logos may be cost-prohibitive for metal duct.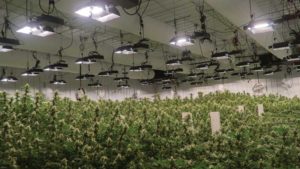 The Ras L' Bock Microbrasserie, La Pocatiêre, in Quebec, is a pub with a microbrewing production room intended for public tours where esthetics were critical. High above the towering beer brewing equipment is a green, 30-m (100-ft)-long, 609.6-mm (24-in.)-diameter food-processing-grade fabric duct. The duct's nozzle vents help generate an air velocity that reaches the occupied area 7.26 m (25 ft) below, but is very evenly distributed, unlike drafts common with metal duct/register systems. The pub chose to have its pink logo silk-screened onto the green fabric for brand recognition. Consequently, the ductwork creates a colourful contrast to the monochromatic room with white walls and stainless steel equipment. Silk-screened logos, mottos, and custom corporate or school colours are common in the fabric duct industry.
Aerosolized cleaning chemicals as part of the brew process sanitization regimen was also a potential for corroding metal duct. Further, yeast used in the brew process can harbour colonies of biological contaminants that require regular duct cleaning. Biological contaminants are less likely to grow because fabric duct does not attract condensation, which can nourish microbes.
Energy efficiency
Studies have shown fabric duct uses less energy than metal because its air dispersion methodology provides uniform distribution throughout a space with fewer dead or static spots. As a result, the designer can achieve a consistent temperature, and the mechanical equipment runs less.
One study, "Thermal Comparison Between Ceiling Diffusers and Fabric Ductwork Diffusers for Green Buildings," compared the heating performance of metal versus fabric duct at various flow rates. Conducted by the Department of Mechanical Engineering at Iowa State University, the study showed fabric duct heats rooms faster, more uniformly and, as a result, more efficiently. The fabric system was 24.5 per cent more efficient than the ceiling metal diffuser system. The latter fell short because a significant fraction of distributed air stayed along the ceiling. The fabric system's higher velocities and multiple outlets resulted in more energy absorption by the room. Systems reach set points more quickly, which decreases the mechanical system's runtime.4,5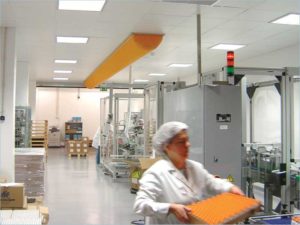 Fabric can also provide an unlimited number of linear air dispersion vents ranging anywhere from micro-perforations to orifices of several millimetres (inches) in diameter. Unlike spiral metal duct, with registers every 1.5 to 3 m (5 to 10 ft), distributing large volumes of air and requiring reducers, fabric duct's linear vents distribute air along the entire length.
Consequently, fabric duct also has less friction loss than metal due to fewer reducers. This also creates a more uniform static pressure without requiring reducers. This and other factors also make fabric duct a quieter product.

Control the content you see on ConstructionCanada.net!
Learn More.