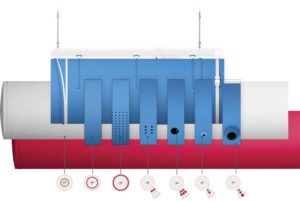 The trend toward open architectural ceiling design, versus T-bar-style ceilings, is also boosting fabric duct as a ventilation choice. Recessed ventilation duct must be metal, according to most codes. However, open ceiling designs are the perfect application for fabric duct. While fabric duct is suitable for any application with an open architectural ceiling, its specification is particularly well-suited in Canada for sports facilities, natatoriums, food processing, warehousing, and industrial uses––especially those that handle corrosive materials.
Food processing plants are at times very corrosive environments of process chemicals, biological contaminants, and cleaning chemicals to sanitize the space periodically. However, the large amount of antimicrobial cleaning chemicals involved in daily surface, floor, and wall cleaning gradually corrodes metal duct into premature failure. Fabric duct is resistant to corrosion caused by cleaning chemical agents. Metal duct can also be prepared for corrosion resistance, but it requires interior and exterior epoxy or galvanized coatings, which raise the initial cost.
Permanently installed metal duct is labour intensive to clean in place. However, the interior and exterior surfaces of fabric duct are faster and less expensive to clean because of their quick disassembly, transportation to a commercial launderer, and ease of reassembly on-site by one or two maintenance staff members.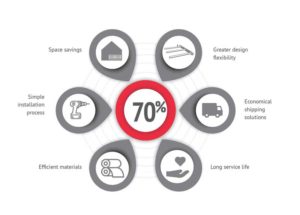 Battling condensation
Insulation is critical for condensation prevention in high-humidity environments such as indoor pools and cannabis grow operations (CGOs). Fabric does not attract condensation, but cold metal does and, therefore, requires the added expense of interior or exterior insulation or double-wall insulated spiral metal duct.
A case in point is the Granite Curling Club of West Ottawa. Ice rinks, in general, can be subject to fogging and uneven ice surfaces when humidity is not controlled through dehumidification and uniform airflow distribution. Designed by Goodkey, Weedmark Consulting Engineers, and installed by Burchill Mechanical Contractors, the rink construction strategy used two fabric ducts along the alleys: an 18-m (62-ft) of 406-mm (16-in.) diameter, and a 23-m (76-ft) of 406-mm (16-in.) diameter to prevent condensation. Double-wall insulated round metal duct was an option, but it is more expensive and is not always a fail-safe method in extreme occupied environments, such as ice rinks.
Condensation control is critical in the fledging CGOs industry. Condensation prevention, combined with antimicrobial fabrics, is one reason designers of potentially high-humidity environments, such as cannabis facilities and indoor pools, prefer fabric versus metal duct. This is especially critical in Canada, which passed cannabis legislation in 2018, leading to a proliferation of CGOs.
In the U.S., Real Leaf Solutions (RLS) in Kalkaska, Michigan, has proven the performance value of fabric duct in cannabis growing. The grow-op retrofitted two 139-m2 (1500-sf) flowering rooms using fabric duct with 5.4-tonne (6-ton) and 7.2-tonne (8-ton) variable refrigerant flow (VRF) systems. Tom Beller, the company's chief operations officer, believes this combination helped produce a harvest with a 20 per cent yield improvement, compared to older rooms with metal duct and conventional air conditioning equipment.1
RLS's fabric duct solution incorporates a linear orifice array at the four and eight o'clock positions on each 508-mm (20-in.) diameter length. The fabric also disperses approximately 12 per cent of the airflow through the duct's permeable surface to prevent condensation. The factory-engineered permeability and linear dispersion result in a uniform 70.8 m3/minute (2500-cfm) air distribution per duct run, which helps plants thrive.
In natatoriums, the use of fabric duct helps prevent condensation and eliminates the need for metal duct coatings and periodic maintenance. For example, at the new $48 million Aquatic Center at Mylan Park (ACMP) in Morgantown, West Virginia, the contractor substituted fabric duct for the original design of polyvinyl chloride (PVC)-coated, single-wall spiral metal duct. The switch reduced ductwork material costs by $55,000, according to Chris Myers, the general manager for design/build mechanical contractor at A. Durer Inc. (ADI).2,3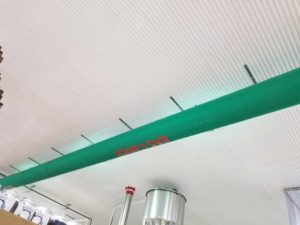 Fabric duct also decreased labour costs for the 8361-m2 (90,000-sf) facility and reduced trade stacking, because it installs up to 60 per cent faster than metal duct. According to Myers, the expedited installation cut six to eight weeks from the ductwork installation time. Further, the fast-tracking allowed other trades to complete their work sooner than if conventional metal ductwork had been used. The fabric duct's single-point aluminum suspension system, which serves the Olympic-sized competition pool and six-lane diving well, was installed in just 10 days. Afterward, only five days were needed to hang the 299-m (980-ft) of fabric ductwork, consisting of 2438-mm (96-in.) diameter headers and branches ranging from 1219- to 1422-mm (48- to 56-in.) in diameter.

Control the content you see on ConstructionCanada.net!
Learn More.