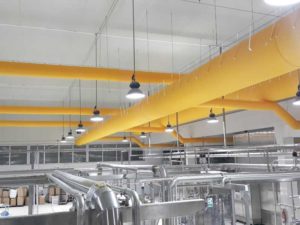 By Brian Refsgaard and Simon Khaled, P.Eng.
It is difficult to find a construction project that is not delayed in some way due to the current supply chain crisis. Portions of global trade have slowed down post-pandemic. In the Canadian construction industry, residual effects of the pandemic have caused supply chain issues. Some projects have been held up for months. However, there is good news for fast-tracking some trades, such as ventilation.
Mechanical equipment availability within the HVAC trade is one of several building trade sectors currently stalling new construction projects due to supply chain issues. The current pandemic-induced supply, demand crunch, and logistics bottlenecks did not give a pass to the HVAC industry, as it depends all points to get its products to the market. Mechanical equipment is taking up to 10 times longer to get to jobsites compared to pre-pandemic time schedules. Further, labour shortages in the skilled trades and inflationary labour costs are also contributing to project slowdowns, as labour cost have risen, putting projects on hold for re-evaluation and ensuring they do not end up over budget.
While many of the aforementioned factors affect project completion deadlines, ventilation selection is a hedge architects, consulting engineers, and HVAC contractors are using to expedite projects toward completion once mechanical equipment finally arrives on-site and is installed.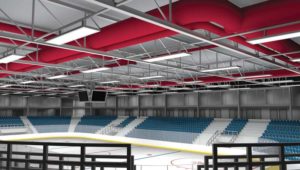 Fabric duct versus metal duct
Fabric duct has been a construction standard for decades, and is now gaining popularity exponentially due to its significantly shorter installation times, in comparison to metal duct. Fabric duct can be installed up to 60 per cent faster than metal duct, depending on the application and project size. Metal duct comes in many jobsite-friendly assembled parts, such as air distribution boots and takeoffs. Metal also comes in multiple lengths and must be jobsite connected for long runs. In contrast, fabric duct air distribution vents are factory designed into the product, and long runs are typically shipped in one piece—all the sections are simply zipped together. Fabric duct's lighter weight also expedites installation, because it requires less installers, has lighter lift equipment, and the product is generally easier to handle. Instead of two or more weeks to install metal ductwork, fabric duct can fast-track installation to just one week. Depending on the ventilation design's complexity, lead times from some fabric duct manufacturers are 14 days or less, which is half the time of metal ductwork lead times.
Aside from lower installation costs, fabric duct's lighter weight reduces lift equipment rental costs. Lighter ductwork also reduces the number of workers required to install it, which is an advantage since staffing is still stretched thin. For example, a 1219.2-mm (48-in.) steel trunk line hung from a 7.62-m (25-ft)-high ceiling may need several heavy-duty lifts and three to four workers to rig it into position. However, the same-sized fabric duct trunk line might require a lighter duty, less expensive lift rental and only two installers to hang it.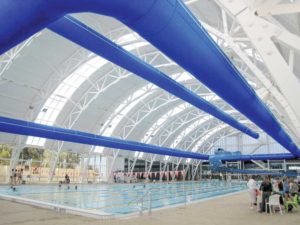 Contractors often perceive steel duct as the cheaper alternative to fabric duct, but it is a misconception when considering all factors in a complete ventilation installation. It is true spiral round metal duct is less expensive per linear metre (linear foot). However, it is sold a la carte from distributors. Boots, takeoffs, registers, hangers, coatings, insulation, and other accessories that increase the initial cost are sold separately. When a complete system is estimated, steel duct's cost is similar to a fabric system, which is engineered and priced as a complete system of airflow, diffusion, and hanging hardware. Further, fabric costs are more predictable, because its price and availability are more stable and less influenced by commodity price fluctuations. When the labour reduction of up to 75 per cent is considered, fabric duct is significantly less expensive.

Control the content you see on ConstructionCanada.net!
Learn More.