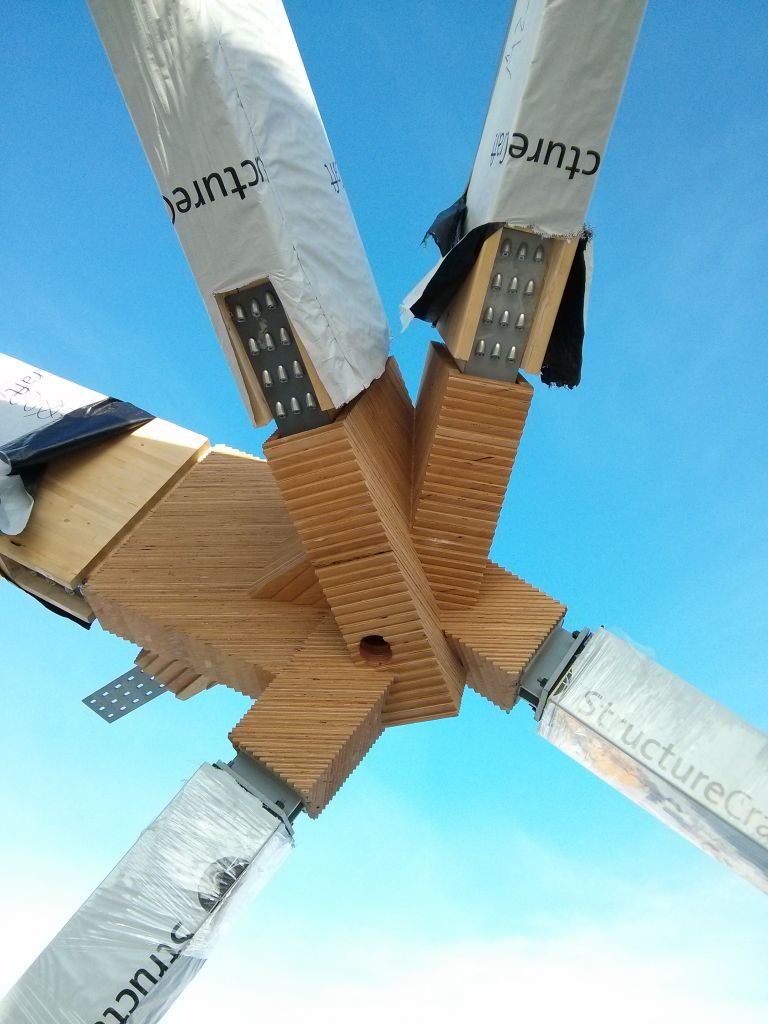 Further developments in STS
When it comes to using self-tapping wood screws with other systems, the sky seems to be the limit, reaching from simple steel plates, custom weldments of any shape imaginable, or standardized system connectors. The principle, however, remains the same by using the STS in withdrawal by 'hanging' these system connectors off or on them. Figure 1 shows a proprietary product, a form-fitting connector employing the time-honoured shape of a classic dove-tail, being installed on a glulam beam in the plant with STS, before being shipped to the WIDC site where the two parts simply slide together.
The advantage of the various proprietary connection systems lies in the fact they are standardized, allowing designers to simply pick from a catalogue based on the required capacities, minimizing time for design and drafting, for example, custom steel weldments. Additional benefits of standardized systems are higher quality control and reduced assembly times due to a higher grade of pre-manufacturing, as their individual parts are shop-installed.
Some of these standardized connection systems provide capacities up to 600 kN (134,885 lb), and simple steel plate tension splices in excess of 1 MN have been achieved solely by virtue of self-tapping wood screws (granted, a lot of them).
While STS development keeps progressing and more new ways of using them are being explored, another modern connection system is holding entry into the North American market: epoxy. The principle itself is not new, but there is innovation in using an existing and developing technology in timber engineering and engineered timber construction.
Two technologies in particular have successfully been used in North America. One system is a wood-concrete composite using a glued-in steel mesh as shear connector between the wood and the concrete, whereas the other is a steel mesh welded to a steel connection plate and then the mesh glued in the wood for a steel-wood composite that can now be joined to other materials. The great advantage of these systems is their high strength and stiffness while still being ductile. The system can be used to create strong and stiff moment connections, and has been used in the feature staircase of University of British Columbia's (UBC) Earth Sciences Building (ESB) in Vancouver.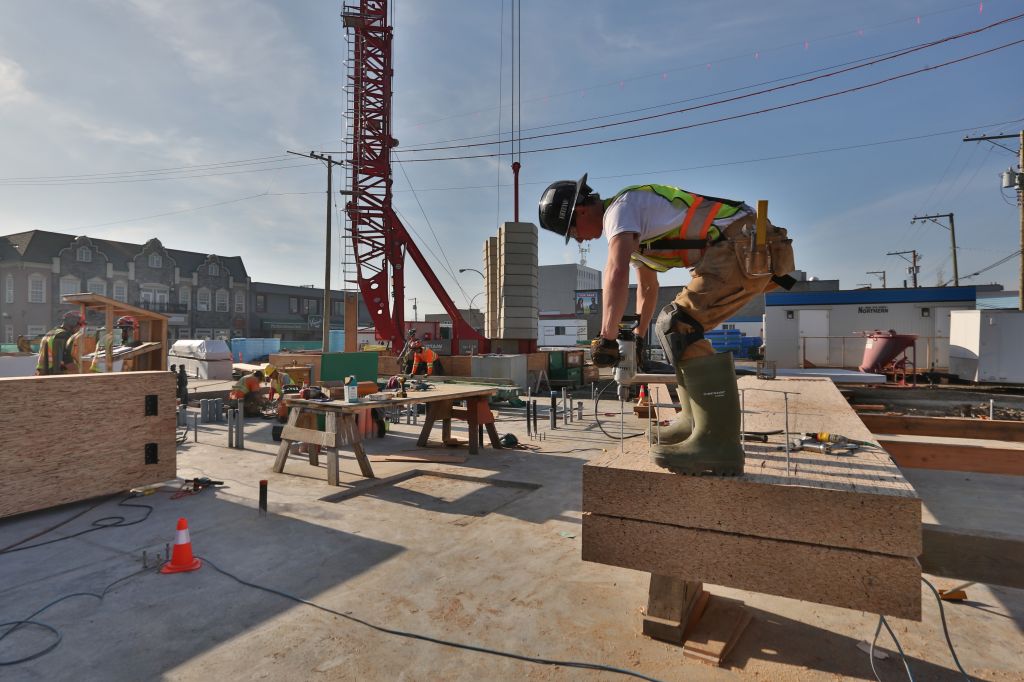 When it comes to the design and engineering of connections using self-tapping wood screws or standardized connection systems, only one manufacturer currently has a Canadian Construction Materials Centre (CCMC) report to use alongside Canadian Standards Association (CSA) O86, Engineering Design in Wood. However, this does not mean the screws of other manufacturers cannot be used.
The CSA standard has a provision in 3.3.2 for new or special systems of design and construction. Based on this, such systems can be used without a CCMC report if they are following engineering principals and/or reliable test data. In the case of STS and any of the other standardized systems, the engineering can be done following some adopted provisions of the EuroCode 5 (EC5) and the manufacturer's European Technical Approvals (ETA).
To gain ETAs, the manufacturers must go through a battery of tests fulfilling the CSA O86 provisions for reliable test data and applied EC5 and the ETAs to show the design follows engineering principles. The design process itself is not difficult; most distributers offer design tables to further simplify the process. Still, caution should be taken regarding the constraints of these design tables like densities and load duration factors—such constraints are usually explained in the footnotes.

Control the content you see on ConstructionCanada.net!
Learn More.