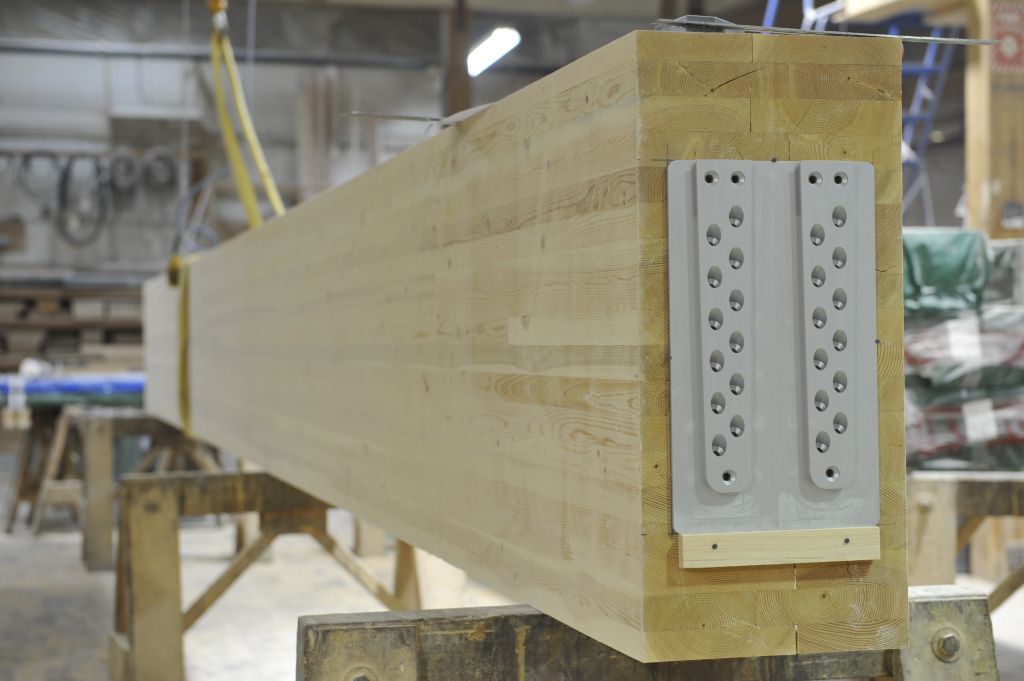 STS 101
One of the most prevalent innovations in timber engineering was the development of engineered self-tapping wood screws (STS).3 These screws are a far cry from the decking screws and conventional wood screws to which many are accustomed.
Modern STS do not require pre-drilling or pilot holes; they work well in most materials and are designed to 'cut' or form threads into the material as they are driven in. Some STS tips look similar to a drill bit, but they lack flutes—in other words, they do not remove material from the hole. Instead, the tips slightly loosen the material to reduce friction and drive-in torque, which is especially beneficial for the fully threaded varieties of self-tapping wood screws.
Self-tapping wood screws come in countless different diameters, lengths, and head-types, along with fully threaded or partially threaded versions. Some of the main characteristics of STS are their generally smaller core diameter with larger thread wings, leading to less splitting and more bite (and therefore high withdrawal capacity). The high capacity in withdrawal is also achieved through the high tensile capacity of the screw's steel due to hardening and quenching process of the screws during manufacturing.
The partially threaded version of the screws also feature an improved shank cutter that further reduces the friction during installation of the screw, lowers the risk of clogging of the shank cutters, and creates a hole larger than the core diameter of the screw to allow for shrinkage and swelling of the wood without getting hung up on the screw's shaft. All these characteristics combined create an efficient and economical connector in timber connections that is easy to apply, without the need of pre-drilling and has a high withdrawal and tensile strength. Their availability in Canada is generally not a problem.
Self-tapping screws and timber construction
When looking at the possible STS applications, it becomes clear why they have helped revolutionize the field of timber engineering and construction. Self-tapping wood screws can be used by themselves as primary fasteners or reinforcement, or in combination with other parts (e.g. steel plates and weldments or standardized connectors). The principle on which they work remains their incredible capacity in withdrawal.
An example for the use of these screws as a primary fastener could be a common wood-wood (-wood) / steel-wood (-steel) / wood-steel (-wood) connection with one shear plane or two shear planes respectively. That type of connection is usually achieved by bolting the individual members together and transferring the forces through shear in the bolts.
The same connection could also be done using STS by installing the screws at a 45-degree angle, and then transferring the loads through the screw's axis. A connection using screws would yield a higher capacity with fewer or smaller screws without the need of pre-drilling.
In many cases, timber members have to be over-sized to allow for the end and edge distances required for a bolted connection. Due to the smaller diameters and reduced number of screws, the timber member in most cases would not need to be oversized anymore. This results in an added economic benefit.
The same can be said for screws used as reinforcements. Instead of being over-sized due to notches or protrusions, beams can be reinforced with self-tapping screws; in most cases, they can be kept at the cross-section of a beam without such notches. For example, in the case of a notch or a bolted connection, the wood would be loaded in tension perpendicular to the grain—one of wood's inherent weaknesses. Concessions would have to be made to transfer that load over a larger area. When a self-tapping wood screw is used, the force transfers along the screw's axis, again employing the high capacity in withdrawal—the beam or connection geometry does not need to be altered.

Control the content you see on ConstructionCanada.net!
Learn More.