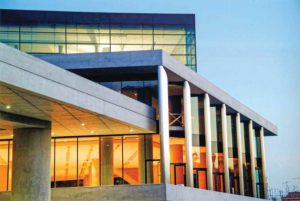 Cellular glass structural insulating block
Cellular glass insulation is a mature insulation material (dating back to the 1930s), regarded for its compressive strength, fire resistance, and composition, which make it impervious to water. It is created by combining glass powder and carbon black at high heat to induce a foaming reaction, then cooling the mixture in a controlled environment to maintain the cellular structure. As a result, there is no blowing agent, fire retardant, or other material needed to reach its fire, water, and chemical compatibility properties. This product is used elsewhere throughout the building for roofing and split slab applications, fire stopping, and even in pipe insulation applications, also demonstrating its resistance to extreme temperatures. Installed beneath veneer walls, cellular glass insulation has seen success in addressing unique thermal bridge applications which requires high compressive strengths.
The compressive strength meets or exceeds 1654 kPa (240 psi) (capped) per ASTM C165, Standard Test Method for Measuring Compressive Properties of Thermal Insulations. The material is "capped," as the manufacturing process requires the outermost layer of cellular structures to be cut to specific dimensions; therefore, damaging the outermost cells and creating a layer which would deflect when a load is placed atop the material until enough of the cellular structure is broken down to create a solid layer of glass material.
Capping the material also allows attaching facers, which can aid in adhesion in adhered roofing membranes, or in labelling the material for proper installation. Essentially, a material is "capped" to evenly displace a load and protect from damage prior to and during installation. Using the compressive strength information, a registered design professional may calculate the ultimate load and the resulting height of a masonry veneer wall which may be placed atop this insulating block.
Likewise, cellular glass structural insulating block provides a thermal resistance value which is presented in two different directions for a design professional to model and determine the ultimate U-value of a given wall assembly, as previously discussed in the IECC performance method, or for demonstrating compliance with additional voluntary or compulsory standards.
Specifying cellular glass structural insulating block
Cellular glass structural insulating block may be specified in Division 7, Thermal and Moisture Protection, under Subdivision 07 21 13.13, Foam Board Insulation. A secondary location for this material may be as an accessory to masonry in Division 4.
While it is not necessary to introduce potential conflict by listing every performance criterion listed on a data sheet—which could accidentally become transposed—specific project needs should be specified, including the calculated compressive strength required of the material, the required width to align with the masonry unit of the veneer wall, and the related thermal resistance calculated to address the thermal bridge at the specific location. Specifiers may also choose to address desired recycled content, moisture resistance, and refer to Section 01 83 16, Exterior Enclosure Performance Requirements to ensure any proposed substitution would not affect overall performance of the assembly, including thermal bridges.

Control the content you see on ConstructionCanada.net!
Learn More.