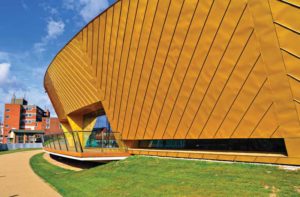 By Tiffany Coppock
When it comes to longevity, masonry construction has an impressive track record. One of the world's oldest construction types, it continues to be among the most common construction methods used in modern-day enclosures around the globe. The concept of creating unitized building blocks—stacked to separate spaces and provide shelter—allows flexibility in design and has endured over the ages, and this is evident in the sundried mud brick huts built at the cradle of civilization.
While the concept of masonry has lived on, developments in strategy and technique have evolved. Multi-wythe walls created substantial structures capable of withstanding significant forces and resisting moisture damage. With the advent of the rainscreen concept, masonry cavity walls have become the mainstream solution for many North American buildings today. This approach employs an air space between the veneer and the structure (which could be masonry, stud frame, or concrete). Through the rainscreen technique, incidental moisture entering the facade is allowed to drain through weep holes and dry through strategic ventilation. Continuous insulation (ci) is now required in the walls throughout most of North America, as per the International Energy Conservation Code (IECC).
The IECC, the American Society of Heating, Refrigerating and Air-Conditioning Engineers' (ASHRAE) 90.1 standard, and other energy conservation codes addressing the building envelope rely on research from various resources. Findings from various energy laboratories help validate the reduction in energy usage, which is achieved by adequate insulation into the building envelope to mitigate energy usage from heating, ventilation, air-conditioning, and refrigeration systems.
Thermal requirements to meet and exceed code regulations
As countries, cities, and provinces implement carbon-neutral programs, increasing interest and regulatory attention is being paid to energy efficiency and thermal performance of buildings. Buildings account for about 30 per cent of final energy use and more than 55 per cent of global electricity consumption. Despite interest in energy conservation, energy use in the buildings sector has increased steadily since 2000, at an annual average growth rate of around 1.1 per cent.1
One of the simplest approaches to ensuring compliant energy design uses the IECC. The last edition added a new climate zone to the map. A building's location can be used to identify its climate zone—zero through eight—from warmest and driest to coldest. Using this approach, designers have three options for code compliance: prescriptive, performance, or COMcheck (REScheck for single-family residential).
In the prescriptive method, empirical data is combined into acceptable criteria summarized in a chart, corresponding to the construction type and climate zone. For multi-wythe masonry walls, designers would reference the "walls, above grade" section, then the line related to "mass walls."
For masonry cavity walls, designers would reference the same "walls, above grade" section, then either "mass," "metal framed," or "wood framed and other," pertaining to the applicable assembly. In each cell of the chart, a resistance value (R-value) is listed with a ci, which indicates the minimum amount of R-value needed for the installation.

Control the content you see on ConstructionCanada.net!
Learn More.