Improving health and safety practices from the start
Architects and engineers need to be future-focused and safety planning begins at the outset. Not only should their designs be constructed with their design plans and specifications, but they also need to be present during safety inspections. They should provide site instructions, periodic construction site inspections, and even review contractor and site manager submissions for safety compliance; but to help in this process, to identify hazards and unsafe situations or practices in real-time, surveillance solutions can truly aid to improve policies for delivering more of a proactive approach to avoid potential future issues.
Workplace incidents, injuries, and near misses can be reviewed in detail via video footage, to ensure they are analyzed and recorded in an accurate and unbiased way. This will help everyone on-site understand their root causes and develop safety protocols to address them.
Video footage can also be an excellent training resource. Showing employees situations where they may have endangered themselves can be a persuasive tool for fostering safer behaviour.
Minimizing safety issues to minimize downtime and boost productivity
These solutions are also minimizing downtime and boosting productivity by detecting and verifying potential problems. Integrating high-level surveillance systems affords site managers another level of transparency when overseeing operations. A surveillance system can be the eyes of a site manager, as they use connected technologies to visually inspect and verify processes, monitor efficiency, and grant maintenance staff remote assistance as necessary. Surveillance can also function as data collection or assist in planning predictive maintenance. A well-optimized system will minimize downtime while increasing productivity.
Agile incident management
In the event of an incident, surveillance cameras enable site managers to rapidly detect, assess, and respond to site incidents as they occur and develop. A thermal camera, for example, can be used to monitor equipment and generate alarms on potentially dangerous temperature variances, or traditional high-quality cameras can be aimed at equipment or indicators, monitoring them for leaks or irregularities. Alerts can even be triggered automatically through analytics, with high-definition feeds being pushed to relevant staff instantaneously. Data from surveillance systems helps apply agile principles to handling incidents, as data is immediately available and ready to help site managers evaluate situations and risk levels, as they work to minimize disruption and keep workers safe. Pushing these monitoring responsibilities to analytics instead of relying on human detection can also alert immediately when something occurs, saving precious seconds and possibly lives in the event of a critical incident.
Trend monitoring and predictive maintenance
Data is the name of the game. The more an architect, engineer, or site manager knows about their site, the more they can act when it comes to keeping areas and personnel secure and safe. High level surveillance systems can utilize built-in intelligence to collect data over long periods of time to identify trends and plan servicing schedules. This can be particularly useful for equipment or locations on construction sites which are difficult to access, whereas thermal and visual cameras can provide basic monitoring and advanced data collection and analysis. This can also offer insights into how much foot traffic certain areas receive, how often certain equipment is used, and so on.
Leveraging wearables for worker safety
An emerging trend in construction site safety is wearable technology. Compact, high-quality surveillance body cameras are becoming increasingly common for more than just liability purposes. Beyond capturing footage of accidents or equipment failure requiring legal documentation, wearable cameras can enhance the safety of any site, and the footage can also be used for learning and teaching opportunities when it comes to safety, procedures, and best practices.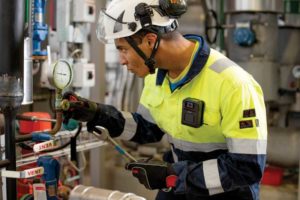 Wearable cameras (Figure 2) can also provide location tracking and a two-minute buffer for recording to capture events before a worker presses record. Long battery and on-the-go charging capabilities maximize convenience and safety for personnel, while providing as much information as possible for site managers. Wearable surveillance cameras are robust, water-resistant, and can easily mount to different types of clothing.
What advanced surveillance equipment means for site managers
Choosing to secure a construction site with high-quality, networked surveillance systems provides numerous benefits, from safety, to convenience, to savings. Knowing where everyone is located on the site at any given time simplifies operations while enhancing safety procedures, and the ability to mass-notify staff in the event of an emergency or other incident is similarly invaluable.
Increased safety leads to increased productivity, which equates to faster project timelines and lower costs for the building site. Surveillance systems deter vandalism and theft, which can both disrupt operations and leave construction projects in a limbo if they are unable to replace or repair materials or equipment, respectively. The versatility of modern networked surveillance systems enables infinite customization which can adapt to the needs of any construction site, further improving the conditions for all who work there and visit for maintenance or deliveries.

Control the content you see on ConstructionCanada.net!
Learn More.