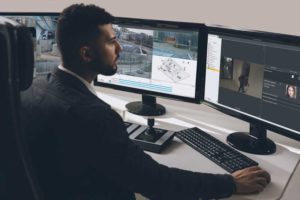 By Jason Chiu
Architects, engineers, and specifiers design and oversee the build of world class commercial and residential buildings and infrastructures. There are several phases to the lifecycle of their building projects that should be overseen, not only in the design but also for on-site delivery. They are key professionals who have a responsibility to manage their projects' construction sites. As for a project work site, there are three considerations: intrusion, interruption, and injury; and these are also the three most common threats to productivity, profitability, and employee welfare. Risk management is essential to all aspects of the architectural vision and building construction phase. Essentially, these two worlds need to meet—from design to build.
Whether it is required training through industry associations, or compliance through the Ministry of Labour, or part of the Occupational Health and Safety Act (OHSA), in every province, architects, engineers, and specifiers are required to take site safety training. In fact, as professionals and employers, they all play an extensive role in site development, collaborating with the site managers and contractors, and being present on-site during safety inspections. When conducting inspections, they provide instructions in both site safety, site operational efficiency, and will review contractor submissions to ensure compliance and productivity. It is important to note, site safety should never take a backseat to operational facility and productivity.
Most workers on-site feel their health and safety is not prioritized as much as their productivity. According to Environmental Health and Safety (EHS), 67 per cent believe standards for productivity are higher than those of safety.1 The National Safety Council (NSC) found 51 per cent also believe management and project leaders only do the minimum to keep employees safe; another 47 per cent are afraid to report safety issues.2
 Safety compliance leads to higher productivity levels
Leaders in design and planning must ensure their buildings meet all standards, and for this reason, they should work closely with public health and safety experts during both the design and construction stage. Site safety is a key component in operational efficiency. To be truly productive on site, safety must be prioritized. Solutions offered by architects and engineers are flexible and easily deployable surveillance that facilitates high-quality remote supervision to help minimize security and safety issues, as well as contribute to worker well-being and operations efficiency. This includes assisting in health and safety monitoring and incident investigation, and protecting project sites from unauthorized access, vandalism, and theft of materials, tools, and machinery. Also, with smart surveillance solutions, architect project sites can meet their daily requirements of running an agile, collaborative, and reliable site without compromising safety.
The Construction Safety Association of Ontario (CSAO) found when firms invest just 2.5 per cent of project costs into safety training and procedures, profits increase by four to seven per cent per project and accident rates decrease. Comparing the cost of safety program at 2.5 per cent to workplace injuries at six to nine per cent of project costs—the numbers for safety training are much more favourable.3
There are various security and surveillance solutions offering a range of options to help workers on-site stay safe. Monitoring contractor activities in real-time from a local or remote central control station can be done with video cameras; and intelligent analytics contribute to a range of automated safety functions. Something like a remote central surveillance command centre is beneficial for reviewing actual footage from across a jobsite. It gives architects a chance to be in the building, at their office, and still see what is occurring on-site. If they wanted to inspect something on site, this takes time and in turn affects their productivity; however, with enabling technologies, they can check on something without having to go there.
Then there are solutions such as cross-line detection software, combined with network speakers to alert workers who get too close to hazardous or unsafe zones. Camera analytics also deliver PPE (personal protective equipment) detection and person-down alarms for improving lone worker safety. Two-way audio components let managers communicate directly with the work crew to ensure health and safety compliance. In winter, the colder weather introduces a whole new suit of potential dangers, such as slips, trips and falls, cold stress, decreased dexterity, and other cold related injuries.

Control the content you see on ConstructionCanada.net!
Learn More.