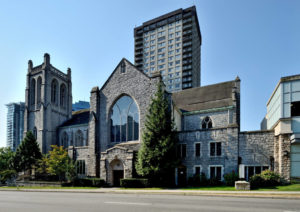 Copper Development Association (CDA) awarded two Vancouver projects in this year's North American Copper in Architecture Awards for their use of architectural copper and copper alloys.
The St. Andrew's-Wesley United Church, an iconic example of the Gothic Revival style in Vancouver and Western Canada, is among the projects that were awarded this year. Originally constructed between 1931 and 1933, it experienced long-term roof leaks that were negatively impacting the interior plaster elements.
This was the catalyst for the project and allowed the church to pay a homage to its heritage through a large-scale restoration, highlighting copper as a featured element. While reviewing roofing material options, copper was selected for its durability, being lightweight (compared to slate-important from a seismic perspective), its elegance and heritage value.
Staying true to its design, many of the original gutters and downpipes were copper. The gutters and downpipes were replaced to replicate the original, forming a seamless integration to its past. The stone parapets at gable-ends and roof perimeters were originally capped with terracotta coping.
Since previous attempts to address water ingress at these locations had limited success, lead-coated copper cap flashings were installed over the terracotta to provide additional protection against water ingress, providing an aesthetic and functional option to surround the building.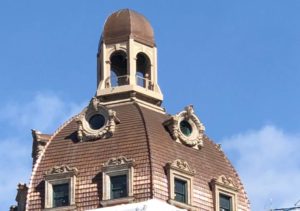 The Sun Tower, designed by architect William Tuff Whiteway, is another Vancouver project awarded by CDA. The terracotta tiles had exceeded their practical service life, and it was time to replace the roof. The fabrication contractor took samples of the original tile and custom-stamped large copper tiles that replicated the terracotta profile.
The same contractor was hired to install the tiles. In addition to replicating the existing appearance, the roof had to be protected from earthquakes with a unique seismic design. The new stamped shingles are 0.3-0.46 x 10.06 m (1-1.5 x 33 ft) and are supported by custom stainless steel girts and seismic neoprene pads.
The restoration journey included replacing the existing terracotta main dome gutter with an exact replica in copper, a standing seam copper roof at the main dome cupola, and a custom copper flashing at the various levels of the tower.
The North American Copper in Architecture Awards program showcases a wide range of North American projects, all of which highlight craftsmanship, attention to detail, and architectural vision.