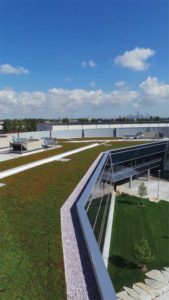 What makes them popular?
One factor driving the growth of TPO and PVC membranes is the focus on the energy efficiency of buildings. Global warming has become a focus point for many property owners, specifiers, and government agencies. Electrical blackouts caused by the increased use of air-conditioning have energy providers looking for ways to reduce peak electrical demand while designers attempt to limit a building's carbon footprint. Highly reflective roof membranes can help alleviate the heat load placed on a building by reflecting sunlight and maintaining a lower surface temperature than darker-coloured roof surfaces.
Additionally, the US Green Building Council (USGBC) created its Leadership in Energy and Environmental Design (LEED) certification program for buildings designed, constructed, and operated with sustainability in mind. The program assigns points for certain types of designs and provides a construction "point" for roofs with high reflectivity, such as those employing PVC and TPO membranes.
"LEED certification is prominent in both Canada and the United States," says Fraser, "and the specification of reflective thermoplastic roofing has become more popular because of it."
Further, increasingly stringent reflective roof standards have been continually introduced into the International Building Code (IBC), which is referenced in almost all Canadian low-slope roofing specifications. TPO roof membranes used in Canada follow material properties as per the requirements of ASTM E1980–11, Standard Practice for Calculating Solar Reflectance Index of Horizontal and Low-Sloped Opaque Surfaces. ASTM E1980–11 offers manufacturers and designers guidance on calculating solar reflectance, but does not mandate minimum solar reflectance of roof membranes.
Another reason for the increasing popularity of TPO and PVC roofs is the induction welding attachment method for these membranes. Induction welding is the use of an electromechanical field to heat a pre-attached bonding plate located under the thermoplastic membrane to weld to the TPO or PVC membrane. This is considered a "non-penetrating" attachment method.
From an economic and labour standpoint, particularly on large buildings, roofing contractors often like to use the widest TPO/PVC sheet possible, which reduces the number of seams to be heat-welded. This reduces the labour required to install the roof.
However, to meet certain wind-uplift requirements for mechanically attached systems, the spacing of the fasteners may not allow a contractor to use the widest sheets available or may require fasteners be spaced closely together in the lap. A narrower width sheet can help distribute the uplift forces over more structural members, allowing it to withstand greater uplift pressures, and using more fasteners in the lap area reduces the load each fastener is subjected to in a wind event.
Consequently, with induction welding, a contractor may be able to use wider sheets, fewer fasteners, and less labour, while meeting the design pressures required for the roof.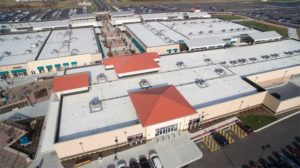 Easy installation
Perhaps what contributes most to the growth of TPO and PVC membranes is the variety of attachment methods—stone ballast or pavers, mechanical fasteners, induction welding components, and bonding adhesives. Common adhesives used as bonding agents include solvent-based, waterborne, and 100 per cent solids-reactive products, including two-part and moisture cured/activated adhesives.
"As the TPO and PVC markets have increased in sales volume, roofing contractors in Canada have become more accustomed and comfortable with the different installation methods available for thermoplastic membranes," observes Fraser.
It is true certain regions of the United States limit the maximum content of volatile organic compound (VOC) in various adhesives. Canada also limits the VOC content of construction materials, including those used in roofing applications. As such, TPO and PVC manufacturers have developed low-VOC, water-based adhesives, low-rise, and moisture-cured adhesives, and self-adhering membranes, including self-adhering flashings and details for roof system penetrations. These products can be used wherever there are stringent low-VOC requirements limiting or excluding the use of solvent-based adhesives (subject to temperature and humidity limits). It is important to note the application of water-based adhesives may be limited due to environmental conditions (low temperatures) in some Canadian locations.
Formulating chemists have engineered waterborne adhesives to sufficiently bond TPO and PVC membranes to various substrates such as roof insulation, wood, concrete, lightweight insulating concrete, and other surfaces. Again, these water-based adhesives are especially attractive when local air quality legislation restricts VOC content in bonding adhesives.
Prefabricated TPO and PVC accessories are available and also come with installation options. Accessories include curb wraps and split pipe seals that can save many hours of labour for
a typical project.
Moulded sealant pockets also are available with TPO and PVC systems to waterproof pipe clusters and other oddly shaped penetrations. Some square tubing wraps provide a split (cut) and overlap tab allowing the seals to be opened and wrapped around a square tubing penetration.
Finally, some manufacturers offer cover strips constructed of a TPO or PVC membrane laminated to a fully cured synthetic rubber pressure-sensitive adhesive. This type of product is ideal for use with metal drip edges and suitable for a variety of other applications.

Control the content you see on ConstructionCanada.net!
Learn More.