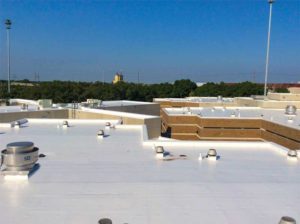 by Mike Ennis, RRC
Thermoplastic roofing membranes, one of the fastest growing forms of low-slope roofing products, come in different material families, including thermoplastic olefin (TPO), polyvinyl chloride (PVC), and PVC alloy. Long before TPO was introduced in North America, PVC membranes capitalized on several events during the 1970s to solidify their position. First, the oil embargo of 1973 inflated the price and restricted the availability of quality roofing asphalt. At the same time, high energy costs increased demand for roof insulation systems with high R-values. This began to make single-ply membranes more appealing. This attractiveness included their direct compatibility with polyisocyanurate (polyiso) insulation, also a growing product at the time.
In 1984, Ducker Research (now Ducker Worldwide) predicted single ply sheets (including PVC and PVC alloys, ethylene propylene diene monomer [EPDM], chlorosulfonated polyethylene [CSPE], and chlorinated polyethylene [CPE]), would capture 25 per cent of the low-slope market. By
the middle of that year, single plies' share reached 35 per cent of the roofs installed and Ducker soon revised its year-end forecast.
TPO membranes were introduced in the late 1980s, and by 2006, the thermoplastic market share had grown astonishingly. PVC and TPO together represented about 30 per cent of the commercial roofing market in Canada and the United States, according to Ducker Research.
Thermoplastic materials are distinguished from thermoset materials (EPDM) in that there is no chemical crosslinking. Unlike thermoset materials, thermoplastics do not form irreversible chemical bonds during the curing process. These membranes can be repeatedly softened by heating or hardened when cooled. Due to the materials' chemical nature, thermoplastic membranes typically are seamed by heat welding with hot air or solvent welding.
Five years ago, Single Ply Roofing Industry (SPRI) also reported the great majority of the billions of square feet of single-ply membrane cumulatively sold in North America (including TPO and PVC) performed without issue.
"Single-ply membranes, including thermoplastics, have become a great addition to the roofing industry," says Wendy Fraser, P.Eng., technical manager of the Canadian Roofing Contractors Association (CRCA) in Ottawa, Ont.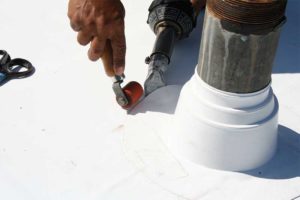 Attributes of TPO/PVC membranes
Some attributes shared by TPO and PVC membranes include long-term weathering resistance, cold temperature flexibility, resistance to tear, puncture, and chemicals, and heat-seaming capability.
These membranes can be manufactured in a wide range of colours, do not cure after exposure to the elements, and remain capable of hot-air welding throughout their service life.
Each TPO and PVC membrane has a unique formulation. Probably the most noticeable distinguishing physical attribute among these thermoplastic sheets is their relative stiffness. Some thermoplastic membranes feel relatively soft and flexible while others are more rigid. This has no relation to cold temperature flexibility. These stiffness characteristics may affect the membrane installation process in very cold weather. However, the cold-handling properties of thermoplastic membranes in the field do not affect their cold-temperature mechanical properties. During installation in cold weather, some roofing contractors claim stiffer sheets require less effort to heat weld because the membrane is less likely to move and form voids as the automated welder creates the finished seam. A stiffer sheet can also be easier for the contractor to move around and properly position once unrolled.
Stiffness is more of an issue when installing non-reinforced flashing. Flashing membrane is used when completing details requiring the membrane to be formed around penetrations of various shapes and sizes. If the flashing is stiff, the contractor will have a more difficult time completing details. Fortunately, many thermoplastic membrane manufacturers have formulated their non-reinforced flashing material in such a way as to increase its flexibility.
Thermoplastic membranes also are highly resistant to a variety of chemicals, and both TPO and PVC materials are formulated to be fire-resistant. When designed as part of an appropriate roof assembly, both TPO and PVC roofing systems can achieve Underwriters Laboratories (UL) Class A fire-resistance listings. Beyond fire testing, thermoplastic membranes have been certified by Factory Mutual (FM) Approvals and have wind-uplift resistance classifications exceeding 2224 N (500 lbf).
TPO and PVC membranes have a reinforcement layer made of either polyester or fibreglass, incorporated at the factory using a variety of techniques. Regardless of manufacturing line configuration, the compounded material is heated to a high temperature to allow the forming process to occur.

Control the content you see on ConstructionCanada.net!
Learn More.