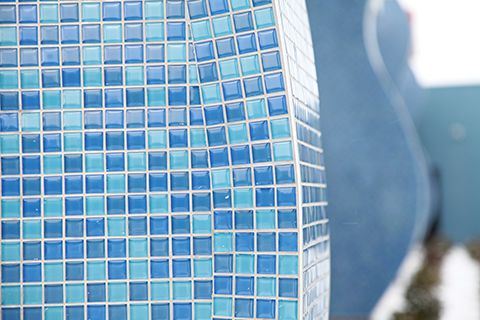 High-performance universal grouts, which can be unsanded or sanded, are available in various colours, with esthetic goals determining the selection. Matching the grout to the tile colour visually minimizes the grout joint for a more continuous design, but contrasting hues lead to a dramatic look that draws attention to individual tiles (and, unfortunately, any irregularities found in the installation).
Efflorescence, a whitish crystalline or powdery deposit on grout lines and tile surfaces, can mar even the most carefully considered exterior grout-tile combinations. On exterior installations, efflorescence is often the result of moisture below the tiled area's surface that migrated upward. In some rare circumstances, prolonged exposure to rain can cause efflorescence—especially with porous grout. Careful grout selection can prevent efflorescence from affecting an installation's appearance. Some manufacturers design grouts specifically for efflorescence resistance.
Sealers and caulks/sealants can prevent external moisture from penetrating a tiled area, further protecting it from external elements. For many, a 100 per cent silicone caulk has become the product of choice for the flexible sealant required in wet areas. These caulks/sealants prevent mildew and cracking in the grout joints. When needed, a penetrating sealer can reduce moisture penetration, without changing the grout's appearance. These sealers are designed to completely penetrate into a porous surface without changing its appearance, and are available for a full range of porous tiles, stone, and grouts.
Above all, materials must work together as a system to combat the challenges exterior conditions present. Substrate preparation products, mortar, and grout should all be compatible. For this reason, one may wish to consider using a single source for all installation materials. (This also makes any warranty considerations an easier process.)
Setting strategies
To determine the most effective installation strategies for a particular project, exterior installation sites should be evaluated in advance by the tile installer. It must be determined whether the installation will be exposed to direct sunlight all day or part of the day, whether it will be exposed to harsh winds, and if it is possible to protect the installation from the sun with a temporary shelter.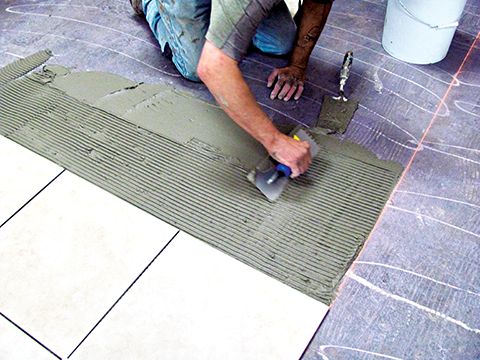 Moisture can be lost to the atmosphere when the installation is conducted or allowed to cure in direct sunlight on hot, dry days. Excessive heat can prevent fresh mortar from properly curing and developing the necessary strength for long-term installation. So, on hot days, the installation should be shielded from direct sunlight by tenting. This helps keep both the materials and the installers safe and cool. If this is impossible, the installation team may have to work at night.
Cold temperatures present the opposite problem. An outdoor project should not be scheduled if extreme cold is anticipated. According to TTMAC, tile should not be installed at temperatures below 12 C (54 F) when using portland cement mortars, dry-set mortars, or latex-portland cement mortars. Bond coat and temperature should be maintained at a minimum of 12 C or a maximum of 38 C (100 F) until cured. However, certain rapid-set, dry-set, or latex mortars may be suitable for temperatures as low as 5 C (41 F). The manufacturer's instructions should be consulted when one anticipates needing to install in those conditions.
Epoxy mortars and grouts should not be applied at temperatures below 16 C (61 F) or above 32 C (90 F), unless there are specific manufacturer recommendations. It should also be noted cooler temperatures increase cure times. This means when temperatures drop, the installation requires extra time to cure before it is safe for foot traffic.

Control the content you see on ConstructionCanada.net!
Learn More.