Laitance—a thin layer of hardened, yet weak, cement—can also affect the substrate's bonding potential. The concrete's surface layer may appear strong and stable, but actually risks causing bond failure. Laitance can be identified by scraping the concrete with a razor to see whether it scratches or powders. Formal testing can then be undertaken by measuring the concrete surface's tensile strength with specialized equipment. The remedy for a weak layer of laitance is removal, often by sandblasting. One should consult with the manufacturer of the setting and levelling materials for tensile strength requirements.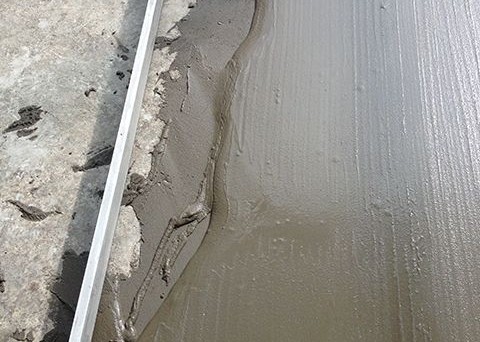 After these preliminary steps, any variation in the substrate should be corrected. An appropriate patching compound compatible with the mortar should be used to flatten the substrate surface should be used. For tile less than 381 mm (15 in.) in size, this requirement is 6.3 mm in 3.05 m (1/4 in. in 10 ft), and for tile with at least one edge over 381 mm (15 in.) in any one direction, the requirement is 3.2 mm in 3.05 m. (1/8 in. in 10 ft.). Exterior floors, decks, or patios should be sloped to allow for drainage. Concrete on grade should also have a gravel bed or other means of drainage below the slab. Drainage is particularly important for installations subject to freeze/thaw cycling, snow and ice accumulation, or use of snow-melting chemicals, as these conditions can cause degradation over time.
As the ground freezes and thaws, moisture levels change. This process causes substrates, adhesives, and tile to expand, contract, and even crack. Waterproofing and crack-isolation membranes can alleviate the demands put on exterior tile installations. American National Standards Institute (ANSI) A118.10, Specifications for Waterproof Membranes, is the relevant standard for waterproof members, while ANSI 118.12, Specifications for Crack Isolation Membranes, details specifications for crack-isolation membranes.
Waterproofing and crack-isolation membranes also prevent in-plane cracks in the substrate from telegraphing to the tile. These strategies also prevent water's passage into the substrate or leaking into the mortar bed. They help prevent problems associated with saturation and moisture expansion, and are applied to the substrate's surface and allowed to cure before tiling begins.
Crack-isolation properties are particularly important for projects in freeze/thaw environments. A membrane allowing the direct bonding of tile for an efficient installation should be specified. A water-resistive barrier (WRB), waterproof membrane, or vapour retarder membrane may be required as per local building codes.
Excessively porous substrates may prevent formation of a strong bond. Excessive porosity in a substrate can be determined by splashing water on the concrete—if the water disappears in a matter of seconds, the substrate is porous. The application of a primer can minimize the pull of moisture from the mortar into the substrate, ensuring proper curing and bonding.
Mortar selection
An important element of ensuring an installation performs as expected and has a long service life is choosing the proper setting materials. It is critical to select mortars and grouts specifically engineered to safeguard against natural elements when installing in a harsh exterior environment.

Control the content you see on ConstructionCanada.net!
Learn More.