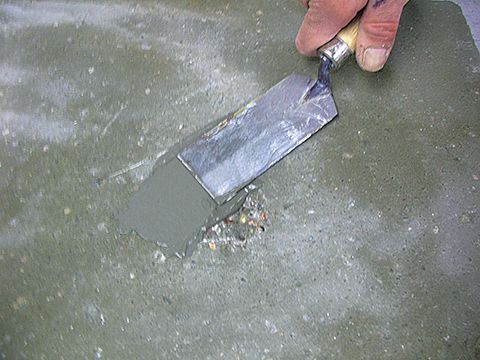 The best tile mortars for exteriors combine bond strength with flexibility to allow for shifts in the substrate caused by changing moisture and temperature levels. Latex/polymer-modified thin-set mortars are often best equipped for these conditions. These mortars are designed to reduce water absorption and provide greater bond strength and resistance to shock and impact. A mortar complying with ANSI A118.15, Specifications for Improved Modified Dry-set Cement Mortar, would be in this category. Organic adhesives should never be used on exteriors.
According to TTMAC, a latex-portland cement mortar should be used on exterior installations. Most mortars today have a dry form of polymer already blended in the bag, to which only water is required for mixing, but latex additives can enable unmodified thin-set mortars to meet ANSI A118.4, Specifications for Modified Dry-set Cement Mortar. This standard denotes mortars designed for exterior conditions or for use with hard-to-bond-to substrates.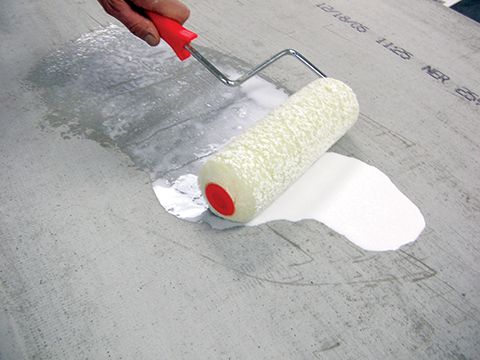 The newer designation of ANSI A118.15 indicates applications with increased bond strength requirements, helping identify the best mortar types for exterior applications. Admixtures may increase mortar performance and flexibility in cold weather, helping it withstand the expansion and contraction associated with freezing and thawing.
Grout selection
Grout is also an integral part of an installation's longevity. High-performance grouts offer increased bond strengths, flexural strengths, and lower water absorption to resist frost damage. Some grouts are fully submersible and offer chemical- and stain-resistance—making them suitable for virtually any type of outdoor installation imaginable. Mould and mildew resistance help exterior grouts hold up to frequent moisture exposure. Generally, epoxy grouts are not recommended for exterior installations, according to TTMAC. (The manufacturer should be consulted to ensure the product's suitability.)
In especially demanding environments, grout additives are often mixed with cement grouts (in place of water) to create stain-resistant, stronger, denser grout more able to endure freeze/thaw action and resist water penetration. Additives can also increase grout flexibility, providing crack resistance. Again, there are also high-performance grouts with the polymers, in the dry form, already blended in the bag, to which only water needs to be added. Grouts complying with ANSI A118.7, Polymer-modified Tile Grouts for Tile Installations, are recommended for exterior applications.
Tile selection can impact grout specification for exterior installations. For example, some glass tile—such as those used on pools or walls—may be easily scratched, and therefore will require unsanded grout, since sanded grout may damage delicate surfaces. Beyond that, narrow grout joints of 1.6 to 3.2 mm (1/16 to 1/8 in.), which demand unsanded grout, are often preferred for stone tile installations.
Sanded grout adds stability to joints between 3.2 and 12 mm (1/8 and 1/2 in.), as its composition prevents grout shrinkage. It is important to note that TTMAC recommends using a minimum of 10-mm (2/5-in.) wide control joints on exterior tile installations, because of temperature fluctuations. Tile control joints should be located over the control joints in the substrate, as well as above any cold joints. Placement and spacing of these are described in TTMAC's 09300 Installation Manual's Detail #301MJ-2012-2014.

Control the content you see on ConstructionCanada.net!
Learn More.