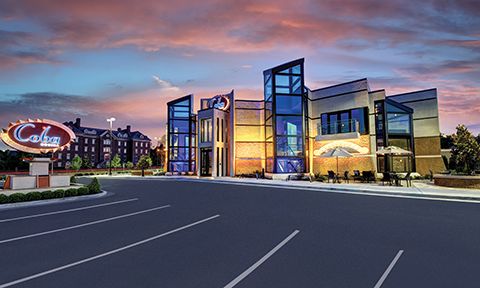 By Tom Plaskota, CDT
Tiled exterior features—such as walls, patios, and walkways—make a powerful first impression. A well-executed exterior installation can attract customers to a business, add curb appeal to a home, or complete a public space. Although worthwhile, exterior installations present potential complications, particularly in Canada, as there may be great temperature variation between the summer and winter months.
Before any installation, substrate condition, environmental factors, and the intended use of the space must be considered. These factors are especially critical for exterior applications, and must be taken into account through every project step—from product specification to installation.
The right installation materials—effectively installed to work as one system from substrate to sealant—help outdoor tile installations withstand the elements and protect building owners in the future.
Tile selection
For exterior installations, careful tile selection is essential. Historically, porcelain tile has been the most commonly recommended material for outdoor projects. However, any tile within the acceptable porosity range can be used, as long as it meets other requirements for exterior installations. Paper-back, mesh-back, or dot-mounted tile on exteriors should not be used unless the manufacturer guarantees the material is suitable for this type of installation.
Climate-specific challenges should also be considered throughout the specification process. For example, if an installation will be subjected to freeze/thaw conditions, the tile should be frost-resistant. Denser materials with a porosity of less than 0.5 per cent—such as porcelain—tend to have more frost-resistance. These tiles are classified as 'impervious.' The higher the amount of water absorption, the greater the likelihood of damage caused by stress generated by freeze-thaw action. ASTM C1026, Standard Test Method for Measuring the Resistance of Ceramic and Glass Tile to Freeze-Thaw Cycling, is the standard used for tile in freeze-thaw conditions.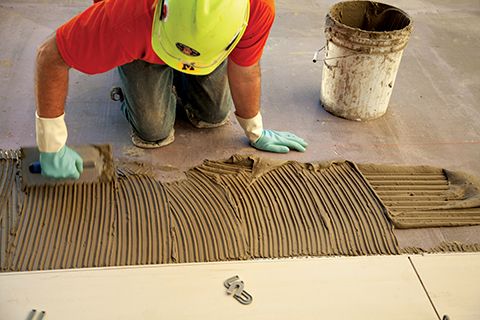 For outdoor floor installation in any climate, installers must consider tile texture. Since outdoor floor installations will be exposed to the elements, installers should take caution to avoid materials that get especially slippery. Unglazed materials are often ideal for outdoor floor installations, as they normally have nonslip properties. Textured tiles can also minimize the likelihood of slipping. For safety, the Terrazzo, Tile, and Marble Association of Canada (TTMAC) recommends avoiding polished stones in particular. On walls, almost any type of tile can be used—including ceramic, glass, or stone.
Sustainability goals may also influence exterior tile selection. Light-coloured tiles for site hardscaping can lower a site's heat absorption, or heat island effect. Tiles with a solar reflective index (SRI) of 29 or greater can contribute toward compliance in Leadership in Energy and Environmental Design (LEED) by complying with New Construction (NC) v2.2's Sustainable Sites (SS) Credit 7.1, Heat Island Effect−Non-roof.
Substrate preparation
Whether a project involves remodelling a tiled exterior area or starting from scratch, substrate preparation is the key. Concrete is the ideal substrate for exterior floor installations, while other firm substrates, including backer board or concrete masonry unit (CMU) walls, can be employed for wall installations. When setting tile on existing concrete, liquid membrane curing compounds must be addressed. These products can prevent proper bonding of mortar to the concrete surface, so they should be removed by mechanical cleaning and profiling methods or covered with an appropriate primer. It is important to look for a primer produced by the same manufacturer of any patching or levelers used, and to be certain it is compatible with all other products used.

Control the content you see on ConstructionCanada.net!
Learn More.