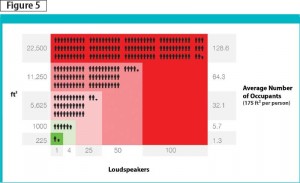 Masking sound generation
Each small adjustment zone should have a dedicated masking sound generator to avoid a phenomenon called phasing (i.e. uncontrollable variations in masking levels), which occurs when numerous speakers adjacent to each other emit the same masking signal.
To maximize unobtrusiveness, each generator should also provide a sound that occupants perceive as being random (i.e. with no noticeable repeat cycle). The sound produced by the generator must cover the entire masking spectrum of 100 to 8000 Hz––frequency output beyond this range is unnecessary.
Volume adjustment capabilities
The masking sound is greatly affected by the overall workplace design, including the materials used, furnishings, location on the floor, and items above the ceiling. These elements have an impact no matter how the loudspeakers are installed (e.g. upward-facing above a suspended ceiling or direct-facing cut through a ceiling). For this reason, ASTM E 1573-09, Standard Test Method for Evaluating Masking Sound in Open Offices Using A-weighted and One-third Octave Band Sound Pressure Levels, requires measurements to be taken in areas representative of all workspace types.
If the adjustment zones are large, numerous loudspeakers are set to the same output level, but after interacting with the variables in the space as noted above, the masking volume fluctuates. Variations of 2 dB or more call attention to the masking sound, reveal its source to occupants, and diminish results.
Large-zoned designs attempt to mitigate these volume variations by including audio transformers as volume controls on each loudspeaker. However, they only provide rough adjustments of 3 dB each. When the volume cannot be finely adjusted in small areas, users need to set a volume that is best 'on average,' compromising comfort or effectiveness at various, unpredictable points across their space.
The specification should call for fine volume controls for each small zone. Increments of 0.5 or even 1 dB enable the user to adjust the sound whenever needed in order to accommodate variable acoustic conditions. The specification should also require the final masking volume be consistent within a range of 1 to 1.5 dB in all areas desired. Again, the benefits are consistent performance and comfort.
Frequency adjustment capabilities
The sound masking system should also provide fine frequency control within each small adjustment zone.
The range of masking sound is generally specified to be between 100 to 8000 Hz. The system should provide control over these frequencies via third-octave adjustment because it is both the industry standard and the basis for masking targets that are set by acousticians.
However, providing third-octave adjustment is not enough when these controls are paired to large adjustment zones. A well-designed system provides equalization for each group of one to four loudspeakers.
Loudspeaker requirements
As long as the masking system can meet the volume and frequency targets established by the specification, it is not essential to specify the loudspeaker's size, wattage rating, or other parameters. Yet, it is worth noting very small loudspeaker drivers (i.e. less than 76 mm [3 in.]) are unlikely to generate sufficient levels below several hundred hertz (i.e. down to the required 100 Hz). These low frequencies are necessary to create the full masking spectrum. While they play a relatively minor role in reducing speech intelligibility, they are vital to occupant comfort. Most masking loudspeakers are 102 to 203 mm (4 to 8 in.) in diameter and rated from 10 to 25 watts.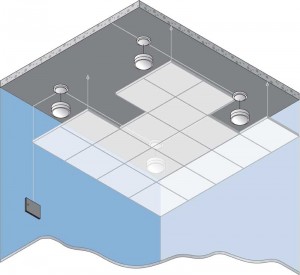 Measured results
The true gauge of whether the sound masking system ultimately selected is performing as required is gained from post-adjustment measurements.
The specification should require specific results that are measured and documented. Best practice is to require a test in each 93-m2 (1000-sf) area, and have the vendor adjust the sound masking system within that area as needs dictate. (Some systems may be able to outperform this requirement, but it is a good baseline.) Two or three types of measurements should be required:
Overall volume and variation tolerances—masking volumes typically range between 42 and 48 dB, depending on the type of space and the user's performance requirements. As previously mentioned, the results should be consistent within a range of 1 to 1.5 dB or less.
Masking frequency curve––there is a general curve the acoustical community considers effective and comfortable. It is defined in third-octave bands. The specification should set maximum variations for each frequency band; ± 2 dB variation is a reasonable expectation.
Temporal uniformity––this refers to the consistency of the masking volume over time. While this attribute can be assessed, it is usually not an issue and is less frequently specified and evaluated.
It is important to remember there are no independent standards for masking performance, only standards relating to measurement such as ASTM E 1573-09. A specification stating the sound masking system is or should be 'compliant' with any ASTM standard is misleading. Instead, it is essential that it outlines all the above requirements for masking output.
Additional considerations
Depending on their significance to the project at hand, some secondary characteristics may also need to be included in the specification, including:
timer functions;
zoning and control methods;
security features;
paging functions;
esthetics;
certification;
drawings; and
compliance form.
Timer functions
Timers automatically adjust the masking volume to vary in anticipation of noise levels throughout the day, balancing effectiveness and comfort. For example, the user may want a lower masking volume at a certain time when there are fewer occupants in the facility.
Considerations for the specification include:
whether the timer provides variable rates of volume change;
the number of independent timer zones;
whether the daily schedules can be independent; and
if unique schedules can be programmed for specific days of the year (e.g. holidays and special events).
Masking systems may also offer a ramp-up feature. It is best to specify this in retrofit situations because it is used to gradually introduce the masking sound, allowing occupants to easily acclimatize to the change in their acoustical conditions.
Zoning methods
Beyond masking zones, most systems can be zoned for various functions, including paging and timer functions, as well as local occupant control (e.g. in a meeting room). In this case, the type of zoning is relevant. For example, hardwired zones require advanced planning because a contractor will have to re-cable parts of the system when future changes need to be made. Digital zones can usually be re-assigned without altering the system's physical design. Less planning is required from the outset because any changes can be made in minutes.

Control the content you see on ConstructionCanada.net!
Learn More.