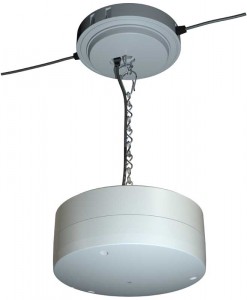 Control methods
The method of controlling the system impacts the ease, cost, precision, and amount of disruption associated with making initial and future adjustments. Some designs provide central control over a limited range of features. Others provide central control over a few features and local control over others. There are also designs offering control over all features from a central location.
Most users make significant changes to their space over time––to department location, demountable partition placement, or furniture system configuration––and it is important to consider how the corresponding changes will be made to the sound masking system. The specification can include the types of features and settings that need to be controlled and from what kind of access point (e.g. hardware and/or software).
Security features
Depending on the user, security may be another key consideration. In this case, the specification should describe both the physical and electronic security features for the sound masking system.
Physical features can include housing below-ceiling equipment in locked enclosures and also ensuring enclosed rather than exposed cabling connections. Electronic measures can include monitoring, password-controlled access, and encrypted communication.
If security is a concern, additional masking generators and longer generation cycles are better because short cycles can easily be filtered out of recorded conversations.
Paging functions
Many sound masking systems can provide simultaneous overhead paging and background music functions. If the user requires these features, they should be covered in the specification.
Esthetics
When installed in an open ceiling, the system's appearance should be considered, including the look of the loudspeakers (e.g. an industrial esthetic or similar to a lighting pendant), the cable and cable connections, as well as the loudspeaker suspension methods (e.g. chain or a braided steel cable).
Certifications
Another important aspect of the specification concerns the system's certifications. Though not critical to performance per se, they are essential to meeting regulatory requirements.
Sound masking systems must meet Underwriters Laboratories (UL) or similar standards for electrical safety. Any components installed in air-handling plenum or via cut-throughs in a suspended ceiling must also be tested to meet UL 2043, Standard for Safety Fire Test for Heat and Visible Smoke Release for Discrete Products and their Accessories Installed in Air-handling Spaces. Cables must be plenum-rated. If using low-voltage power supplies, these should conform to UL 1310, Class 2 Power Units, to avoid conduit requirements. Digital masking systems need to meet the electromagnetic interference (EMI) standards.
If sustainability is a goal within the space, users might also voluntarily require compliance with the European Restriction of Hazardous Substances (RoHS) directive, which limits the quantities of certain materials used in the system's components.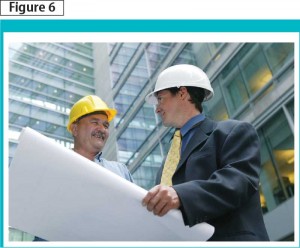 Drawings
Even if the sound masking technology the vendor proposes adheres to a generally worded design guide, the vendor may intend to implement it in a different manner. Therefore, it is important whenever possible, to require drawings as part of the bid submission process (Figure 6).
These documents can help identify differences between sound masking proposals because they show the components, quantities, and locations, making it easier to spot design shortcuts and subsequently discuss those deviations with the vendor.
Ideally, of course, the drawings should be included as part of the specification itself, allowing the user to set the adjustment zones for each area. For example, there may be areas where the client wishes to use zones smaller than the four-loudspeaker maximum, such as in private offices and meeting rooms. These drawing should be created by the user in conjunction with an acoustical consultant or trusted vendor.
Compliance form
Another useful document to request in the specification is a compliance form. Vendors should be asked to submit a statement indicating their adherence to each aspect of the specification. They should also be required to note any deviations, describing how their system's design differs.
Own the spec
Acoustics are an integral part of a project's long-term success and should be planned from the outset. While every sound masking system introduces a sound into the space, overall performance can vary dramatically. A well-constructed specification is essential to ensure the technology and the system's design meets the user's current and future requirements (Figure 7). If not, the sound masking system may be ineffectual, underused, or become a source of irritation itself and possibly turned off.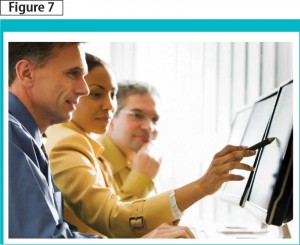 However, even with a well-written specification, the user could end up with a non-conforming system unless the specifier, user, or another person involved in the design and procurement process is appointed as a guardian whose responsibility it is to ensure bids meet the criteria outlined. Many times the value of a well-designed specification is nullified because no one is asked to ensure all proposals––and, indeed, the system ultimately selected––conform to the desired performance levels.
It is also wise to learn what services are offered in conjunction with each proposal under consideration. The sound masking system should be supported by professionals who can properly design and implement it and provide the user with ongoing support.
Niklas Moeller, MBA, is vice-president of K.R. Moeller Associates Ltd. (Burlington, Ont.), a global developer and manufacturer of sound masking systems for more than 30 years. He has been in the sound masking business since 1998. Moeller can be reached via e-mail at nmoeller@logison.com.

Control the content you see on ConstructionCanada.net!
Learn More.