by Paul Giangualano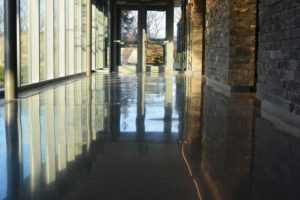 Many definitions and descriptions of polished concrete exist, but they all revolve around two fundamentals: mechanical processing and chemical densification.
A polished concrete finish is achieved through a process of mechanical diamond grinding, honing, and polishing, utilizing a series of subsequently finer grits combined with chemical densification to produce a light-reflective, durable, and relatively easy to maintain surface.
The concrete industry is able to offer this architectural finish in a multitude of settings architects, designers, and owners may desire for providing exceptional value and enhancing buildings' esthetic appeal.
Polished concrete floor surfaces offer several benefits, including:
40 per cent greater abrasion-resistant compared to steel-trowelled slab per ASTM C779, Standard Test Method for Abrasion Resistance of Horizontal Concrete Surfaces;
a 30 per cent increase in ambient light reflection compared to steel-trowelled concrete, according to ASTM D523, Standard Test Method for Specular Gloss;
multiple design options (including the addition of colour or specialty aggregates);
improved ease of maintenance because waxing or striping is not required;
minimal issues with moisture vapour, as polished floors are permeable; and
environmental responsibility.
Additionally, polished concrete floors do not contain volatile organic compounds (VOCs) and reduce lighting requirements and energy costs associated with climate control by leveraging concrete's positive thermal mass properties for natural heating and cooling.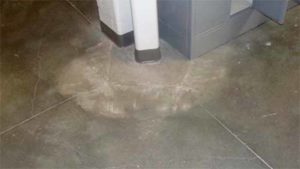 It is, therefore, unsurprising polished concrete has evolved into one of the most widely utilized floor systems. As Beth Miller explains in her article, "Polished Concrete Report," for the April 2018 issue of Focus, "The best estimates for the polished concrete market in the United States reveal that it accounts for close to five per cent of total commercial hard-surface flooring, or just over 80 million square feet."
Despite the widespread use of polished concrete, a successful outcome with it in new construction is still unpredictable. Hence, some building professionals hesitate to employ it in their projects.
Unique to this floor system is the long line of tradespeople involved with the process, including general contractors (GCs), ready-mix suppliers, and concrete placers, finishers, and polishers. This division of responsibility can cause problems with the final result.
Specifiers and GCs are at times unsure how to approach these floors when they are on the finish schedule. Further, it can be difficult to translate the expectations of building owners and designers into results, particularly with the overall 'look' of a polished floor and/or its durability. In this author's experience, meeting expectations in terms of both performance and esthetics relies on a myriad of factors such as:
an understanding of appropriate utilization;
comprehension of the intimate relationship between the concrete floor slab and the final polished finish;
comprehensive specification;
a qualified and experienced concrete polishing contractor; and
an organized approach.
In the following paragraphs, this author explores some common issues polishing contractors tend to see or hear about from clients or designers. Today, the concrete polishing process is relatively repeatable given certain criteria. In terms of concrete floor slabs, however, it can still be difficult to achieve the consistency conducive to polishing. Many of the issues are directly related to the slab itself. As the pouring of concrete is irreversible, some polishing projects are left with permanent reminders there is room for development. The process of improvement starts with recognizing the issues and their causes, refining specification documents to reflect current best practices, and educating the project team on how mix, placement, finishing, curing, and, finally polishing, can affect the overall slab appearance.

Control the content you see on ConstructionCanada.net!
Learn More.