Surface defects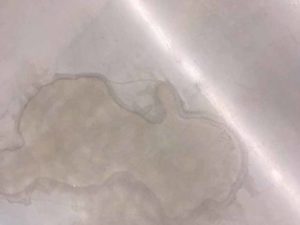 During the concrete finishing process, careful attention is required to ensure residual buildup on finishing trowels is removed. Scarring can occur if residue builds up and falls back on the slab surface. Finishing scars have some depth and an associated colour differential. These blemishes cannot be rectified (Figure 3).
To help avoid defects in the finished slab, the specification should include an outline to inspect machines. A sample outline is, "Do not trowel over adjacent hardened concrete surfaces. Inspect trowel machines prior to each pass and remove any accumulated mortar."
The polished slab specification must also include a requirement for a pre-pour meeting attended by the concrete contractor, ready-mix producer, polishing contractor, testing agency, construction manager, and representatives of the architect, engineer, slab consultant, and owner. This meeting stands above all other recommendations as it ensures all players in the line of the floor slab creation and polishing are present and have an opportunity to review expectations, make recommendations, and create awareness. Further, key parties such as the concrete finisher and polisher will have an opportunity to offer input on how issues like surface defects can be avoided.
At the extreme end of the spectrum of surface defects are weak slab surfaces that can be the result of several issues, such as rain damage, air-entrained concrete mix, and carbonation. When defects occur with the integrity of the concrete cap itself, serious problems are at hand. A delaminating cap cannot be polished and would need remediation. If the cap is rain damaged or carbonated, it should be ground down to a point where a suitable wear surface can be salvaged. Any of these scenarios and their associated 'fixes' would have serious cost implications and would alter the design intent of the polished floor (Figure 4).
Surface crazing of the concrete slab can occur when the slab is subjected to rapid drying, crusting the top while the lower layers are still in a semi-plastic state. Failure to monitor the curing system is the root cause of this surface defect. Avoiding this condition means adherence to a curing plan outlined in the slab-polishing specification as previously discussed.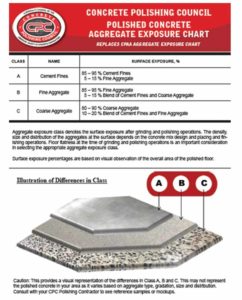 The optimal specified compressive strength for a polished floor is between 25 and 32 MPa (4 and 5 ksi)—strong enough to polish in a month, but not so heavy as to slow polishing progress and grow costs. Further, air content of trowel-finished floors must not exceed three per cent as higher air content increases the risk of blisters and delamination in a trowel finish. These criteria can be included in the concrete slab specification along with the requirement of only executing the floor pour when building and weather conditions are conducive to success.
Surface defects can also occur well after a slab has been placed. Other construction activities, such as dropped materials or tools, rusty metal pipes, and leaky oil bottles, can create damage. Owners are rarely pleased when this type of issue shows up in a polished floor. While there are techniques and materials to deal with these problems, there is a cost associated with them and the remedies are not always invisible.
Concrete Polishing Council (CPC) guidelines recommend protecting the concrete slab in accordance with the slab-protection provisions in MasterFormat Section 03 35 43, "Polished Concrete" (it should be noted there are no provisions in Section 03 30 00 for slab protection. Additionally, since no polishing association currently exists in Canada, the Concrete Polishing Council [CPC], part of the American Society of Concrete Contractors [ASCC], is regarded as the primary source of concrete polishing guidelines and specification information.). As this involves the activities of other trades, the protection falls to the construction manager, who must be made aware of its importance (Figure 5).
Polishing issues
Esthetic problems can result from the concrete polishing process itself. If the polishing contractor has not performed full and consistent refinement to the specified level of finish, a floor can exhibit variation in shine. Concrete polishers minimize shine variation in the following ways:
running the full diamond grit sequence without skipping steps;
testing the floor slab periodically during and after processing with a gloss, distinction of image (DOI), or roughness average (Ra) meter; and
using consistent patterned machining techniques.
The main objective of every professional concrete polisher is to leave the finished slab free of machining marks. Tooling marks from the grinding process can show up in the floor when good techniques are not utilized or if diamond grits are skipped or rushed. This can be as minor as a few wisps in the floor or 'corn rows' of machine-tooling lines that were not cancelled out. With both shine issues and tooling marks, the remedy is always rework to improve or remove.

Control the content you see on ConstructionCanada.net!
Learn More.