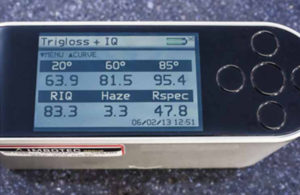 Premature wear or degradation of the polished surface
The final category of concerns involves wear or damage from use.
Fit for use
Polished concrete is a great floor system, but it does have limitations—it is not a coating and is therefore permeable. While advancements in stain protection have been made, polished concrete at this time is not stainproof (Figure 6).
Further, polished concrete is susceptible to chemical attack. De-icing salts, acids, and oils will penetrate the polished surface, remove shine, and, in the case of prolonged exposure, cause degradation.
It is important to note polished concrete will not perform well or provide value over time in areas such as outside entry vestibules (depending on geographic location), emergency service vehicle parking bays, and wash bays. The long-term use of any space should be considered when choosing polished concrete as the floor finish.
Maintenance
A high-traffic public corridor near street access will see a loss of shine or damage to the polished surface if floor maintenance and engineered environmental controls are not considered and implemented.
The first step in addressing concerns regarding maintenance is to include the required instructions for floor upkeep in the project documents itself. This could be a simple mandate to supply maintenance data as part of closeout documents. The specification could be, "B. Maintenance Data: Provide manufacturer's instructions for maintenance of installed work, including methods and frequency recommended for maintaining optimum condition under intended use. These instructions should contain precautions against cleaning products and/or methods, which may be detrimental to finishes and performance."
A more robust option would be to include all items pertaining to maintenance in their own section. For example, MasterFormat Section 03 01 30, "Maintenance of Cast-in-Place Concrete," could include an outline for daily, weekly, and extended polished floor care.
Creating awareness through approach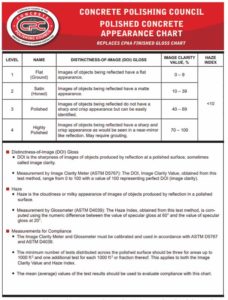 When specifying polished concrete, one is outlining to the long list of professionals what the final vision for the floor surface is, how it should be achieved, and what everyone's role is. Concrete suitable for many floorcovering materials is usually not appropriate for polishing. In the past, specifiers and owners have often delayed selecting floorcoverings or other treatments until after the concrete contract is signed or even after the concrete is placed. This approach does not always work for polished concrete. As mentioned earlier, floor slabs for concrete polishing require special attention if they are to meet an expected outcome. Failure to recognize and address this fact can spell doom for a project even before the polisher gets to the site.
The critical first step is to alert other design and construction professionals the concrete slab to be polished must be specified differently. To effectively communicate this difference, the specifications for concrete slabs should be separated into the following:
• Section 03 30 00, "Cast-in-Place Concrete," for concrete not designated as polished concrete; and
• Section 03 35 00, "Cast-in-Place Concrete," for concrete designated as polished concrete.
• Section 03 35 43, "Polished Concrete Finishing," can then be cross referenced.
Specifying the polish
Section 03 45 33, "Bonded Abrasive Polished Concrete Floor," is now part of the master specification. Some of the areas to note in this section include:
polishing contractor credentials (years of experience, previous similar projects);
acceptable manufacturer(s) of various polished concrete materials;
chemical components of the polishing process, such as densifiers, stain impregnators, finish 'guard' type materials, grouts, or pinhole-filling products;
any other desired design options for the polished concrete slab (such as colour);
appearance expectation;
test method to measure the final required gloss; and
target measurement.
Exposure class
There are three to four categories of polish as defined by the amount of aggregate exposure in the concrete surface (Figure 7). Outlining the desired level of aggregate exposure in the project documents is a crucial component of a polished concrete specification. In the world of concrete polishing, the largest cost input is labour. Requirements for exposing more or larger aggregate will see a corresponding increase in cost. Defining the exposure class for the floor project will ensure the bids are aligned with what is desired.
Gloss levels
For the last 20 years, the main method of describing polished concrete gloss levels has involved using an expression of diamond grit and/or calling out shine levels—level 1, 2, or 3. While this has been useful and tells the polishing contractor where to stop in the sequence, the end results are not always predictable. The final gloss appearance can vary widely from floor to floor, installer to installer, or between diamond-tooling manufacturers (Read Christopher Bennet's "Taking the Measure of Polished Concrete.").
In recent years, technology has made it possible to measure the refinement of the polished concrete by using instruments to evaluate the surface during and after the process. The first type of instrument was a gloss meter to measure reflective sheen. Values for different floor gloss levels could be set and achieved. While this was an improvement, gloss meters do not measure the refinement of a surface and can be fooled by surface coatings. The next evolution in measurement was a clarity meter (Figure 8). It measures specular gloss (reflectivity), but most importantly, it measures DOI, otherwise known as reflective clarity. This measurement cannot be fooled by the use of coatings and will only measure in higher values if the concrete surface has been properly refined.
Levels of sheen and corresponding clarity values have recently been organized into a very useful chart by the CPC. The chart can be used for both specification and QC purposes (Figure 9).
Another method of measuring surface refinement in polishing has now emerged. Ra has become an additional tool with which polished levels can be specified and measured (For more details, refer to Andy Bowman's article, "Concrete floors: Does "sealed" mean the same things as 'polished'?" in the October 2016 issue of Construction Canada.).
Mockup
Even when a good refinement specification is included in bid documents, it is advisable to include a provision for a mockup of the polished floor to be installed as per specs for review by all parties. The final gloss is a relatively easy parameter for an experienced polishing contractor to change and adjust onsite if the design team changes its mind. An onsite sample between 10ms and 20ms will give a reasonable representation of the final floor.
Conclusion
The overall success of a polished concrete project requires at a minimum an awareness between the divisional parties of what the final expectation is and what can be done to meet it. As the polished concrete industry has evolved, an abundance of specification material and information about polished concrete has been generated from both associations and manufacturers. The key is the desire to bring the existing body of knowledge to bear on a project through recognition, sharing, and the ongoing process of creating effective project documents.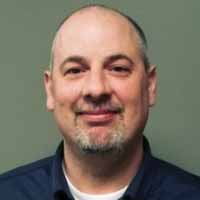 Paul Giangualano is general manager of BNE Contractors. He has more than 14 years of experience in the concrete polishing and resinous coatings industry. Giangualano has previously served as installation foreman, project manager, and operations manager. He can be reached at paulg@bnecontractors.com.

Control the content you see on ConstructionCanada.net!
Learn More.