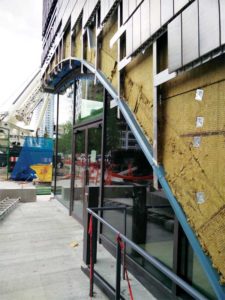 By Andrea Yee
It is often said, the devil is in the details. Increasingly stringent energy requirements are resulting in a push towards higher performing roof, window, and wall systems; however, the interface detailing between these systems remains a weak link in actually achieving high, or sometimes even adequate, performance of envelope systems. When water leakage, air leakage, and thermal loss issues arise, they typically signal discontinuities in the control layers and, more specifically, at interfaces and tie-ins between systems. These are not new challenges, so why do transition details remain such a challenge, and how can this situation be improved?
A casual observer will note the design of buildings is becoming more innovative, moving away from traditional rectangular designs and favouring, instead, unique, curvier, and more complex geometric shapes. More sophisticated design, as a result, requires greater attention be paid during detailed design and construction. It can also, occasionally, involve the use of new materials to achieve durability and effectively control moisture, air, thermal, and structural loads.
In addition to increasingly complex geometry, there are always changes during construction and, despite best efforts, things rarely go as planned. Wall systems change due to cost or availability of systems or materials, geometry changes to accommodate new layouts, floor slabs and structure do not always get constructed exactly where they were expected. Many changes can affect envelope systems and create a butterfly effect without designers or contractors realizing it. Even when such changes are acknowledged, projects are typically pressed for prompt delivery and teams are forced to redesign quickly, on the fly. Occasionally, the effect of a change on the tie-in details is not factored into the redesign and contractors are left to develop their own solutions, which may or may not be consistent with the original design intent.
Regardless of the reasons, there are actions designers can take to focus attention on specific details and give the project the best chance for success.
Understand and identify the control layers
The goal of designers is to achieve continuous control layers (e.g. water, air, or thermal) throughout the building envelope. Understanding and identifying the location and function of various control layers are fundamental first steps toward achieving this goal.
Where is the roof air control layer?
How about the curtain wall or window system?
How does this differ from the vapour or water control layers?
How do these control layers transition between systems?
Without understanding and identifying the layers, it is very difficult to ask builders to do the same.

Control the content you see on ConstructionCanada.net!
Learn More.