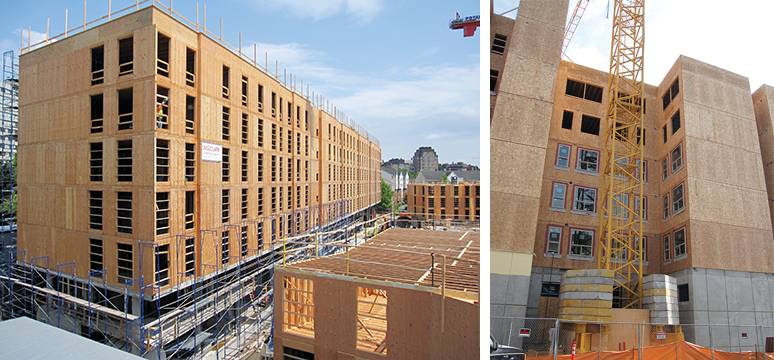 Air barriers
The air barrier must be continuous, durable, airtight, and resistant to the design wind load, without negatively affecting vapour diffusion or drying. It is important to note a six-storey building has to withstand 10 to 20 per cent more wind pressure than its three- or four-storey counterpart.
A key component of modern energy-efficient buildings is achieved by ensuring the wall system is a barrier to air movement; this involves proper detailing to complete continuity and achieve the desired performance.
ICFs are monolithic in nature and inherently airtight—they go a long way toward providing an overall air barrier so there is typically no additional air barrier product required. For ICFs, the air barrier challenges are contained in the detailing around penetrations such as roof junctures, doors, windows, and utilities.
Wood framing will require the same level of detailing at these penetrations, and the exterior walls will also be typically constructed with drained and ventilated rainscreen-clad wall assemblies. A common rainscreen is a 20-mm (¾-in.) cavity with vertical strapping every 200 to 400 mm (8 to 16 in.) on centre (o.c.), depending on the choice of exterior veneer.
Wood frame can use a sealed membrane for the exterior air barrier, but care must be taken it does not rip away in the wind before strapping placement. Alternatively, a sealed sheathing approach can be used.
Water and vapour control
Both systems require water penetration and vapour control, which is achieved by membranes or sheathing papers.
In the case of ICFs, no secondary plane of protection is required as natural properties of the mass wall allow it to shed most of its surface water. The mass properties also allow it to absorb moisture, which later evaporates. The EPS layer itself sheds the water and acts as an additional layer of penetration.
Depending on the configuration of the wood-frame system and local climate conditions, a drainage layer may be necessary unless it is incorporated into an additional insulation that is required.
Construction and moisture management
Construction and moisture management can be challenges for a wood-frame system. The building season in Canada varies, and moisture protection during construction is critical—too much absorption into the structure can result in delays. Care must be taken to not apply impermeable membrane materials over wet wood.
Potential shrinkage after the fact—as much as 13 mm (½ in.) per floor—is also a concern for wood framing. At six storeys in height, this factor must be accounted for since other elements of the building (e.g. masonry walls, cladding, plumbing, and elevator shafts) will not shrink. However, the wood industry has provided guidance on how to flash and allow for this shrinkage without compromising the air barrier detailing. The use of engineered timber and floor joists is another way to eliminate the shrinkage issue.
ICFs do not have the shrinkage issues, and their concrete mix designs allow for almost complete hydration removing the concern of excess water. Detailing around windows and penetrations must be addressed due to the thickness of the walls to ensure no water gets beyond the outside surface. Recent testing of ICF window details demonstrate sufficient resistance to water penetration at high wind pressures that could be experienced in coastal regions.

Control the content you see on ConstructionCanada.net!
Learn More.