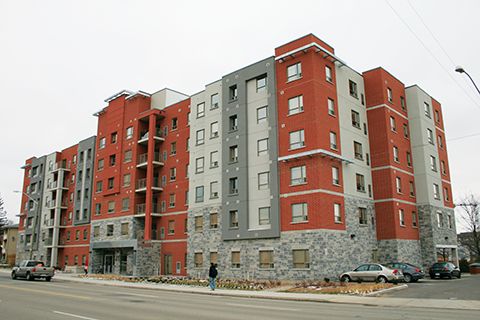 By Andy Lennox
The face of mid-rise construction may well be changing in Canada. In British Columbia, about 285 wood-frame mid-rise buildings have been built or are under construction, and the trend is moving east as six-storey wood frame construction is in the process of being adopted by several provincial codes. Meanwhile, in Ontario, more than 125 mid-rise buildings have been constructed with insulating concrete forms (ICFs) over the last decade, with additional such projects under design and in construction across the country.
Both technologies represent new ways of building; their advocates feel these solutions are faster and less expensive than traditional methods. This article compares wood-frame and ICF mid-rise construction over aspects ranging from structural details, airtightness, and thermal and energy performance requirements to moisture management, window detailing, and fire performance.
Background on wood and ICFs
The need for cost-effective options with regard to development in urban areas is one of the driving factors behind the momentum for wood-frame mid-rise construction. Additionally, the fact lumber is one of Canada's prime exports has also been a factor in this increased interest in expanding the use of wood-frame technology. As the forest products industry has testified before senate committees, other countries want to see our codes adopt wood technology before they consider the prospect of importing Canadian wood-frame technology and products.
Similarly, ICFs represent an advancing technology. A permanent formwork system for reinforced concrete construction, these interlocking modular units are dry-stacked into position and filled with concrete. They can be used for almost any concrete wall—interior or exterior, below grade or above-grade, short or tall.
A conventional exterior concrete wall contains six building components:
concrete;
reinforcement;
insulation;
air barrier;
vapour barrier; and
strapping.
ICFs combine these six components into a single building system that is installed by a single crew at the same time to enable labour cost savings. It is the successful marriage of two proven technologies—concrete and expanded polystyrene (EPS)—with the concrete mass sandwiched between two layers of foam insulation.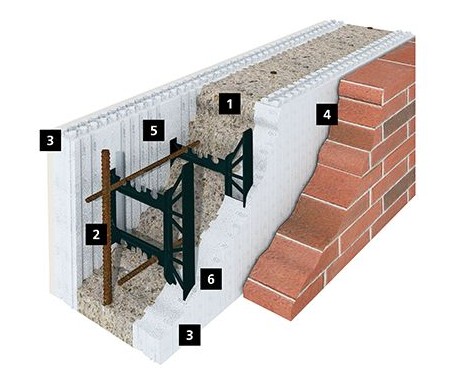 Structural considerations
Wood design is starting to utilize cross-laminated timber (CLT) as one of the main structural components for six-storey buildings. This material is designed for increased dimensional stability and strength in framing systems (especially suitable for longer spans in floors, walls, and roofs), and comprises multiple layers of wood, with each layer oriented crosswise to the next. Wood structural design is governed by Canadian Standards Association (CSA) O86, Engineering Design in Wood, with the Canadian Wood Council (CWC) providing a supporting document in its Wood Design Manual.
In the construction of six-storey wood-frame buildings, a concrete platform is usually still used to construct the underground parking level; it serves as the supporting base for the remaining floors of the structure, which will be wood-framed. Typical framing for exterior walls for six-storey structures will be at least 2x6s in terms of size, and there is usually 30 to 40 per cent framing in these walls.
ICF construction is governed by CSA A23.3, Designing Concrete Structures in Canada, and by American Concrete Institute (ACI) 318-14, Building Code Requirements for Structural Concrete. The assembly is most commonly used for above-grade exterior walls, but can also be specified for frost walls, below-grade walls, parking garages, interior demising walls, shear walls, elevator shafts, fire-rated walls, and load-bearing walls. For a six-storey structure, the concrete core in the ICF forms will likely be 200 mm (8 in.) thick. In ICF mid-rises, the floor system tends to be 250-mm (10-in.) precast concrete planks that can span up to 13 m (42 ft).
New seismic design requirements of the National Building Code of Canada (NBC) are having a dramatic effect on both building systems, depending on the location. For instance, British Columbia has recently instituted rigorous seismic design requirements for some municipalities and the codes staff are currently looking at ways of adjusting these requirements so as not to exclude some wood-frame structures.
It should also be noted wood-frame mid-rise buildings are limited to six storeys, while ICF construction is not limited in height by the building code.

Control the content you see on ConstructionCanada.net!
Learn More.