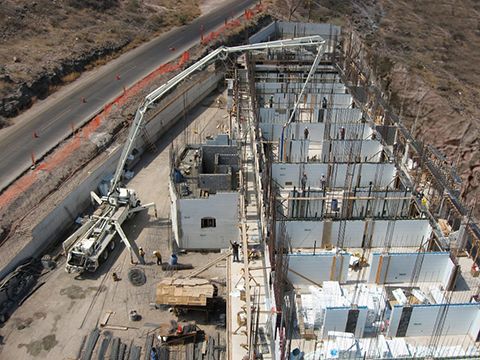 Economic considerations
In comparison to the traditional mid-rise building methodologies, both ICF and wood framing proponents make impressive claims for speed of construction. As an example, some experienced wood mid-rise framers feel comfortable planning on framing 1400 m2 (15,000 sf) of wall per week. On the other hand, installers of ICF mid-rise buildings typically plan to complete a full storey every two weeks—one to build the ICF walls and another to install the floors (usually precast planks). This should be irrespective of cold or wet weather conditions.
Proponents of wood-frame six-storey construction generally claim a potential savings of 15 to 20 per cent versus conventional concrete, due to the lower cost of materials used. However, it is also generally accepted the cost of wood-frame construction will increase by eight to 10 per cent for four to six-storey buildings over that of one to three-storeys.
The ICF camp also claims substantial savings versus conventional methods, with those savings based not on lower-cost materials, but a lower labour cost due to superior efficiencies and speed of construction. ICFs usually do not require any winter heat to protect the concrete while it cures. This can result in a significant cost savings versus conventional concrete methods.
As the vast majority of wood-frame mid-construction has been on the West Coast and most ICF mid-rise construction has taken place in central Canada, the head-to-head cost implications at this time are largely hypothetical. Once a sufficient number of mid-rise wood-frame buildings and ICF mid-rise buildings have been constructed in the same market areas, and possibly by the same builders, a true cost comparison can be made.
Income generation potential is another factor. Wood-framed mid-rise buildings are felt to typically generate revenue at a space efficiency rate in the mid-80s, while concrete mid-rises can have a slightly higher space efficiency rate, into the high 80s, typically due to simpler floor plans and elevator shaft designs.
There are some interesting economic issues yet to be explored. For instance, the costs of construction and occupant insurance are both currently under review to determine whether there is an impact of insuring six-storey wood-frame structures versus ICF construction.
It will also be interesting to determine the importance placed on long-term energy efficiency by the developers, owners and occupants of mid-rise buildings.
Conclusion
This article provides a brief representation of the challenges of constructing six-storey buildings—of course, there will also be other variables, ranging from owner preferences, sustainability considerations, and esthetics. As the new technologies allowed by the codes see more presence in the market, the industry will be in a better position to assess which building system suits them and their clients' needs.
Andy Lennox is the inaugural chair of the Council of ICF Industries (CICFI). He has worked in the insulating concrete form industry for 18 years in various sales, marketing, and management capacities. Lennox can be contacted by e-mail at andy@logixicf.com.

Control the content you see on ConstructionCanada.net!
Learn More.