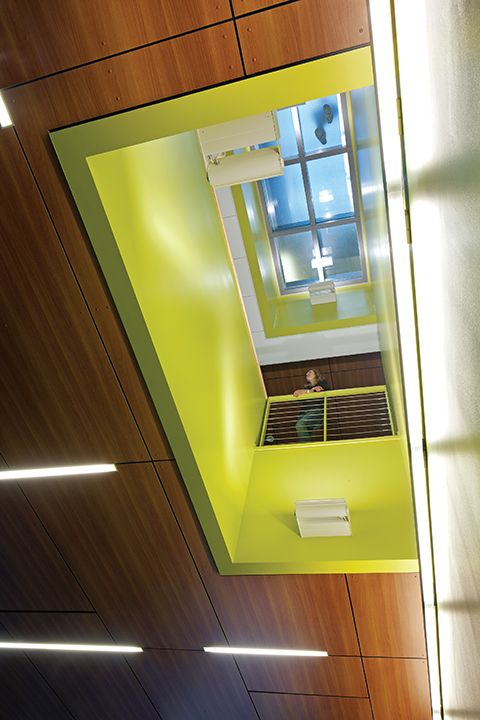 CAN/ULC-S101 compliance
To help ensure the specified fire-rated glass floor system will perform well in a fire, it is important to confirm it meets the requirements of CAN/ULC-S101. The test standard includes both a fire exposure test and a hose stream test. Similar to other fire test standards in North America, CAN/ULC-S101 evaluates performance during a fire and not suitability for continued use thereafter.
Fire rating
Fire-rated glass floor systems are available throughout North America with fire-ratings up to two hours. Non-egress floor or roof applications typically will require 60- to 90-minute fire ratings. Building occupant egress areas typically require 120-minute fire ratings. It is important for project teams to confirm the code minimum for the given application with the authority having jurisdiction (AHJ).
For applications requiring a fire barrier between floors, the floor assembly must be classified as "fire-resistive" rather than "fire protective." This means it must not only block the spread of fire and smoke, but also defend against heat transfer. Both aspects work together to help contain fire and provide safe passage for building occupants and fire fighters. To earn a fire-resistive designation in Canada, glazing assemblies must satisfy CAN/ULC S101.
Load capacity
Since exterior fire-rated glass floor systems must accommodate snow, wind, and other loads, it is important to verify all load requirements with the project architect or structural engineer.
High-performance fire-rated glass floor systems are available that can support live loads up to about 730 kg/m2 (150 psf). Generally, this is suitable for high-traffic pedestrian use, as well as for public gathering areas such as transportation facilities.
Slip resistance
For floor systems that must accommodate foot traffic, it is important to specify a slip-resistant top glass layer with a co-efficient of friction suitable to the building. Many surface treatments are available to meet various surface condition requirements. One common option is to use either embossed glass or cast glass, both of which have a slightly textured surface for better traction. Another option is non-skid ceramic frit texturing, with various patterns, such as closely spaced small (1.7-mm [0.067-in.]) dots. It is important to note ceramic frits can be susceptible to wear patterns in high-traffic areas, so specifiers might want to consider an assembly with easy-to-replace top glass layers.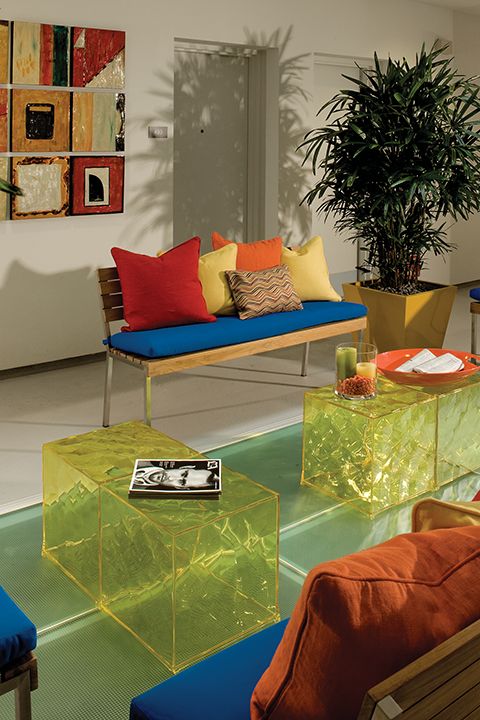 Ease of top glass layer replacement
In high-traffic areas such as hotel lobbies, transit stations, or shopping malls, the top glass layer can become worn. In extreme cases, it could be chipped or crack, especially if is struck repeatedly by hard objects. To simplify replacement, some manufacturers have developed assemblies in which the walking surface is separate from the structural glass. In this case, glaziers can readily replace individual damaged surface panels without removing the entire assembly.
Maintenance
To help preserve the long-term integrity and esthetics of a fire-rated glass floor system, the project team can include some simple maintenance details in the building operating manual.
The primary maintenance requirement is to avoid buildup of dirt and grime that can scratch the top surface glass. Maintenance workers should wash the floor with a soft, clean, grit-free cloth and a small amount of mild soap, detergent, or non-stringent window-cleaning solution and rinse the glass with clean water. The manufacturer's listings will specify tools and cleaners to avoid, which could include:
steam jets;
abrasives;
strong acidic or alkaline detergents;
other solvents or compounds; and
excessive pressure on the glass.
The exposed top surface of the structural grid usually has a protective coating that should also be cleaned at least annually. This helps preserve its esthetics and prevent corrosion or stains.

Control the content you see on ConstructionCanada.net!
Learn More.