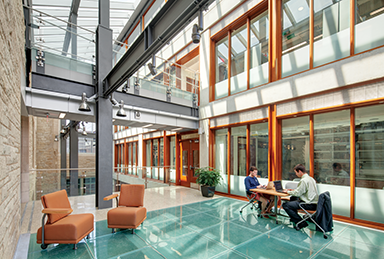 By Ron Pitts
For decades, the words 'design flexibility' and 'fire-rated glass' would not have appeared in the same sentence. Traditional polished wired glass was the only glazing material permitted in fire-rated areas. Its network of wires holds together broken glass during a fire to slow the spread of flames and smoke longer than was previously possible with other available glazing products. The tradeoff was its institutional appearance and low impact safety typically limited its use to smaller windows, borrowed lites, and view panes in doors.
In the late 20th century, the restrictions building teams faced when using traditional wired fire-rated glass led manufacturers to develop better alternatives. As a result, glazing became available with superior fire and impact protection, in larger sizes, and with improved surface quality. These developments paved the way for building professionals to use fire-rated glazing in a range of commercial settings with great design freedom, including:
doors;
openings;
walls;
floors; and
the building envelope.
Today, given the proliferation of fire-rated glazing products and applications, building teams can push the boundaries of fire-rated design like never before. However, increased options also open the door to potential misapplication. To safeguard against incorrect product use—which could put lives and property at risk—this article provides considerations designed to bring greater clarity to fire-rated glazing in commercial building design. It is important to remember they are intended to provide building professionals merely with a starting point; it is crucial to check local building codes since performance criteria vary by occupancy type and location.
Understanding the various fire-rated glazing classifications
To use fire-rated glass correctly and to its full potential, it is essential to understand how its properties affect design and performance outcomes. A critical first step in this process is to distinguish between the two broad types of fire-rated glazing—fire-protective glazing and fire-resistive glazing.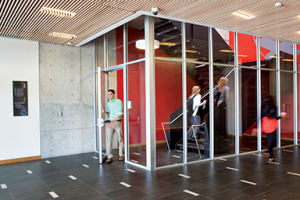 Fire-protective glazing
Fire-protective glazing defends against the spread of flames and smoke. It is tested to CAN4-S104/Underwriters Laboratories (UL) 10b, Fire Tests of Door Assemblies, and 10c/CAN4-S104/UL 9, Fire Tests of Window Assemblies. These tests ensure the glass passes the mandatory fire and hose stream tests without failing for the entirety of its designated fire rating (in minutes). Glass that cracks or separates from the frame during either test may allow flames and smoke to spread through the opening, potentially harming people.
In Canada, building codes require all fire-rated glass to pass both a fire test and a hose stream test before receiving a fire rating. Fire-protective glazing materials able to meet Canada's building codes include options such as traditional wired glass and glass ceramics. Depending on the product makeup, offerings are available with fire ratings ranging from 20 to 180 minutes, as well as with varying impact safety ratings.
Fire-protective glazing meeting the above criteria is typically suitable where building codes require assemblies to protect against the spread of flames and smoke. However, it is subject to area and size limitations under the applicable building code and/or authority having jurisdiction (AHJ), as discussed in later sections.

Control the content you see on ConstructionCanada.net!
Learn More.