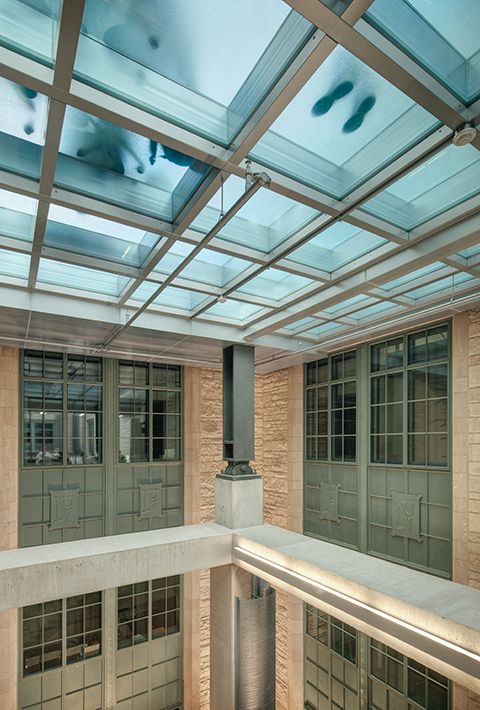 By Ron Pitts
Every year, more structures featuring glass floors are announced internationally, with each one claiming to be more spectacular than the last. Notable examples include the glass floor installed in 1994 in Toronto's CN Tower—342 m (1122 ft) above ground—and the 2014 Glacier Skywalk jutting from a cliff near Jasper National Park in Alberta.
Although these installations are designed as tourist attractions daring visitors to confront their fear of heights, design professionals also are using glass floors in practical ways combining form and function in buildings.
Glass has been incorporated into floors for decades—historically starting out as small punch-outs filled with glass blocks, and evolving to fully glazed floors. Now, fire-rated glass floor systems allow designers to create an even wider range of attractive glazed surfaces. Fire-rated glass floor systems can:
facilitate views;
allow daylight to penetrate deep into buildings to improve occupant comfort and help reduce lighting and electrical costs;
provide a durable walking surface; and
block flames, smoke, and heat.
Design professionals can use advanced fire-rated glass floor systems in interior and exterior applications that require a code-approved fire barrier between floors, such as lobby floor/ceilings, atriums, corridors near exits, and other public egress areas requiring defense against fire.
These floors can make a powerful design statement in shopping malls, office buildings, transit facilities, hotels, and other commercial and institutional buildings. In Canada, they have even been installed as 549 x 424-mm (21.63 x 16.69-in.) punch-outs in a ceiling at the Lake Huron water treatment plant in Grand Bend, Ont. The eight punch-outs are in the middle of a large room, enabling plant personnel to view the water that is being treated.
Elements of fire-rated glass floor systems
Fire-rated glass floor systems usually contain three components:
top surface glass;
structural support grid; and
fire-resistive-rated glass.
Top surface glass
The top layer in a fire-rated glass floor assembly is typically structural laminated glass. This uppermost layer must be durable enough to accommodate foot traffic, snow loads, or similar demands, depending on the application. To improve traction, specifications can call for application of a slip-resistant coating, or a special walking surface textured layer of glass set over the structural glass.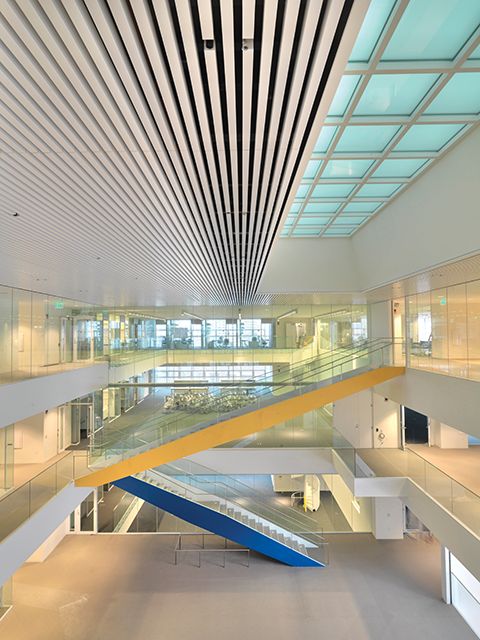 Structural support grid
The assembly's structural frame must be strong enough to support various loads, including live, dead, seismic, and wind loads. To achieve the necessary strength, frame members are often made of steel. They are typically set between the top-surface glass and the fire-resistive-rated glass. This configuration isolates the fire-rated glass from the floor's applied loadings, helping preserve its integrity.
For the entire assembly to earn a fire rating, the framing grid must carry the same fire rating in minutes as the fire-rated glass. The methods manufacturers use to defend the framing against fire include applying an intumescent coating to the steel or placing the fire-rated glazing on the bottom side of the framing grid, as its heat- and fire-resistant properties can help protect the frames from the damaging effects of a fire.
Manufacturers typically ship the frames as knock-down (K-D) kits that come ready for onsite assembly. If the project team prefers some pre-assembling of components, it is important to confirm with the manufacturer what options are available.
Fire-resistive-rated glass
As fire would typically approach the assembly from below, the bottom layer is fire-resistive-rated glass. Such glazing provides a barrier to flames and smoke to help slow or prevent the spread of fire through a building. This class of fire-rated glass also provides protection against radiant and conductive heat transfer. One popular type of fire-resistive-rated glazing for floor systems is glass with intumescent interlayers. The clear interlayers turn to foam when exposed to heat in order to block fire and heat.
Specification factors
When specifying fire-rated glass floor systems, key factors to evaluate include:
compliance with Underwriters Laboratories of Canada (CAN/ULC) S101, Fire Endurance Tests of Building Construction and Materials;
fire rating;
load capacity;
slip resistance; and
ease of top glass layer replacement.

Control the content you see on ConstructionCanada.net!
Learn More.