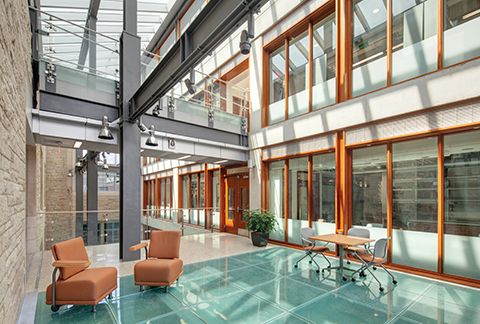 Case study
To help meet the growing space needs for engineering life sciences at Northwestern University (Evanston, Illinois), Flad Architects designed an infill between the wings of the campus' existing Technological Institute building. This U.S. project provides an illustrative example of how glass floors can be used in not only those aforementioned high-profile Canadian projects, but also more typical institutional and commercial construction.
Designed to Leadership in Energy and Environmental Design (LEED) Silver standards, the Northwestern expansion comprises five storeys and makes use of a courtyard that had been turned into parking lots.
"The infill makes use of this previously underused space and encourages interconnectivity with students and faculty in neighbouring buildings," said Matt Garrett, project architect with Flad Architects.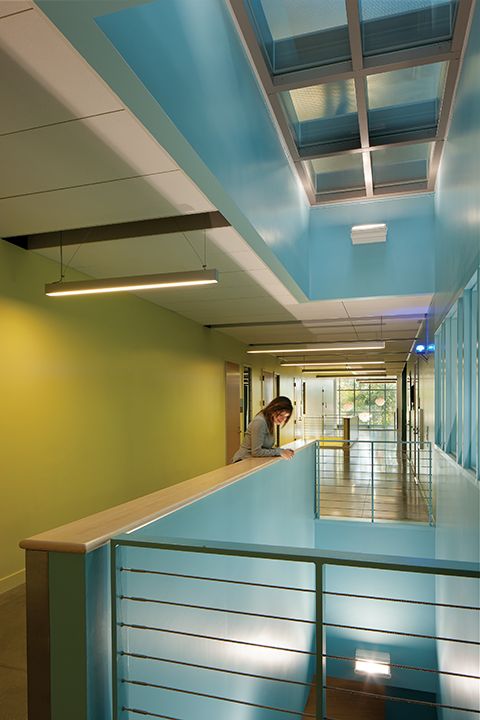 As the space had existing structures on two sides of it, a key design challenge was to ensure adequate, balanced natural light into the infill. This was particularly important for the building's nuclear magnetic resonance lab and other ground floor areas, as too much direct sunlight could harm the specialized instruments housed there.
The design solution called for a large central atrium. However, to create a barrier to fire and chemicals in case of accident, codes required dividing this large space into two segments with a fire-rated floor. To provide the necessary building compartmentation, while allowing in natural light, the designers used a high-performance fire-rated glass floor system.
The specified system comprises two-hour fire-rated heat barrier glass, a tempered, laminated walking surface glass, and a steel framing grid. The assembly provides a barrier to flames and smoke, as well as radiant and conductive heat. During a fire, this capability ensures the glass floor system's surface remains cool enough for individuals to walk across for the duration of its two-hour fire rating.
"We needed a fire barrier in the atrium, but we did not want researchers and students to be in the dark," says Garrett. "The fire-rated glass floor system allowed us to compartmentalize a large volume of space without blocking off access to daylight."
The fire-rated glass floor system supports loads up to 732 kg/m2 (150 psf), which creates additional usable space in the project. The system's textured, top-surface glass provides a slip-resistant walking surface. Additionally, the architects specified a ceramic-etched laminated glass for a mild opacity that allows the system to diffuse daylight, and privacy for the people walking on it. Along with surface treatments, various interlayers are also available for fire-rated glass floors requiring a high level of visual obscurity and modesty.
Conclusion
Fire-rated glass floors provide design professionals with more options for bringing light deep into a building's interior to help save electric lighting costs and improve occupant wellbeing. They can also be a crucial part of the design esthetic. As one glazing firm has stated, "Glass flooring is beautiful; it can provide the 'wow' factor in a building, adding new dimensions to the optical environment."
Ron Pitts is the Canadian sales manager for Technical Glass Products (TGP), a supplier of fire-rated glass and framing systems, along with other specialty architectural glazing products. He has served as a glazing-industry professional in Canada for more than a decade and is currently based in Toronto. Pitts can be reached at ronp@fireglass.com.

Control the content you see on ConstructionCanada.net!
Learn More.