Evolution of below-grade waterproofing
by nithya_caleb | July 25, 2019 12:00 am
By Peter Grant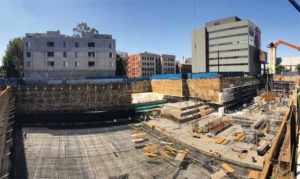 As multifamily construction accommodates higher city populations and moves outside urban centres, below-grade solutions must ensure buildings are built to last.
The Canadian population is booming. According to Statistics Canada, the country's population increased by nearly 11 per cent, from almost 33 to 37 million between 2007 and 2017. Considering a major part of the country is uninhabitable, either due to weather or lack of infrastructure, people tend to live in or around urban centres. Big cities have more opportunities when it comes to education, employment, and arts and culture, and people are flocking to them.
To serve as a further illustration, over the same 10-year time period, the population of Montréal increased by 11.4 per cent, Toronto had grown by 17.1 per cent, and the amount of people living in Calgary and Edmonton rose by a whopping 29 and 27.8 per cent, respectively. More people moving to cities increases the urban landscape exponentially and construction is taking off in the cities' outlying areas in anticipation of future demand.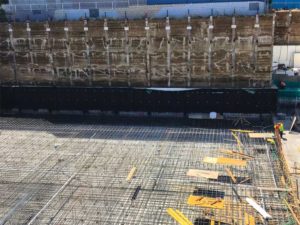 As an example, in May 2018, CBC News reported on new housing being built in anticipation of an influx of residents. According to the report, in and around Calgary, 6500 condo units were under construction at press time, for 'future demand,' due to the sheer length of the process from project inception through approval and eventual, physical construction. Yet, these new buildings are not popping up directly in Calgary's downtown. Some are in 'inner-city' areas, while others are significantly out in the suburbs or beyond, creating new exurban enclaves or massive mixed-use developments. This begs the questions: On what kind of land are these structures being built? Can that land handle larger buildings and heavy use?
"Developers are moving into areas that cities have identified as underdeveloped, former, or existing light industrial areas," says George McCutcheon, architect with RWA Group Architecture in Vancouver. "As space to develop becomes scarce in metropolitan areas, these areas are easy targets. To afford a place to live, former city-based tenants keep moving a bit further out to the cheaper industrial land that was probably farmland before."
Land that will not break the bank
Cheap land can be great for new construction, as keeping costs down is a boon to everyone involved in the process. However, construction on these lands may not necessarily be economical. In fact, these in-demand sites outside many urban centres were previously designated as floodplain or, in the case of Toronto and Vancouver, was located close to the water infiltration. This makes construction challenging and more expensive because of the potential for infiltration. Additionally, these sites may also have been formerly used for industrial purposes.
All three of these scenarios bring their own set of challenges. McCutcheon notes, "Due to some of the light industrial land situated in areas that were in a floodplain or close to the water, there are new concerns about tanking the building with a continuous waterproofing membrane system."
This has inspired manufacturers to introduce new products for complex site conditions and to find ways to transform familiar materials into more innovative systems.
Below-grade waterproofing: The unsung hero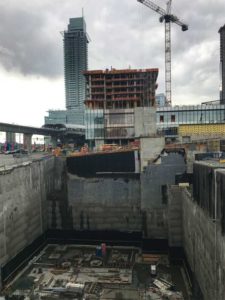 One of the most complex components of building design is the waterproofing system, especially the below-grade protective applications. They often have to serve several purposes across a building foundation, and must also be strategically applied to mitigate conditions. It can even be said, waterproofing systems are the unsung heroes of construction. When water, harmful gas, or contaminated vapour infiltrate a foundation, a structure's performance could be compromised without effective, below-grade building envelope protection. Planning such protection is always a challenge, and site conditions can increase the complexity at an exponential rate.
There are two main classes of waterproofing conditions: Hydrostatic and non-hydrostatic. The former occurs when water present in the soil exerts pressure on a foundation or surface. The pressure can be quite intense—3 kPa (0.43 psi) of pressure is exerted for every foot of water present—and as foundations go deeper and rainfall ebbs and flows, it can increase. This pressure can essentially push water into the building, and problems occur when it puts additional strain on a building's structural elements, for water can seep into cracks and holes. Non-hydrostatic conditions occur where there is an absence of water pressure or no significant threat of groundwater infiltration at the site and when a building foundation is not built below the established groundwater level.
Buildings need to be kept dry: It is simple. Concrete and shotcrete are inherently porous materials and can crack over time when a building has settled. This can be the result of below-grade water, among other issues, exerting pressure on a structure.
On sites with underlying contamination, unsafe vapours can migrate via diffusion or advective flow through imperfections below grade. Therefore, it is essential to place a barrier between the concrete and surrounding earth. The specified barrier must also be robust enough to prevent both water infiltration and the entry of harmful contaminants into the structure.
For non-hydrostatic conditions, the most common solution is a drainboard underlain by a simple membrane or 'dampproofing' material. The level and quality of the membrane selected is based on the anticipated surface runoff as well as estimated contact time for moisture and potential for infiltration.
Redundant layers offer more
In the author's experience, most architects and waterproofing consultants are looking for at least one layer of redundancy in the design. This can be accomplished in two ways—the building team can either invest in a better membrane system or wait for leaks and treat with injection after completion of the structure.
The three main categories of waterproofing systems are:
liquid-applied (cold or hot substance);
prefabricated membranes (modified bitumen and elastomeric or thermoplastic sheets) and;
mineral-based system (bentonite clay product or a crystalline material).
Bentonite, as part of a compound, is frequently specified for waterproofing. It is a type of clay that swells on contact with water and forms an impermeable barrier.
"Bentonite must be confined," explains Steve Weiterman, a regional manager at a waterproofing product manufacturer. "Otherwise, it can become waterlogged, and depending on the conditions, it may need other ingredients added to it to provide adequate protection. When specifying this product, it is important to recognize the absolute requirement for confinement. Some commercially available products incorporate a process called 'thermal-locked needle punching,' which, in theory, guarantees a minimum level of confinement regardless of the installation conditions."
Crystalline waterproofing is designed to reduce the porosity of concrete and will self-heal any water penetration into a concrete surface, provided the crack is within the conservative crack tolerance of the crystalline manufacturer.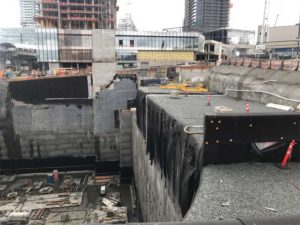 A single-component barrier, using one material only, relies on a single line of defence against water and contaminants. This is sometimes considered a 'blanket solution,' as this element is expected to solve several below-grade issues at once, and each of these conditions may require slightly different materials to ensure the building is protected. For example, groundwater can exert hydrostatic pressure on the foundation, resulting in cracks over time. The waterproofing material selected must be flexible enough keep the foundation watertight.
However, the main challenge with a single-component barrier is not always project-dependent. In fact, it is important the applicator is able to detail every seam perfectly—it is the weakest link as this is where the different materials join together. Good workmanship is key to a successful system, whether it is a single-component or redundant. When it comes to site conditions, however, a building envelope below grade can be extremely nuanced and because of this, a redundant system can work best for many different sites. At the same time, the system is only as good as the skill level and attention of the applicator, so highly trained professionals and proficient teams are key to the success of any below-grade waterproofing project.
"If a barrier requires redundancy, often you will see some kind of bentonite product specified to be applied under or over the base membrane," Weiterman explains.
Redundant waterproofing systems achieve several goals. They protect against water infiltration, but with additional layers, they simultaneously ensure other contaminants are kept free from the building envelope. According to the Whole Building Design Guide (WBDG), redundant systems might be required when part of the building envelope will be permanently situated below the water table. There is no guarantee the groundwater can be effectively channelled away from the building on a permanent basis, so having a waterproof membrane with additional layering can be more effective.
Redundancy in a below-grade system can also be of indirect assistance to the construction team and onsite consultants. Often, once work begins, unforeseen challenges can become apparent, such as the presence of contaminants or gases, which were buried deep below the surface. This renders the one-size-fits-all type of solution less effective than redundant options combining several different kinds of materials to leverage the positive attributes of each and to eliminate a continuous seam. These materials can include a geocomposite base sheet, a spray-applied polymer modified asphalt, and a geocomposite sheet at varying thicknesses to accommodate different site conditions. It is important, with this kind of system, to eliminate a continuous seam in the waterproofing to avoid leaving the building susceptible to water or harmful vapours.
Redundancy and mixed-use sites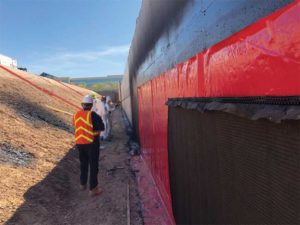 Some redundant systems can also be applied in any conditions, especially on bigger sites. For example, another construction trend across North America is mixed-use sites serving to unite multifamily, retail, leisure, and office facilities in one mega development. These are usually designed and constructed on a large scale. Not only do these developments fulfil the need for much-needed housing outside of major cities, but also essentially create new neighbourhoods with targeted retail outlets. As an example, the M2 building located near a river and outside of Calgary's downtown aims to provide a 'work-life balance' for residents and bring together retail and office buildings by expanding the river walk area and the east village neighbourhood, which, according to the building website, is a "mixed-use urban village where it is easy to walk, bike, shop, and connect to the rest of the city." It is slated for completion in 2020.
"We were used to seeing maybe one or two low-rise or row homes go up in a single development, but now there are large-scale industrial plots getting developed into new residential urban centres all over the Lower Mainland. They are essentially creating new little self-sufficient communities with many buildings attached to each other," says Kyle Tower, general manager with a waterproofing contractor.
Ritzier developments of a large size and scale can provide luxury living for those who crave everything at their fingertips, except the hassle of living in a bustling downtown. Developments like Brentwood, for instance, located in Burnaby, British Columbia, offer high-end living, shopping, and convenient direct access to the downtown.
Brentwood Town Centre
A redundant system was chosen to be most effective for portions of Brentwood. The project is on an incredible scale—11 residential towers with 6000 units spanning a total of 418,064 m2 (4.5 million sf) post-development—making it essential to select the right waterproofing solution. Of equal importance is the waterproofing contractor, who should be able to handle the challenges of a large site, while understanding the time-sensitive nature of this work.
Phase I of the project, the Brentwood Town Centre, required 21,368 m2 (230,000 sf) of a redundant, field-installed system, comprising a 1.5-mm (60-mil) layer of a polymer modified asphaltic membrane applied to a geocomposite base sheet over a 9.5-mm (3/8-in.) dimpled drain mat. In addition to blindside waterproofing, redundant systems were also used to waterproof a cut-and-cover tunnel running between the Town Centre and Tower 3. This cold fluid-applied system layered 3-mm (120-mil) reinforced polymer modified asphalt over a 0.4-mm (15-mil) polyolefin (PO) protection course and drain mat.
Here, a redundant system was selected because it enabled the installation team to meet the production schedule, work year-round, and provide the client with a reasonably priced system for site conditions, like Brentwood, which were without a massive hydrostatic issue.
Waterproofing systems meet modern demands
Robust below-grade protection is a must in this era of tight construction deadlines, the use of economical building methodologies to reduce schedules, and the redevelopment of contaminated properties. It is also critical for larger sites where one sole waterproofing or protective system is not ideal across the board. A redundant system "benefits the consulting team because it assures them they are getting more than what they had initially anticipated or specified," Tower adds. "Any extra confidence in a waterproofing system that you can provide consultants, the better."
With more housing needed, larger sites becoming developed, and former industrial land used more and more for new construction, it is imperative to find and specify the best systems to keep these developments dry and safe for many years to come. Redundancy, then, signifies the modern evolution of below-grade waterproofing systems, exhibiting the flexibility and strength needed to stand up to modern construction.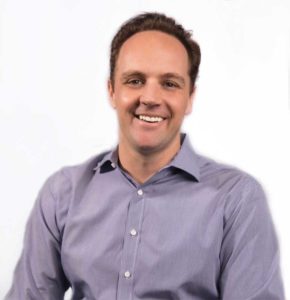 [6]Peter Grant is the vice-president of marketing and sales at EPRO and has 16 years of experience in working to achieve superior building envelope protection. Grant enjoys educating project teams and government agencies across the United States and Canada about the benefits of redundant field-installed composite systems. Prior to joining EPRO, Grant worked as a territory manager for Cetco, and then started Land Science Technologies, a division of Regenesis. He is a member of the International Institute of Building Enclosure Consultants (IIBEC) and the Concrete Foundations Association (CFA), and holds a B.S. from the University of Southern California and an MBA from the University of California, Irvine. Grant can be reached at peter@eproinc.com[7].
Endnotes:
[Image]: https://www.constructioncanada.net/wp-content/uploads/2019/07/Pic-2.jpg
[Image]: https://www.constructioncanada.net/wp-content/uploads/2019/07/0001.jpg
[Image]: https://www.constructioncanada.net/wp-content/uploads/2019/07/IMG_2761.jpg
[Image]: https://www.constructioncanada.net/wp-content/uploads/2019/07/IMG_3331.jpg
[Image]: https://www.constructioncanada.net/wp-content/uploads/2019/07/Pic-1.jpg
[Image]: https://www.constructioncanada.net/wp-content/uploads/2019/07/PETER-GRANT-FINAL-1.jpg
peter@eproinc.com: mailto:peter@eproinc.com
Source URL: https://www.constructioncanada.net/evolution-of-below-grade-waterproofing/
---