By Peter Grant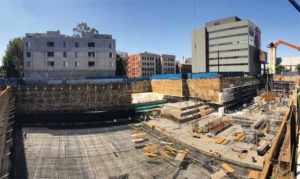 As multifamily construction accommodates higher city populations and moves outside urban centres, below-grade solutions must ensure buildings are built to last.
The Canadian population is booming. According to Statistics Canada, the country's population increased by nearly 11 per cent, from almost 33 to 37 million between 2007 and 2017. Considering a major part of the country is uninhabitable, either due to weather or lack of infrastructure, people tend to live in or around urban centres. Big cities have more opportunities when it comes to education, employment, and arts and culture, and people are flocking to them.
To serve as a further illustration, over the same 10-year time period, the population of Montréal increased by 11.4 per cent, Toronto had grown by 17.1 per cent, and the amount of people living in Calgary and Edmonton rose by a whopping 29 and 27.8 per cent, respectively. More people moving to cities increases the urban landscape exponentially and construction is taking off in the cities' outlying areas in anticipation of future demand.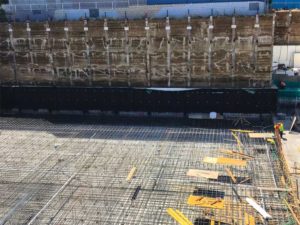 As an example, in May 2018, CBC News reported on new housing being built in anticipation of an influx of residents. According to the report, in and around Calgary, 6500 condo units were under construction at press time, for 'future demand,' due to the sheer length of the process from project inception through approval and eventual, physical construction. Yet, these new buildings are not popping up directly in Calgary's downtown. Some are in 'inner-city' areas, while others are significantly out in the suburbs or beyond, creating new exurban enclaves or massive mixed-use developments. This begs the questions: On what kind of land are these structures being built? Can that land handle larger buildings and heavy use?
"Developers are moving into areas that cities have identified as underdeveloped, former, or existing light industrial areas," says George McCutcheon, architect with RWA Group Architecture in Vancouver. "As space to develop becomes scarce in metropolitan areas, these areas are easy targets. To afford a place to live, former city-based tenants keep moving a bit further out to the cheaper industrial land that was probably farmland before."
Land that will not break the bank
Cheap land can be great for new construction, as keeping costs down is a boon to everyone involved in the process. However, construction on these lands may not necessarily be economical. In fact, these in-demand sites outside many urban centres were previously designated as floodplain or, in the case of Toronto and Vancouver, was located close to the water infiltration. This makes construction challenging and more expensive because of the potential for infiltration. Additionally, these sites may also have been formerly used for industrial purposes.
All three of these scenarios bring their own set of challenges. McCutcheon notes, "Due to some of the light industrial land situated in areas that were in a floodplain or close to the water, there are new concerns about tanking the building with a continuous waterproofing membrane system."
This has inspired manufacturers to introduce new products for complex site conditions and to find ways to transform familiar materials into more innovative systems.

Control the content you see on ConstructionCanada.net!
Learn More.