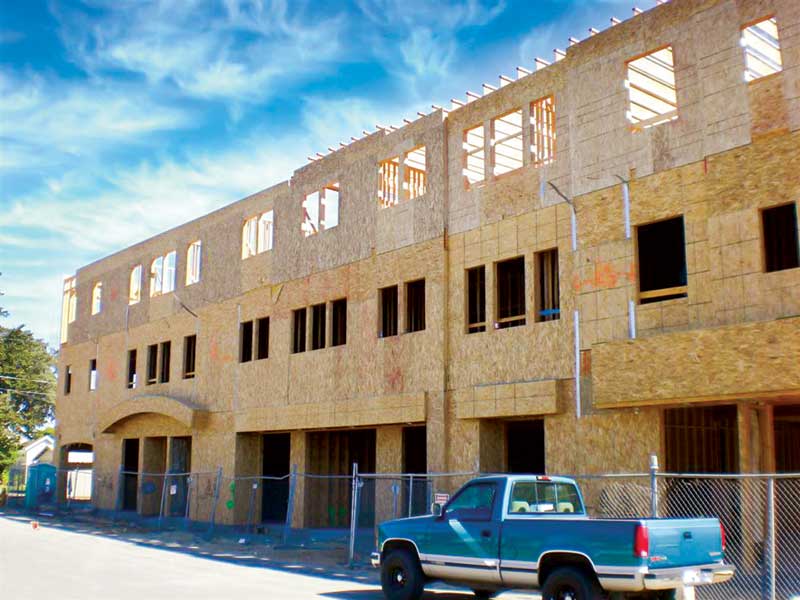 A key to solving design challenges was heightened communication. Both design teams noted that they worked closely with the entire architecture, engineering, construction team from the beginning.
"We've been building this way a long time, but we just haven't called it a wood podium," explained Tom VanDorpe, Oceano structural engineer.
In the Galt Place project, the structural engineer consulted with the framer in the field to direct the cutting of allowable hole sizes in the glulam beams for utility runs.
The design teams agreed benefits of all-wood podiums outweigh the challenges. In both projects, they reported enhanced constructability, decreased mass for lateral design, improved sustainability, and more economical building.
Several enhancements to construction were also noted. Field modifications of a wood deck away from the beam line are easier to accommodate because it is not necessary to X-ray the slab for rebar and/or post-tensioned strand placement. Additionally, having fewer building materials decreases the number of trades on the job and, as a result, mobilization time and construction delays. Further, the redundancy of building each floor with the same trade and materials improves framing efficiency and decreases the amount of detailing required by the designers. At Galt Place, the design team noted access to a large pool of experienced and competitive labour for wood framing.
A wood podium also offers many structural benefits. It is less massive than a concrete podium, which is important in high seismic zones where building mass impacts lateral design loads. Additionally, the wood podium design allowed both projects to use light-framed shear walls on the first level, as well as smaller foundations than would be sized for a concrete podium. Instead of different structural engineering firms handling the wood and concrete, a single entity was able to design each building, simplifying the process. Finally, due to the emphasized stacking of the shear walls of the superstructure, through the podium to the foundation, these projects benefitted from fewer discontinuities in the lateral system.
In both the Oceano and Galt projects, cost savings were realized in the building materials and construction time. The Oceano team estimated the wood podium was approximately two-thirds the cost of a concrete podium. At the Galt site, fewer trades and faster construction reduced changes and delays. Only one change order was documented. The project received a $2.5-million credit and the architect believes most of this was due to the use of wood.
Sustainable design solutions
Used in all three design approaches, wood is a structural building material that grows naturally and is renewable. It is also biodegradable, nontoxic, energy-efficient to manufacture, recyclable, and reusable. Wood is unique in that more carbon is removed from the atmosphere by the growing tree than is emitted during its manufacture into products and transportation to its point of use.
Cory McCambridge is an engineered wood specialist who represents APA in Canada. Based in Mississauga, Ont., he is an architectural technology graduate of Algonquin College. McCambridge has more than a decade of architectural and structural design and analysis experience, and has spent most of his career working in the prefabricated panel industry as a designer or design manager for various facilities located across Canada. He can be reached at cory.mccambridge@apawood.org.
Marilyn Thompson is the market communications director and corporate secretary for APA. Based in Tacoma, Wash., she is a graduate of Oregon State University, where she studied technical journalism and forestry. Thompson can be reached via e-mail at marilyn.thompson@apawood.org.

Control the content you see on ConstructionCanada.net!
Learn More.