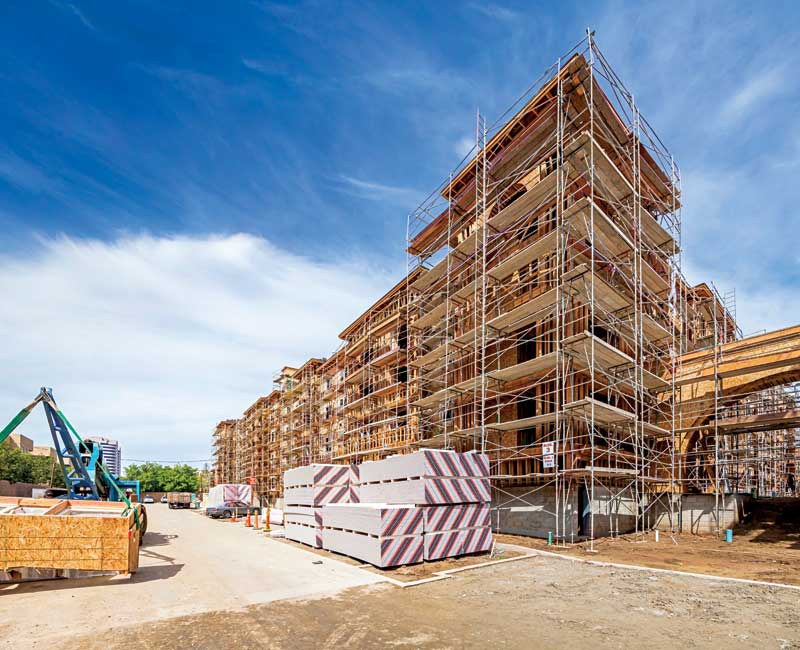 By Cory McCambridge and Marilyn Thompson
Multifamily construction represents nearly half of Canada's housing starts, and the trend toward more urban housing is pushing developers and designers to adopt design methods that meet the burgeoning demand for innovative apartment and condominium dwellings. This article examines three ways engineered wood products and wood systems are being used to bring efficiency, flexibility, and striking designs to multifamily construction:
panelization with both prefabricated wall and
floor assemblies;
a mass timber hybrid system using cross-laminated timber (CLT) and other structural wood building materials in building assemblies; and
podium construction.
According to Canada Mortgage Housing Corporation (CMHC), multifamily construction accounted for 46 per cent of all housing starts in Canada last year. (For more, visit www03.cmhc-schl.gc.ca/hmiportal/en/#TableMapChart/1/1/Canada, and then click on the down arrow next to 2017 Q2.) With increasing affordability challenges due to high prices and tighter lending standards, this strong performance in apartment and condominium construction is expected to continue for the next five years.
In fact, if the first half of 2017 is an indication, the share for multifamily may grow slightly. "The first half of the year, starts came in at an annual rate of 216,000 units, with multifamily starts accounting for almost 50 percent of the starts," says Joe Elling, market research director for APA−The Engineered Wood Association. "We saw especially strong activity in the Toronto market."
Engineered wood for engineered solutions in panelized walls and floors
Prefabricated construction addresses one of the key constraints impacting multifamily construction—the increased pressure a shortage of skilled labour places on project schedules. Prefabricated subcomponents can be engineered and precisely manufactured in a controlled environment and assembled at the building site in a process known as 'panelization.' This trend is being observed all across Canada in both the single- and multifamily markets, with large builders committing to major investments in equipment and manufacturing facilities.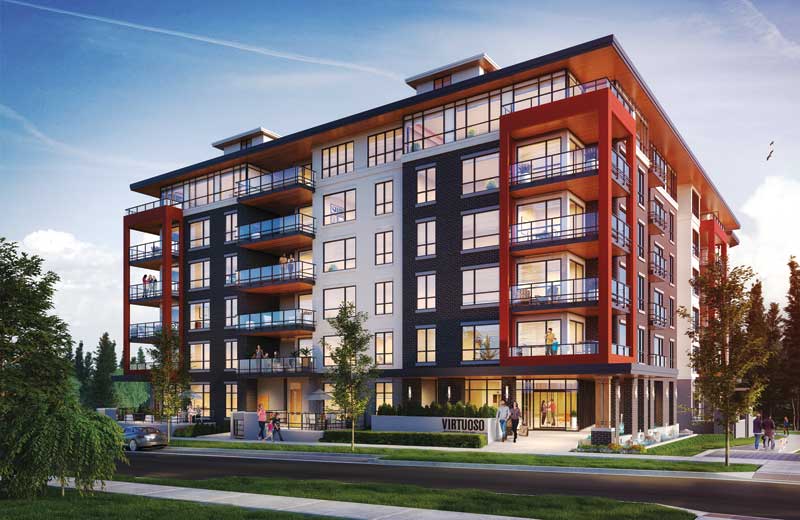 Engineered wood products are well-suited for use in prefabricated components because they are consistent in both properties and performance characteristics. These building materials are designed and manufactured to maximize the natural strength and stiffness characteristics of wood by optimally orienting the wood strands, veneers, or laminations and by combining it with moisture-resistant adhesives. Additionally, engineered wood products—including I-joists, glued-laminated timber (glulam), and structural composite lumber (SCL)—have consistent dimensions and are much less susceptible to warping, cupping, shrinking, twisting, or bowing.
A crucial aspect of the panelization process is the opportunity for builders to fully optimize the structural framing elements in their buildings early in the design stages. With an experienced team, this process can significantly reduce the overall cost of materials and labour, as well as allow for seamless installation at the jobsite. In this 'optimization' process, structural designers work with project architects to reconfigure the load path based on the structural properties of engineered wood products. Floor and roof panels are fabricated using oriented strand board (OSB) or plywood sheathing attached to engineered wood I-joists. Finished floor and roof panels can be up to 3.7 m (12 ft) in width and up to 15.2 m (50 ft) in length, offering major advantages over conventional framing methods.
With careful attention to detail in the design and fabrication stages, builders can take advantage of continuous spans with a single floor panel, incorporating openings to eliminate labour-intensive connection details. Fabrication with a thicker subfloor deck allows the builder to increase the on-centre (o.c.) spacing of the I-joists, thereby realizing savings in materials and reducing obstructions for the mechanical, electrical, and plumbing (MEP) trades. Some similar efficiencies can be achieved with panelized roof assemblies.

Control the content you see on ConstructionCanada.net!
Learn More.