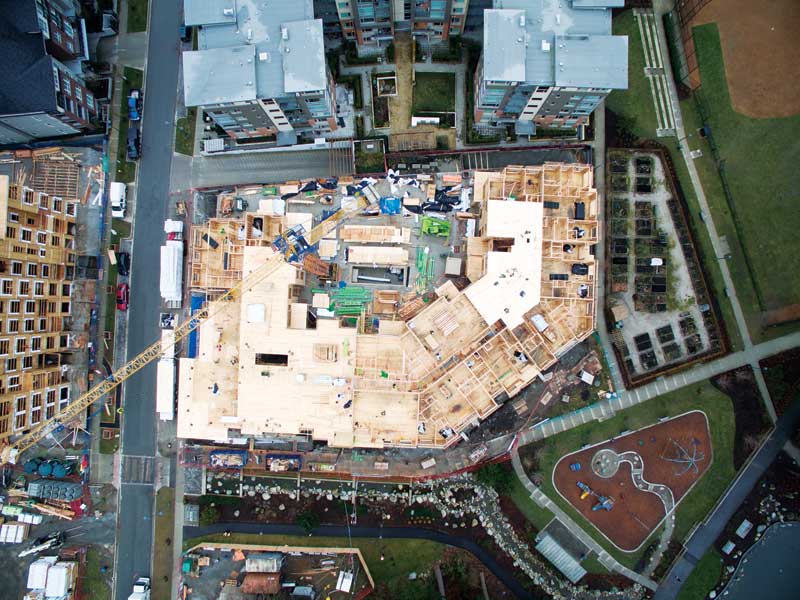 The improper placement of holes in I-joist webs can potentially reduce the floor assembly's performance, leading to future customer complaints. By co-ordinating HVAC plans in the design stages of the panelization process, designers can ensure the proper placement of holes in I-joist webs to accommodate electrical wiring, plumbing lines, and other mechanical systems. This not only reduces the possibility of floor issues, but also allows for a seamless flow of trades on the jobsite.
In many four- to six-storey projects, flat roof systems are included in the architectural design to create recreation spaces for residents.
Designers sometimes choose to take this a step further, with vegetated roof designs that incorporate landscaping and grass along with walkways and community barbecue areas on portions of these flat roofs. Here, benefits of engineered wood products are realized once again. Available in depths from 240 mm (9 ½ in.) to greater than 405 mm (16 in.), engineered joists, glulam, and structural composite lumber such as laminated veneer lumber (LVL) and laminated strand lumber (LSL) provide the strength and rigidity required to satisfy the needs of designers trying to incorporate creative ideas into their projects.
Wall panels are carefully fabricated and assembled, incorporating openings for windows and doors, cut-outs for plumbing and electrical, and housewrap. Efficient, well-planned fabrication ensures accuracy and speed of assembly at the construction site. Wall panels are typically 4.3 to 4.9 m (14 to 16 ft) in length, which is usually determined by the available length of plate material.
In order for prefabricated wall panels to remain rigid throughout the manufacturing, shipping, and site erection process, OSB or plywood wall sheathing material is typically employed. This creates a major benefit for prefabricated wall panels—not only do they offer superior racking strength, but they are also square and straight throughout the structure, allowing for faster installation and a better fit of trim, moulding, and cabinets.
Due to the accuracy of the panelization process, building envelope leakage is significantly reduced. This makes it easier for architects and designers to meet any airtightness requirements and take advantage of available tradeoffs for energy performance. The performance of shear walls and diaphragms is much more dependable as each fastener is driven in the correct location and with the correct amount of force.
Advancements in engineered wood products and the assemblies in which they are used makes the prefabrication of building subcomponents at an offsite factory setting a natural evolution in the multifamily and midrise construction process.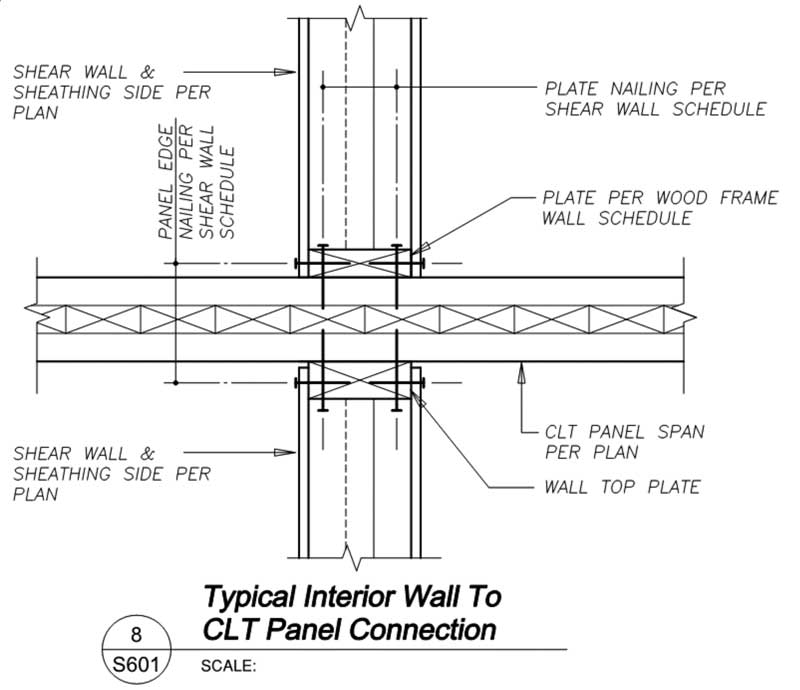 Incorporating mass timber in B.C. projects
Vancouver-based real estate developer Adera is using cross-laminated timber (CLT) to speed construction times and take advantage of the strength and performance of mass timber. On the University of British Columbia (UBC) campus in Vancouver, Adera's 106-unit Virtuoso project is on track for completion later this year. The project is designed by Rositch Hemphill Architects.
The six-storey condominium structure differs from conventional wood-frame construction in that it features CLT floor panels that are lifted into place and connected to steel columns, making for quicker and simpler assembly. Three-layer CLT (104 mm [4 in.] thick) was used in the floor sections.
"One of CLT's primary benefits is the way it influences design and scheduling," explains Ron McDougall, a mass timber specialist with the project's CLT manufacturer.
McDougall noted at the Virtuoso project site, a 400-m2 (4300-sf) CLT floor panel could be installed every 10 minutes. At times, the construction crew was able to install more than 836 m2 (9000 sf) of CLT floors in a day.
In addition to speeding construction time, the CLT floor assemblies also lend acoustic benefits.
"If you compare the noise level on the Virtuoso site to the site right next door, there's a significant difference," McDougall says.
In other structural elements, the Virtuoso design uses OSB sheathing in the exterior walls and some loadbearing interior walls. This combination of mass timber and wood structural panel sheathing is an example of hybrid construction, where multiple building materials are used together in a single project design. This allows developers and builders to capitalize on the benefits of mass timber while also employing traditional construction techniques and materials in the wall assemblies.

Control the content you see on ConstructionCanada.net!
Learn More.