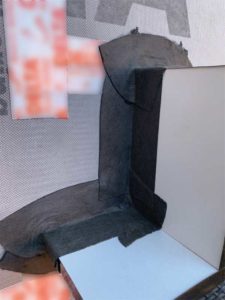 When the products are ready to be installed, specify the contractor examines the substrate assembly and adjacent materials, including the surface preparation for the air barrier and the treatment of joints between the products. Specify flashing and transition materials needed to bridge the gap between window assemblies and roofing or walls. Also include specification for repair of damaged air barriers and substrate conditions. It is advisable to always stress continuity and the co-ordination with other trades.
Field inspection
As part of the air barrier installation, the contractor or third-party inspector should conduct an air barrier quality control program that includes:
inspecting all materials to ensure conformity to contract requirements and confirm all materials are not damaged or stored improperly;
checking all surface preparation prior to installation of the air barrier;
assessing in-progress work to ensure it is being done in accordance with established procedures, third-party standards, or instructions from manufacturers and the project's architect; and
obtaining all air barrier materials and accessories from a single manufacturer and providing other system components only as approved by the manufacturer of the primary materials.
Additionally, the architect on record or third-party inspector should conduct field evaluations during the air barrier installation and afterward. These inspections should include a visual check to confirm it is continuous and an adequate bond is achieved to each substrate specified for the project.
Case study
Anyone who knows luxury vehicles also understands state-of-the-art sales and service facilities are part of the prestige that comes with them. Budds',
a Canadian chain of luxury car dealerships, has taken this tradition to heart for its Jaguar and Land Rover dealership by building a new, fully equipped, premium building that better reflects the quality and luxury for which its imported products are known.
Located in Oakville, Ont., the new Budds' Jaguar and Land Rover dealership is a 7432-m2 (80,000-sf) building completed in 2018. It was designed by R.H. Carter Architects Inc. Key players bringing the design to fruition included Chart Construction Management and Sobotec.
To create a high-performance wall system that enhances building performance at a premium facility, a vapour-permeable, self-adhering air- and water-resistive barrier was selected for use across the entire dealership exterior. The membrane creates continuous water-, air-, and weather-tight barrier that prevents moisture from getting into buildings. It allows moisture that is already in the walls to escape. The airtight properties meet the highest class of CAN/ULC 742.
Conclusion
Minimizing air leakage across the building enclosure is fundamental to high-performance buildings.
As mentioned before, airtightness is achieved with an effective air barrier system composed of continuous materials, components, and accessories, and not an individual product.
The experience of designers and installers varies widely across the industry. Adequate construction oversight and quality control measures with respect to the air barrier design and installation can help offset lower experience levels. Designers less familiar with air barriers may not fully appreciate the difficulty of providing continuity at complex transitions, the importance of clearly detailing these transitions to adequately illustrate the design intent to the installer, and the need for material compatibility for long-term performance.
To avoid air leaks at transitions and interfaces between elements, designers must first identify challenging joints, laps, penetrations, fenestrations, and fastener holes. These identifiers must be well detailed and clearly communicated with mockups and onsite meetings, observed during installation, and inspected after completion to identify any gaps.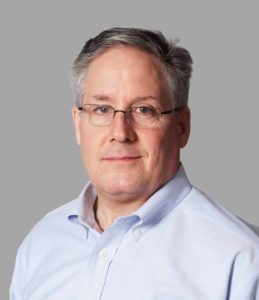 Peter Barrett is the product and marketing manager for Dörken Systems. He has been with the company for more than 12 years. However, his involvement with the design community and building materials industry spans over 25 years. Barrett holds a BA (Hons.) from Queen's University, Kingston, Ont., and an MBA from Wilfrid Laurier University, Waterloo, Ont. Barrett is a board member of the Air Barrier Association of America (ABAA). He can be reached at pbarrett@dorken.com.

Control the content you see on ConstructionCanada.net!
Learn More.