By Peter Barrett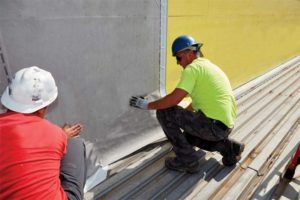 An airtight building enclosure is an important part of a modern building. Airtightness is achieved with an effective air barrier system that is carefully designed and detailed, then built and commissioned in the field. An effective air barrier consists of a continuous system of materials, components, and accessories, and not an individual product.
Achieving airtightness on the open area is easy. However, the majority of air leaks occur at transitions and interfaces between building elements. Successfully managing the inevitable joints, laps, penetrations, and fastener holes differentiates a good, high-performance air barrier system from an ineffective one.
Air barrier function
Every functional enclosure design needs to identify which wall layers are responsible for water, air, thermal, and vapour (diffusion) controls. Each control function has different requirements. Hence, one must know what function each layer is serving to judge whether it will live up to performance expectations. A useful way to think about the different layers is widely known as the 'perfect wall' concept. The perfect wall is a blueprint requiring four principal control layers, in the following order
of importance:
rain;
air;
vapour; and
thermal.
The system providing air control typically includes a number of materials working together. The overall system also must meet a few criteria.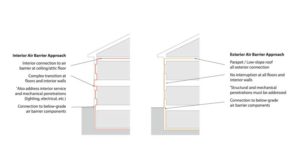 System continuity
A complete air barrier system is a combination of several assemblies and components connected by multiple accessories that are designed to provide a continuous barrier to the movement of air through an environmental separator.
When it comes down to it, high-performance air barrier systems must have the following characteristics:
continuous (most important);
strong enough to withstand forces during and after construction;
stiff to help absorb and transfer wind loads evenly;
durable to last the expected lifetime of the building; and
impermeable to airflow (least important factor).
The reason for this order is that an air-impermeable component will be ineffective without continuity. An air barrier system must meet several requirements, but continuity is the most important and challenging characteristic to achieve in modern steel, wood, or concrete buildings.
The interior air barrier approach is common for residential buildings. The detailing for continuity is considerably more difficult because of penetrations and transitions. The exterior approach involves fewer penetration details and is easier to inspect for discontinuity. A fully supported (rigid) air barrier installed on the outside of the structure is the most likely approach to meet the performance criteria. For commercial buildings, sometimes the only solution is an exterior air barrier solution (Figure 1).
Airflow in the ventilation cavity or within the stud space causes cooling or 'wind washing' (i.e. air movement driven by wind pressures causing energy loss and condensation) of air-permeable insulations. This is why air barriers must be thought of as a system, and not a product. Even though air movement into and out of the building is controlled, unrestricted air movement through the stud space can increase energy consumption and moisture risk, reduce R-value of insulation, and cause discomfort to occupants.

Control the content you see on ConstructionCanada.net!
Learn More.