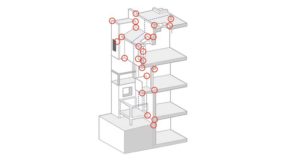 Requirements for airtightness
Air barrier requirements have brought significant changes to detailing. The focus is on the performance of the whole building, and not that of individual materials. The different requirements for air barrier components and systems are:
ASTM E2178, Standard Test Method for Air Permeance of Building Materials, and Underwriters Laboratories of Canada (CAN/ULC) 741, Standard for Air Barrier Materials – Specification; and
ASTM E2357, Standard Test Method for Determining Air Leakage Rate of Air Barrier Assemblies, and CAN/ULC 742, Standard for Air Barrier Assemblies – Specification, for components.
There are many standards worldwide detailing whole-building tests, including:
The International Organization for Standardization (ISO) 9972:2006, Thermal performance of buildings – Determination of air permeability of buildings – Fan pressurization method;
ASTM E779, Standard Test Method for Determining Air Leakage Rate by Fan Pressurization; and
ASTM E1827, Standard Test Methods for Determining Airtightness of Buildings Using an Orifice Blower Door.
For more than 20 years, the National Research Council Canada (NRC) has recommended limiting air leakage across the enclosure of commercial buildings to a maximum of 2 L/s/m2 at a pressure difference of 75 Pa. This is the minimum requirement. Buildings are often designed and built to tighter air leakage standards.
By using whole-building airtightness tests and by setting performance targets, architects and contractors can quantitatively verify if the methods used were successful. They can also be employed diagnostically on new construction, remedial projects, and major energy-efficiency retrofits.
The National Energy Code for Buildings (NECB), which applies to Part 3 or commercial and institutional buildings, and the National Building Code's (NBC's) Section 9.36, which applies to Part 9 or small buildings and houses, are key components of the model code system defining the minimum energy-efficiency requirements for new buildings. NECB and NBC 2020 are now in the final stages of their 2015-2020 development cycle. The new version of NBC is expected to be published in December 2020.
Building testing is not mandatory for commercial buildings, but is a performance-based option that many designers require. The only Canadian jurisdiction mandating the blower door test is the City of Vancouver, as part of its Green Building Strategy for one- and two-family homes.
A national model for a four-tiered code is in development for each model code (NECB and NBC), similar to the B.C. Energy Step Code that was launched in 2017. A tiered code is an incremental approach to achieving more energy-efficient buildings. It is a series of steps starting with a base building code.
NBC is proposing a concept of 'tiered performance' for structures described under Part 9 buildings. These structures are not more than three stories high, and less than 600 m2 in area. Buildings falling under Part 3—larger residential, commercial, and institutional structures—will follow an advanced energy model that will compare the proposed facility's performance to a 'reference structure.'
Detailing connections and transitions
Final airtightness of a building depends on the airtightness of many critical details in the building enclosure design, including windows and structural (e.g. balconies) and mechanical penetrations. Each of these details can be improved through careful attention to continuity during the design phase and quality control throughout construction.
The 'perfect' approach means details such as transitions between wall and roof assemblies need attention and someone must be clearly responsible for each. In Figure 2, red circles represent critical and challenging detail areas. The blue dotted line represents the plane many architects draw
in detail.
Each red circle requires a scaled drawing. If the drawing lacks details, then the contractor who may not have the experience will decide the best course of action, potentially sacrificing critical continuity. Every detail needs to be addressed by the designer.
The transitions of components cause many challenges for building enclosure installers. At the same time, inexperienced designers may not identify these difficulties and fail to detail complex areas in full. Designers should not assume all installers will be able to identify breaches and correct them to ensure a continuous barrier has been created during installation.

Control the content you see on ConstructionCanada.net!
Learn More.