Better Late Than Never: Retrofitting sound-masking to improve acoustics
January 1, 2013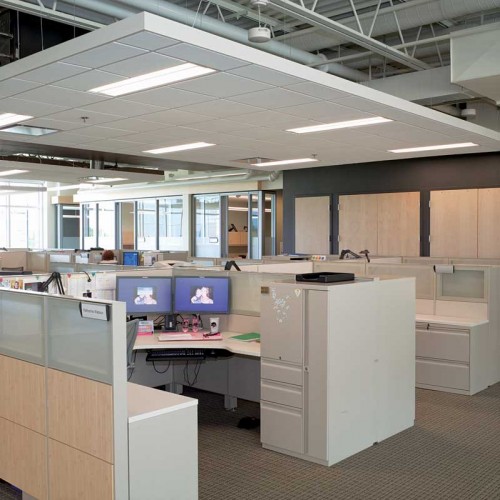 By Niklas Moeller, MBA
It is an all-too-common scenario—a company moves its employees into a highly anticipated new facility only to be met with complaints regarding speech privacy and noise levels. Perhaps the building's acoustic performance was not adequately planned before construction, or consequences of various interior decisions were not understood. Regardless, the poor results are undeniable and, unfortunately, familiar.
In the last decade, sustainable, flexible, and collaborative design trends have systematically eliminated many methods of controlling acoustics. The percentage of open-plan space has grown and so have occupant densities. At the same time, partitions have lowered or disappeared altogether, and the use of absorptive finishes has diminished, allowing noises to travel further and last longer.
Closed rooms are increasingly built using:
glass walls;
walls stopping at the suspended ceiling;
demountable partitions; and
sliding doors.
While these choices may have some esthetic appeal and help meet particular objectives or short-term budget goals, they have also diminished the acoustic performance of many workplaces by reducing room-to-room isolation.
The work environment sets the stage for employee performance and plays a role in absenteeism and retention rates. Therefore, investing in solutions for this type of 'facility malfunction' is easily justified.
According to the 1998–2008 BOSTI Associates study, "Disproving Widespread Myths About Workplace Design," employees typically account for about 82 per cent of a company's primary costs, over the 10-year period of the study. This amounts to more than a building, its operations and technology combined; employees are an organization's biggest expense, and also its greatest asset. Effective acoustics are essential to providing speech privacy and freedom from distracting noises, as well as enabling employees to work normally without disrupting others.
To create this type of environment, acoustic professionals apply techniques to absorb, block, and cover noise (i.e. the ABC rule) (For more, see the article, "The Green Soundscape[2]" by Niklas Moeller, in the July 2010 issue of Construction Canada). Each of these strategies contributes differently to overall acoustic performance. Consequently, when problems in an existing facility are encountered, the source is usually in the omission of one of the methods mentioned, or imbalanced application within the space.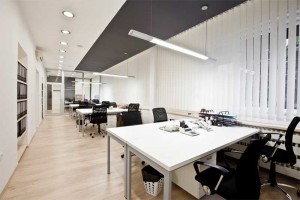 At this point, the organization must determine:
which acoustical treatments are capable of addressing the issues;
budget available for solutions; and
degree of operational disruption the workplace can weather during their implementation.
The answers to these questions largely determine the course of action. It often comes down to which treatment offers the greatest opportunity for improvement, with minimal upheaval.
The missing element
Due to advances in construction materials and mechanical systems, modern facilities are often missing an appropriate ambient (or background) sound level, which would serve to cover conversations and noise. Today, ambient levels are typically in the mid-30 to low-40 decibel range. Levels are even lower in buildings using alternative 'green' HVAC systems and facilities with underfloor air distribution (UFAD) systems because they lack the traditional noise created by forced air ventilation. This 'pin-drop' environment allows noise and conversation to be easily heard, even from a great distance. Further, the background sound present does not exhibit the correct mix of frequencies needed for speech privacy, noise control, and comfort.
The lack of adequate background sound can be addressed using a sound-masking system. This technology consists of a series of loudspeakers installed in a grid-like pattern in the ceiling, as well as a method of controlling zoning and output. The loudspeakers distribute a comfortable, engineered sound, maintaining the facility's ambient level at an appropriate and consistent volume. Though the sound is similar to softly blowing air, it is specifically designed to mask speech frequencies. It also covers up unwanted noises or reduces impact on occupants by decreasing the magnitude of change between baseline and peak volumes in the space.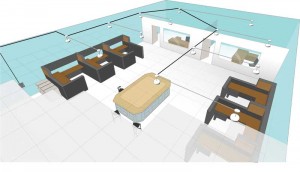 Attractive retrofitting
There are numerous factors that make retrofitting this type of acoustic solution attractive.
Budget considerations
Pricing for a sound-masking system is low, particularly relative to other acoustical interventions (typically $1 to $2 per square foot, depending on project conditions). A separate paging and background music system will not be required because most masking systems provide these functions over the same set of loudspeakers.
Contemporary systems need only minimal space for below-ceiling equipment. The additional electrical load and cost of operation are also negligible. Owners can relocate the system to future facilities, extending its useful life for the organization.
Application in open and closed spaces
Sound-masking is often specified to provide acoustic control in open-plan spaces. However, it can also be a cost-effective method of increasing privacy in closed offices and meeting rooms.
Unlike closing an open ceiling or extending walls to the deck, masking has no impact on other building systems. Masking also continues to function when the room's door is open and the acoustical isolation it provided virtually disappears.
Further, because sound-masking works 'at the ear of the listener,' it is effective against noises or conversations regardless of how they enter a room and therefore may eliminate or reduce the need to address other acoustical pathways between spaces (e.g. sealing gaps between the walls and window mullions). This quality also makes sound-masking a potentially effective tool against noises originating from outside the building. Whereas the building's shell may not completely block the noise of traffic or passing aircraft, a masking system often easily covers or lessens the sound's effect on occupants.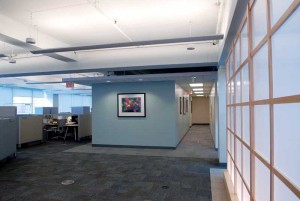 Ease of installation
Sound-masking is typically less disruptive to apply to an already-occupied workplace than other acoustic treatments. For example, the impact of building walls or increasing the height of workstation partitions to improve physical isolation is considerable. Adding significant absorption post-construction can also be challenging, depending on whether a suspended ceiling has to be installed or upgraded, or if acoustical panels must be added to the deck, walls, or workstation partitions. Installing a suspended ceiling in an occupied space with an open deck involves not only the tile's cost, but also modifications to lighting, HVAC, and sprinkler systems.
In historic properties, the tenant may be prevented from making these types of changes. For instance, it might not be permitted to have windows upgraded to better block exterior noise, the ceiling modified, the flooring changed, or interior walls moved.
Other facilities may not be able to endure the operational disruption accompanying some solutions. In hospitals, it is difficult—and certainly undesirable—to shut down a fully functioning wing for construction. Additionally, the noise of building would disrupt patients and staff in adjoining spaces. Other facilities that operate 24-hours a day, such as call or command centres, may have similar restrictions on retrofit construction remedies.
Whereas the installation of almost any other acoustical treatment may impact a large area of operations, sound-masking components are small and the installation process tidy. These systems typically operate on Class 2 low-voltage power and can be installed without conduit in most jurisdictions.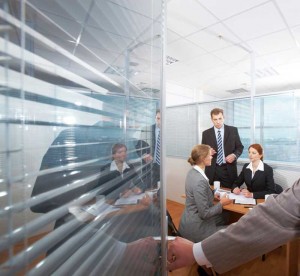 There are various loudspeaker types to suit a wide range of environments, including above-ceiling, ceiling plate, and wall-mounted options. A creative provider can engineer a solution for even the most complex retrofit situation. Generally, the system has no visual impact on the space's design because loudspeakers are installed above the suspended ceiling. However, even in open ceiling spaces, the loudspeakers and equipment are discrete and, in certain cases, attractive.
Minimal disruption
Installing sound-masking can be discretely handled after-hours or with minor and temporary disruption to occupants during regular business hours. The work usually proceeds quickly, further minimizing the impact on an organization's operations.
While installation time varies according to site conditions and crew size, a typical 1393-m2 (15,000-sf) office space with a suspended ceiling can be installed in one night, after business hours. Some types of installations may take longer. As another example, if there is no suspended ceiling, cabling needs to be handled according to esthetic considerations, which can be more time-consuming. In areas with gypsum ceilings, more loudspeakers are needed for uniform coverage and installation time is longer due to the need to make ceiling cut-throughs for the loudspeakers and run cables within a confined space.
Retrofitting a masking system in a facility operating 24-hours a day presents an additional hurdle, but can generally be achieved with minimal disruption. In a hospital, a system may be installed in one to two hours per patient room, after which the space can be immediately occupied. There are few requirements for power tools, making the work relatively quiet. Unless the ceiling is unusually high, only ladders are needed to gain access.
Retrofit implications
There are some implications of retrofitting a sound-masking system, rather than including it in the original design.
First, the cost to install may be slightly higher than in new construction due to increased labour requirements necessary to gain access to the closed ceiling, work-around furnishings, and potential after-hours work.
More importantly, by waiting to install masking post-occupancy, an organization may forgo opportunities to reduce construction costs or requirements for other acoustical treatments. For example, when designing with a masking system, many organizations find they can build walls only to the suspended ceiling rather than deck-to-deck. The project team might also make different choices with respect to ceilings when planning with masking. Neither of these decisions can be revisited post-construction.
If adding sound-masking to a less than ideal space (i.e. one that does not feature sufficient physical barriers and absorptive materials), occupants still have to reconcile themselves to not having the best acoustical performance. In other words, masking is not a cure-all.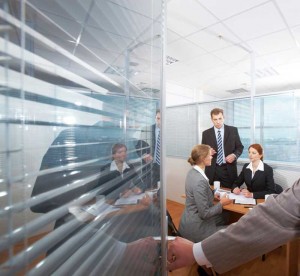 It will not have the same impact as a physical barrier on noises produced at short distances, and it will not reduce reverberation like absorptive materials. In a more reverberant space, masking improves conditions, but likely needs to be set toward the higher end of the acceptable output range to provide a greater impact. Thus, the space's overall acoustical performance will not be what it could have been if acoustics had been addressed in the original design stage.
In retrofit situations, it is essential to specify a masking system offering a ramp-up feature. It slowly introduces sound beginning at a level near the existing ambient volume, allowing occupants to gradually acclimatize to new acoustical conditions. Over a short period, the sound becomes a natural part of the environment. In fact, if handled after-hours, occupants are often unaware the system has been installed. Full effectiveness is achieved once the masking sound has reached its final level.
Conclusion
Retrofitting a sound-masking system can be an attractive way of addressing noise and speech privacy issues. In some cases, masking will not be the only improvement necessary to correct deficiencies in acoustical performance; however, in others, even when the ideal solution includes a variety of approaches, sound-masking will be the only feasible or acceptable choice for the reasons outlined in this article.
Niklas Moeller, MBA, is vice-president of K.R. Moeller Associates Ltd. (Burlington, Ont.), a global developer and  manufacturer of sound-masking systems. He has been in the sound-masking business since 1998. Moeller can be reached at nmoeller@logison.com[8].
Endnotes:
[Image]: http://www.constructioncanada.net/wp-content/uploads/2015/11/Opener.jpg
The Green Soundscape: http://www.kenilworth.com/publications/cc/de/201007/index.html
[Image]: http://www.constructioncanada.net/wp-content/uploads/2015/11/Image_1.jpg
[Image]: http://www.constructioncanada.net/wp-content/uploads/2015/11/Image_3.jpg
[Image]: http://www.constructioncanada.net/wp-content/uploads/2015/11/Image_6.jpg
[Image]: http://www.constructioncanada.net/wp-content/uploads/2015/11/Image_4.jpg
[Image]: http://www.constructioncanada.net/wp-content/uploads/2015/11/Image_41.jpg
nmoeller@logison.com: http://nmoeller@logison.com
Source URL: https://www.constructioncanada.net/better-late-than-never-retrofitting-sound-masking-to-improve-acoustics/
---