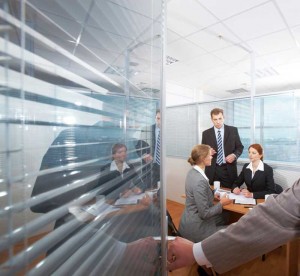 There are various loudspeaker types to suit a wide range of environments, including above-ceiling, ceiling plate, and wall-mounted options. A creative provider can engineer a solution for even the most complex retrofit situation. Generally, the system has no visual impact on the space's design because loudspeakers are installed above the suspended ceiling. However, even in open ceiling spaces, the loudspeakers and equipment are discrete and, in certain cases, attractive.
Minimal disruption
Installing sound-masking can be discretely handled after-hours or with minor and temporary disruption to occupants during regular business hours. The work usually proceeds quickly, further minimizing the impact on an organization's operations.
While installation time varies according to site conditions and crew size, a typical 1393-m2 (15,000-sf) office space with a suspended ceiling can be installed in one night, after business hours. Some types of installations may take longer. As another example, if there is no suspended ceiling, cabling needs to be handled according to esthetic considerations, which can be more time-consuming. In areas with gypsum ceilings, more loudspeakers are needed for uniform coverage and installation time is longer due to the need to make ceiling cut-throughs for the loudspeakers and run cables within a confined space.
Retrofitting a masking system in a facility operating 24-hours a day presents an additional hurdle, but can generally be achieved with minimal disruption. In a hospital, a system may be installed in one to two hours per patient room, after which the space can be immediately occupied. There are few requirements for power tools, making the work relatively quiet. Unless the ceiling is unusually high, only ladders are needed to gain access.
Retrofit implications
There are some implications of retrofitting a sound-masking system, rather than including it in the original design.
First, the cost to install may be slightly higher than in new construction due to increased labour requirements necessary to gain access to the closed ceiling, work-around furnishings, and potential after-hours work.
More importantly, by waiting to install masking post-occupancy, an organization may forgo opportunities to reduce construction costs or requirements for other acoustical treatments. For example, when designing with a masking system, many organizations find they can build walls only to the suspended ceiling rather than deck-to-deck. The project team might also make different choices with respect to ceilings when planning with masking. Neither of these decisions can be revisited post-construction.
If adding sound-masking to a less than ideal space (i.e. one that does not feature sufficient physical barriers and absorptive materials), occupants still have to reconcile themselves to not having the best acoustical performance. In other words, masking is not a cure-all.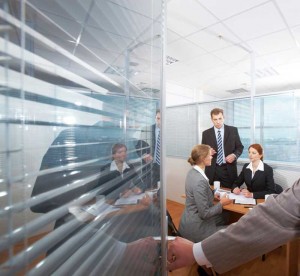 It will not have the same impact as a physical barrier on noises produced at short distances, and it will not reduce reverberation like absorptive materials. In a more reverberant space, masking improves conditions, but likely needs to be set toward the higher end of the acceptable output range to provide a greater impact. Thus, the space's overall acoustical performance will not be what it could have been if acoustics had been addressed in the original design stage.
In retrofit situations, it is essential to specify a masking system offering a ramp-up feature. It slowly introduces sound beginning at a level near the existing ambient volume, allowing occupants to gradually acclimatize to new acoustical conditions. Over a short period, the sound becomes a natural part of the environment. In fact, if handled after-hours, occupants are often unaware the system has been installed. Full effectiveness is achieved once the masking sound has reached its final level.
Conclusion
Retrofitting a sound-masking system can be an attractive way of addressing noise and speech privacy issues. In some cases, masking will not be the only improvement necessary to correct deficiencies in acoustical performance; however, in others, even when the ideal solution includes a variety of approaches, sound-masking will be the only feasible or acceptable choice for the reasons outlined in this article.
Niklas Moeller, MBA, is vice-president of K.R. Moeller Associates Ltd. (Burlington, Ont.), a global developer and  manufacturer of sound-masking systems. He has been in the sound-masking business since 1998. Moeller can be reached at nmoeller@logison.com.

Control the content you see on ConstructionCanada.net!
Learn More.