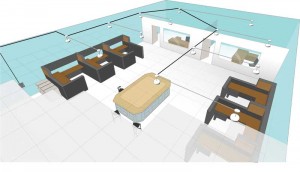 Attractive retrofitting
There are numerous factors that make retrofitting this type of acoustic solution attractive.
Budget considerations
Pricing for a sound-masking system is low, particularly relative to other acoustical interventions (typically $1 to $2 per square foot, depending on project conditions). A separate paging and background music system will not be required because most masking systems provide these functions over the same set of loudspeakers.
Contemporary systems need only minimal space for below-ceiling equipment. The additional electrical load and cost of operation are also negligible. Owners can relocate the system to future facilities, extending its useful life for the organization.
Application in open and closed spaces
Sound-masking is often specified to provide acoustic control in open-plan spaces. However, it can also be a cost-effective method of increasing privacy in closed offices and meeting rooms.
Unlike closing an open ceiling or extending walls to the deck, masking has no impact on other building systems. Masking also continues to function when the room's door is open and the acoustical isolation it provided virtually disappears.
Further, because sound-masking works 'at the ear of the listener,' it is effective against noises or conversations regardless of how they enter a room and therefore may eliminate or reduce the need to address other acoustical pathways between spaces (e.g. sealing gaps between the walls and window mullions). This quality also makes sound-masking a potentially effective tool against noises originating from outside the building. Whereas the building's shell may not completely block the noise of traffic or passing aircraft, a masking system often easily covers or lessens the sound's effect on occupants.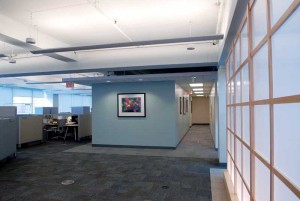 Ease of installation
Sound-masking is typically less disruptive to apply to an already-occupied workplace than other acoustic treatments. For example, the impact of building walls or increasing the height of workstation partitions to improve physical isolation is considerable. Adding significant absorption post-construction can also be challenging, depending on whether a suspended ceiling has to be installed or upgraded, or if acoustical panels must be added to the deck, walls, or workstation partitions. Installing a suspended ceiling in an occupied space with an open deck involves not only the tile's cost, but also modifications to lighting, HVAC, and sprinkler systems.
In historic properties, the tenant may be prevented from making these types of changes. For instance, it might not be permitted to have windows upgraded to better block exterior noise, the ceiling modified, the flooring changed, or interior walls moved.
Other facilities may not be able to endure the operational disruption accompanying some solutions. In hospitals, it is difficult—and certainly undesirable—to shut down a fully functioning wing for construction. Additionally, the noise of building would disrupt patients and staff in adjoining spaces. Other facilities that operate 24-hours a day, such as call or command centres, may have similar restrictions on retrofit construction remedies.
Whereas the installation of almost any other acoustical treatment may impact a large area of operations, sound-masking components are small and the installation process tidy. These systems typically operate on Class 2 low-voltage power and can be installed without conduit in most jurisdictions.

Control the content you see on ConstructionCanada.net!
Learn More.