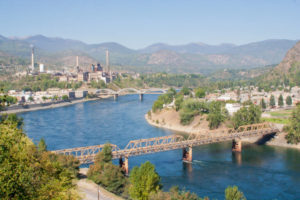 The Government of Canada has committed an investment of more than $2.3 million towards the Skills Centre Eco-Renovation Project in the city of Trail, British Columbia.
The project will improve the sustainability and accessibility of the Skills Centre. The funding will go towards replacing natural gas systems, as well as installing new insulation, windows and doors, an HVAC system, and solar panels on the roof. The renovation will also include the installation of an elevator and additional upgrades to the building's accessibility. The investment will further support the creation of a community kitchen, multiple meeting rooms, and welcome areas for the centre. These improvements are expected to reduce the facility's energy consumption by an estimated 53 per cent and greenhouse gas emissions by 58.4 tonnes (64.4 tons).
The Skills Centre Eco-Renovation Project will centralize the organization's services and make them more accessible. The improvements to the building will help cut operational costs, lower emissions, and enable the centre to serve the community's most vulnerable for years to come. The Greater Trail Community Skills Centre Society has been helping youth, families, low-income community members, and other vulnerable populations in Trail develop their skills and employability for more than 25 years.
The federal government is investing $2,395,473 through the Green and Inclusive Community Buildings program, and the Skills Centre society is contributing $392,533.
The Green and Inclusive Community Buildings program is part of Canada's Strengthened Climate Plan, providing $1.5 billion over five years towards green and accessible retrofits, repairs, or upgrades of existing public community buildings, as well as the construction of new publicly accessible community buildings that serve high-needs, underserved communities across Canada.
"Investments in green and inclusive community buildings are vital to reaching our emissions goals and building a brighter future for Canadians," says Harjit S. Sajjan, minister of international development and minister responsible for the Pacific Economic Development Agency of Canada, on behalf of Dominic LeBlanc, minister of intergovernmental affairs, infrastructure, and communities. "The funding will create a more sustainable Skills Centre for the city of Trail and facilitate essential community programming for years to come. The Government of Canada will continue working with our partners to foster more sustainable, resilient, and vibrant communities across the country."