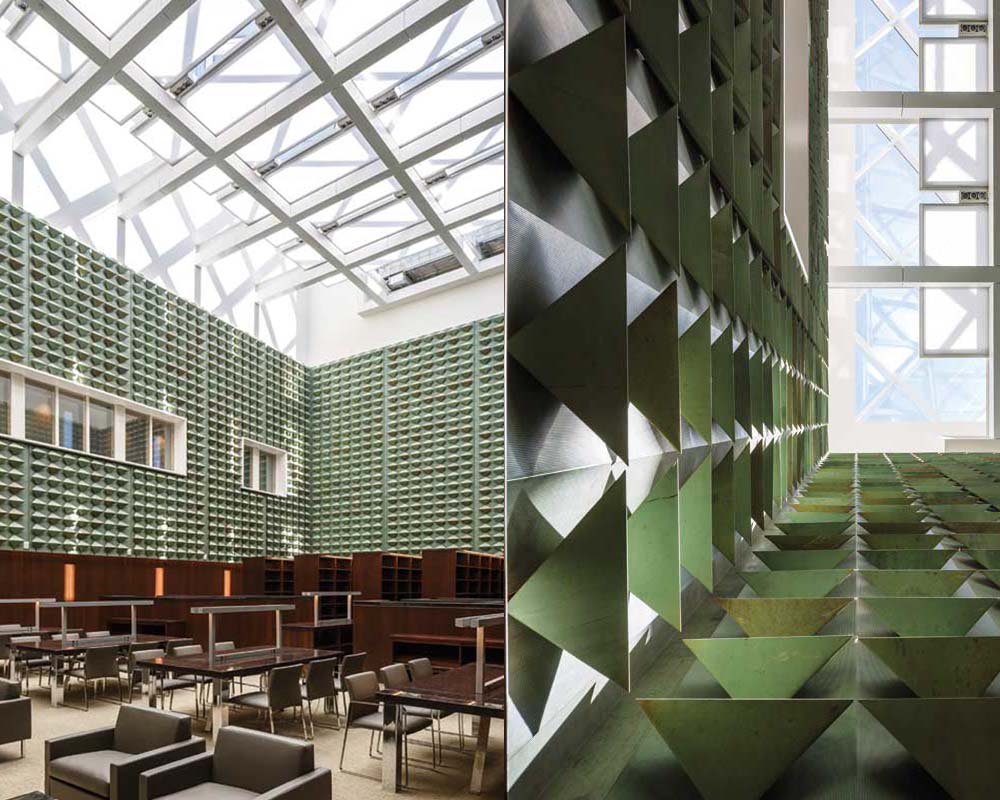 180 Wellington St.
Like all materials, copper will not last forever, but unlike other materials, its benefits do not end once construction is completed. In fact, a major benefit of copper's use—total recyclability—is realized during demolition. Further, nearly all of the copper ever mined is still in use today. It is one of the most easily recycled metals available.
The design team of 180 Wellington St., an adaptive reuse of a 1920s office building for members of the House of Commons of Canadian Parliament included NORR Architects and Engineers and EllisDon Constructors. They took advantage of copper's recyclability when refurbishing its roof, which needed to be replaced after 60 years of providing shelter. Although new copper was installed on the roof, the previous material was removed with great care, stored, and sorted for reuse in the design of  a sculptural wall component in the Library of Parliament.
To provide the sound attenuation and sculptural finish for the walls of the library, 1208 m2 (13,000 sf) of aged copper was cut from the existing roof, crated, sorted, flattened, perforated, and then bent on a break press. The folded, perforated aged copper lining and the folded, sculptural aged copper shells take their inspiration from the triangulated roofscape of the Parliament Hill government buildings. The fabricator handling the sculptural wall was Mometal Structures Inc.
Copper's pleasing esthetic qualities ensure designers can achieve their visual aspirations while also meeting important environmental and cost-performance objectives. Going green is not just a trend. With an increase in demand for natural resources, many builders are realizing the importance of sustainable building principles.
Conclusion
As the material of choice for many historic and traditional types of architectural systems and structures, copper is increasingly being used for a wide variety of new and exciting contemporary installations.
The metal offers esthetically stunning qualities along with unique physical and mechanical properties. This ensures designers and building owners not only achieve their visual aspirations and performance specifications, but are also able to meet their environmental and cost-performance goals. While nobody can predict exactly what the building and construction market will do in the future, it is evident copper will remain an important building material for years to come.
Stephen Knapp is the program manager of the Sheet, Strip, and Plate Council for the Copper Development Association (CDA), and executive director of the Canadian Copper and Brass Development Association (CCBDA), the national trade association in Canada for the copper industry. Knapp is also involved with guiding the market development and promotional efforts for a wide variety of copper and copper alloys applications, such as tube and plumbing, electrical, and renewable energy systems, as well as energy-efficiency technologies. He can be reached via e-mail at sawknapp@coppercanada.ca.

Control the content you see on ConstructionCanada.net!
Learn More.