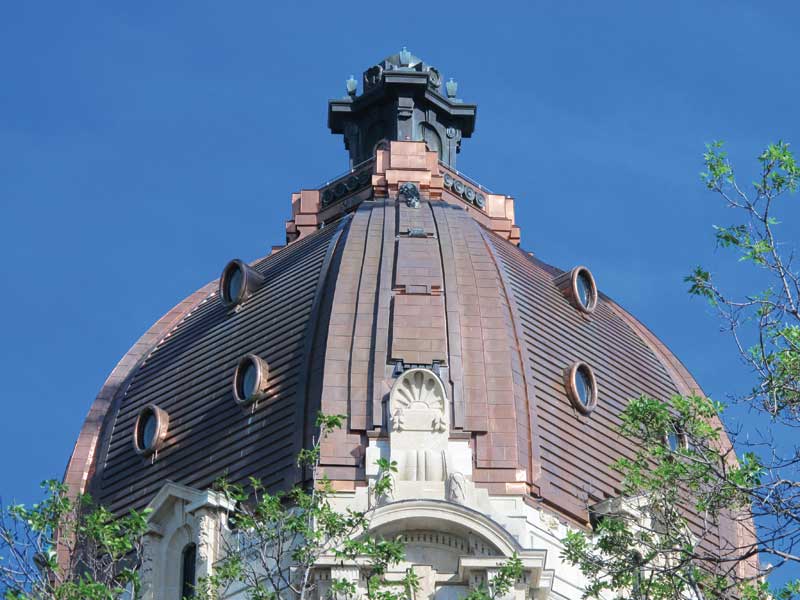 Patina
Although the dome appeared shiny when installed, typically, when left unprotected, copper and its principal architectural alloys naturally oxidize. This causes the metal to change in hue from the natural salmon pink colour through a series of russet brown shades to light and dark chocolate browns. From there, it will develop a dark, dull slate grey or dull black from which the ultimate blue-green or grey-green patinas emerge. Hues can vary from panel to panel, or even within the bounds of a panel.
In seacoast or industrial atmospheres like Regina, the natural patina generally forms in seven to 10 years. In rural atmospheres, where the quantity of airborne sulphur dioxide is relatively low, patina formation may not reach a dominant stage for 15 to 25 years. In arid environments, the basic sulphate patina may never form because the environment lacks sufficient moisture to carry the chemical conversion process to completion. The protective chemical reaction occurs when a corrosive attack of airborne sulphur compounds leads to a gradual change in the surface color until equilibrium is reached and the change is stabilized.
Centre Block
Another example of copper's longevity is the Centre Block of the Canadian Parliament Buildings, which is one of three Gothic Revival sister buildings forming Parliament Hill in Ottawa. It is also a Classified Federal Heritage Building and arguably the most important example of Canadian Heritage architecture. The latest structure, built between 1916 and 1927, has always maintained its character-defining copper mansard roofs, cresting, and decorative elements.
A major component of the East Pavilion Rehabilitation Project was the replacement of the existing copper batten roof, dormers, and all ornamental copper cresting, including finials that had either reached the end of their life cycle or were missing. Each component was replicated in kind with the original design and construction, honouring the heritage value of the building fabric. Where necessary, minor changes were incorporated into the building's design to improve the durability and decrease the risk of deterioration to the existing roof structure.
Alloys
Achieving these desired esthetics does not require sealers or paints. A wide variety of copper alloys are available for architectural use, including bronze, brass, copper nickel, and nickel silver are primarily used for decorative installations on the exterior and interior of buildings. These copper alloys are strong, lightweight, malleable, and highly corrosion-resistant, and thus are ideally suited for roofing applications. However, bronze, brass, copper nickel, and nickel silver are primarily used for decorative installations on the exterior and interior of buildings. When properly designed and installed, a copper roof provides an economical, long-term roofing solution. Its low life cycle costs are attributable to the low maintenance, long life, and salvage value of copper. Unlike many other metal roofing materials, copper requires no painting or finishing. Its natural patina eventually covers the surface, adhering tightly and providing a protective layer against weathering.
When considering typical copper systems, designers should reference ASTM B370, Standard Specification for Copper Sheet and Strip for Building Construction. This standard defines composition, dimensional tolerances, and mechanical properties. This family of metals can be the solution for many innovative building designs, especially those seeking to accentuate the natural environment.

Control the content you see on ConstructionCanada.net!
Learn More.