2016 CSC Conference: Setting sail for Halifax Harbour
by Katie Daniel | July 13, 2016 9:59 am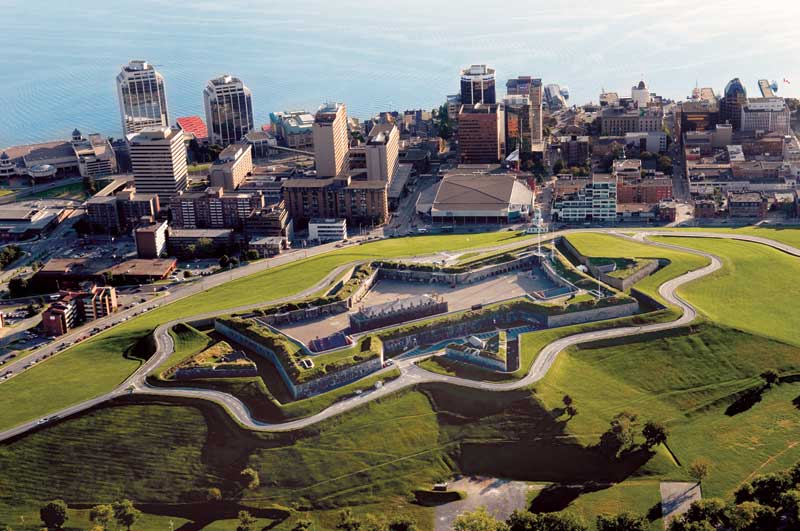 By Erik Missio
From May 25 to May 29, design/construction professionals from across the country gathered in Halifax for the CSC Conference 2016, hosted by the Atlantic Chapter. The event was titled "Building on History"—a fitting expression illustrating not only the type of educational sessions and social activities available, but also the very nature of CSC as an association.
While CSC remains forward-looking in its bid to improve Canada's design/construction community through quality education programs, publications, and services, the annual conference also gives it a chance to look back at accomplishments and enable networking, bringing together those new to the industry with established experts and mentors. The catchphrase may be "I am CSC," but in reality, the multi-disciplinary organization's strength lies in bringing together everyone to find solutions. ("We are CSC," in other words.)
The Halifax conference was a great success, and really allowed attendees to experience the unique qualities of the Nova Scotian capital. Companion tours enabled people to see the sights and taste local flavours, while the event's location—the Marriott Harbourfront Hotel—meant everyone was in the epicentre of the Haligonian scene. (Many a cry of "Sociable!" was heard as CSC delegates cheered glasses of local beers.)
The CGC-sponsored Fun Night was held at Pier 21—the seaport terminal through which more than a million immigrants came to Canada, and now an incredible museum. Pirates took the stage to explain the right (and wrong) ways to eat lobster, and were followed by musical performances by CSC member John-Nevan McCulloch (who covered both sea shanties and the Tragically Hip), local band Jesus Murphy, and a lot of partying in the Maritime tradition.
While there was much about the conference that was uniquely Halifax, other aspects remained the same from years past—building on the show's history with regular hallmarks like committee meetings, member forums, and other opportunities to set the navigation coordinates of the CSC ship.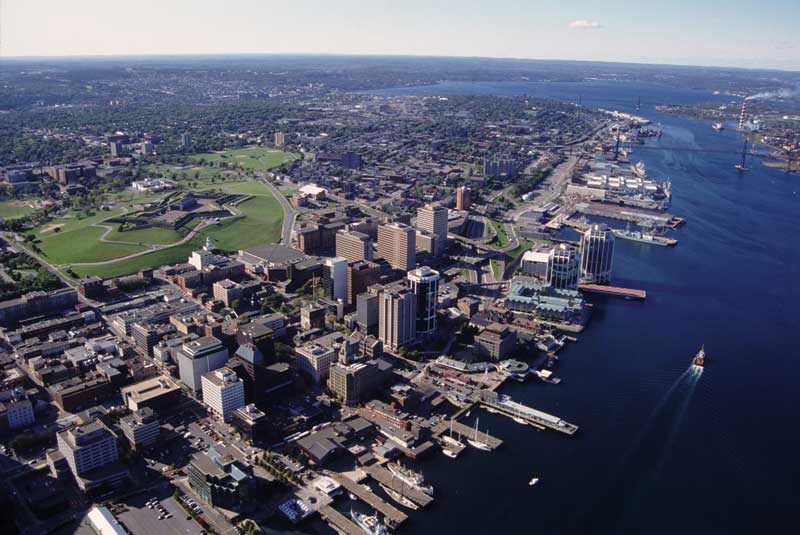 Another constant from previous conferences was the quality of keynote speakers, such as Colleen Jones, world champion curler, TV reporter, and author. Her talk, sponsored by Kingspan Insulated Panels, was inspiring and life-affirming, drawing on her own experiences bouncing back from sudden illness to her work with CBC, meeting older Canadians who continue to live their dreams.
As always, the technical sessions were as diverse and multi-disciplinary as the association's membership, with topics ranging from social media and websites to sustainable design and local landmarks, from door hardware specifications to design-build contracts (and everything else in between).
Interspersed with these professional development talks were numerous opportunities to network, whether via 'speed dates' or chats amongst the booths at Connections Café—where CSC opens the doors to the local industry and meets the sponsors. The socializing began with the Alumicor-sponsored Welcome Reception and did not end until after the closing festivities of the Soprema-sponsored President's Ball, where outgoing CSC President Peter Emmett arranged to have local singing superstar Heather Rankin perform.
As usual, some of the best networking took place in the evenings or during 'free-time' afternoons strolling along the boardwalk or on the golf course, as the nation's community of design/construction professionals took full advantage of finally being reunited in one place. New friendships and contacts were made, while longer-standing ones were re-strengthened.
Recognizing the best
The Rockfon-sponsored awards luncheon gave CSC a chance to celebrate its membership for work and dedication going beyond expectations. With the decorated banners of various chapters displayed for all to see, the annual event really cements how design/construction professionals have embraced the ethos to give back to not only their association, but also their industry. CSC's awards program is not solely about honouring past efforts, however—it is also about encouraging those named recipients to continue and increase their participation in association activities, while also instilling a similar enthusiasm in their fellow members.
Program Director's Awards
Over the lunch, Program Director's Awards were given out in numerous categories, but none were more timely than the accolade for the 2016 Conference Committee in recognition of its efforts and hard work toward ensuring an informative, educational, and fun time in Halifax. Members in attendance included:
Burtt Barteaux, FCSC;
Mary Brooks;
Mitchell Brooks, FCSC;
David Cameron;
Brian Colgan, FCSC, RSW;
Hedy Colgan;
John Connely, CTR;
Scott Cunning, CCCA;
Heather Emmett;
Peter S. Emmett, CCCA;
Steve Faulkner;
Susie Faulkner;
Harry P. Forbes;
Nancy Forbes;
Greer Grady;
Abigail MacEachern, RSW;
Amy McCulloch;
John-Nevan G. McCulloch;
Vincent Moseley;
Rick Thomas, CTR; and
Paula Webber.
Others were recognized for outstanding contributions completing the mandate of the Education Maintenance Task Team (EMTT). After a number of years of dedication, and with the last original member of the committee stepping down, the Education Certification Committee (ECC) program director's award went to:
Thomas Dunbar, FCSC, RSW;
Corinne Golding, FCSC, RSW;
Chris Lance, CCCA;
Russ Snow, CSP, CTR; and
Betty-Jo Tell, RSW, CCCA.
This year's Program Director's Award for Membership/Chapter Development and Communications was presented to Isabelle Champagne, CTR, for her activities with both the Toronto and Ottawa CSC Chapters. She also works closely with the Grand Valley Chapter's Cathie Schneider, CTR, co-chairing the student design competition.
National Award of Merit
CSC's National Award of Merit is presented to individuals or groups within the association for exceptional effort, zeal, and effectiveness. The Ottawa Chapter's chair, Sonia Zouari, CSP, CCCA, was fêted for her work on various CSC sustainability events and leading her contingent's growth.
The Student Design Competition guide-developers—the aforementioned Schneider and Champagne, along with Susan M. Cunha, Jared Cardiff, Juste Fanou, and Kazim Kanani, CCCA, CSP—were honoured for creating a means for other chapters to 'franchise' the successful initiative.
William D. Preston also received this award for numerous achievements, including his long stint on the Saskatoon Chapter executive and numerous local presentations and published legal articles.
F. Ross Browne Award
The F. Ross Browne Award, given to the author of the best article to appear in Construction Canada, as chosen by an elite jury of CSC members, was Gary Sturgeon for his March 2016 technical feature, "Canadian Masonry for Sound Buildings."
Life members
The CSC Life Award is the highest accolade the association can bestow on an individual in recognition of service to the association. It was conferred on two members this year, both past-presidents and Fellows: Stephen O. Revay, FCSC, and Keith Robinson, FCSC, RSW.
Revay joined CSC's Calgary Chapter in 1982, holding various executive positions right from the beginning. Throughout the 1990s, he served on the Trustees of CSC Alberta Section Training Trust Fund (AS TTF), which was instrumental in actions such as completing the Educational Resource Manual, developing home-study, two-day, and five-day workshop programs, and various seminars and certification programs.
The frequent lecturer and design/construction expert has received numerous awards, including the 1994 President's Award and the 1995 National Award of Merit; in 2002, the CSI Northwest Region gave him a Director's Citation for co-chairing a conference with CSC's U.S. counterparts.
"I was honoured to be presented with the Life Award because of our Association's mission and its members," Revay said, after the ceremony. "When I look at the people who have previously received the award, I feel truly humbled to be included in that esteemed group. I firmly believe CSC's goal to improve the quality of constructions documents is exceedingly important for our industry.
I continue to be impressed with the people in our association who care about each other and are equally passionate about our mission—I consider many to be friends."
The other Life Award recipient, Keith Robinson, joined CSC in 1988, as part of a specifying and construction administration career that has taken him from Belize and Egypt to Japan and Nunavut. He mentors specifiers as part of his role at DIALOG, and also teaches at the University of Alberta and lectures to many different associations and at many conferences throughout the year.
Robinson has held multiple offices at the CSC Edmonton Chapter and at the national level; his myriad contributions include participation in everything from seminar and course development to modifications for CSC/CSI SectionFormat/PageFormat, OmniClass, and MasterFormat. He is also a member of Construction Canada's Editorial Advisory Board.
"Finding out that I had been awarded the CSC Life Membership made me feel humbled and a bit out of place," Robinson told Construction Canada. "It caused me to look at myself in a different light, in context with previous Life Members, several of whom were in the audience during the award ceremony. I realized the people I respected and that influenced my career growth had succeeded—a bit of them rubbed off on me, and now am one of them. I have a definite sense of pride in receiving the Life Membership Award and look forward to helping others on their paths in the same way my mentors guided me."
Okanagan ho!
Next year, the Vancouver Chapter of CSC will be hosting the annual conference in Kelowna, B.C.—home to stunning lakeside vistas, vineyards, mountains, forests, and possibly Ogopogo—a legendary local sea serpent. Even if those planning on making the trip fail to catch a sight of the Canadian counterpart to the Loch Ness Monster, the event still promises to be full of education, networking, and fun-filled opportunities.
NEW FELLOWS
The CSC College of Fellows was inaugurated by the Board of Directors in 1967 for the purpose of officially recognizing members who have made outstanding contributions to the association. This year, three candidates were elected for Fellowship: Harry P. Forbes (Atlantic Chapter), Herb T. Guhl, RSW (Edmonton Chapter), and Kimberly J. Tompkins, CTR (Vancouver Chapter).
Forbes has been a member of CSC since 2001, earning numerous awards and holding various posts in the Atlantic Chapter executive, including chair, director, and co-chair of two Halifax conferences—this year and 2008. During his career as a successful technical representative, the "CSC diplomat" has maintained a strong presence in the Nova Scotia construction industry.
Also at the conference receiving Fellowship was Tompkins, whose advocacy for CSC professional development courses began soon after she obtained her Certified Technical Representative (CTR) designation in 1999; her work on the CTR Subcommittee was instrumental in improving the designation process. Other national activities include work with marketing and strategic planning and extensive participation at the Vancouver Chapter level, from being chair to co-organizing its national conference in 2007 (and preparing for the 2017 event in Kelowna). A tireless advocate for the association, Tompkins has also been recognized by numerous other industry groups for her passion and achievements.
Guhl, who was unfortunately unable to attend this year's conference, has been an active member of the Edmonton Chapter for the past 40 years, and a frequent speaker, instructor, and advocate when it comes to CSC education and certification. Formerly the public-sector owner representative on the Canadian Construction Document Committee (CCDC), he contributed to the development of numerous industry standard documents and also updated CSC's own programs. Guhl was also instrumental in promoting use of CSC Registered Specification Writers (RSWs) on project consultant teams by indicating a preference for CSC members in requests for proposals (RFPs) issued by his employer, Alberta Infrastructure.
CELEBRATING THE CHAPTERS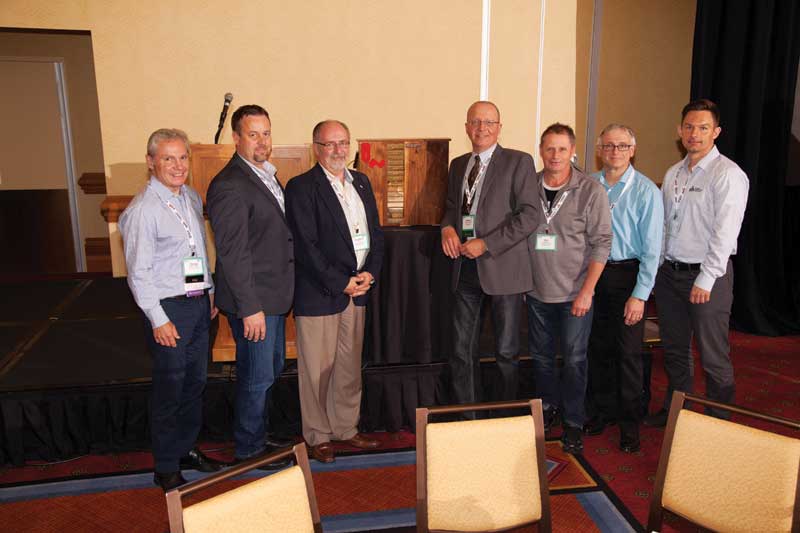 The President's Chapter Awards encourage and recognize active, forward-looking chapters, based
on a calculation in six categories, including attendance, communications, and growth, to name a few. The qualifiers for 2015−2016 were: Atlantic, Calgary, Edmonton, Grand Valley, Ottawa, Regina, Saskatoon, Toronto, Vancouver, Vancouver Island, and Winnipeg.However, the year's 'best' chapter is always the one recognized with the Lloyd Boddy lectern. This Chapter of the Year Award takes a holistic look, with the association president, immediate past-president, and executive director evaluating the local groups based on membership stability, professional development and networking opportunities, and 'spirit.' This year, the prestigious prize went to the Winnipeg Chapter.
The Chapters themselves also took time to celebrate their own membership through Chapter Awards of Merit:
Atlantic: Louis A. Beaubien;

Calgary: Stephanie Fargas, CSP, Sylvie Dzikewich, CTR, and Jacques A.F. Gauthier, CCCA;

Edmonton: Jeff Halashewski and Tracey Stawnichy;

Grand Valley: Colin Goheen, CTR, and Jane Fish, CCCA;

Montréal: Yvon Lachance, CCCA, and Dave Barriault;

Ottawa: Michael E. Thornber;

Regina: Carma Holmes;

Saskatoon: Trevor Knoll;

Toronto: Paul Wong, CSP, Bruce Hudson, CTR, Kaz Kanani, CCCA, CSP, and Rajiv Rattan, CCCA, CSP;

Vancouver: Bradley Morris, CSP, Eric Poxleitner, and Brian Maher, CTR;

Vancouver Island: Terrence Bergen, CCCA, and Grace Bergen; and

Winnipeg: Terri Randall, Brenda Thompson, and Jennifer Webber.
MEMBERSHIP HAS ITS PRIVILEGES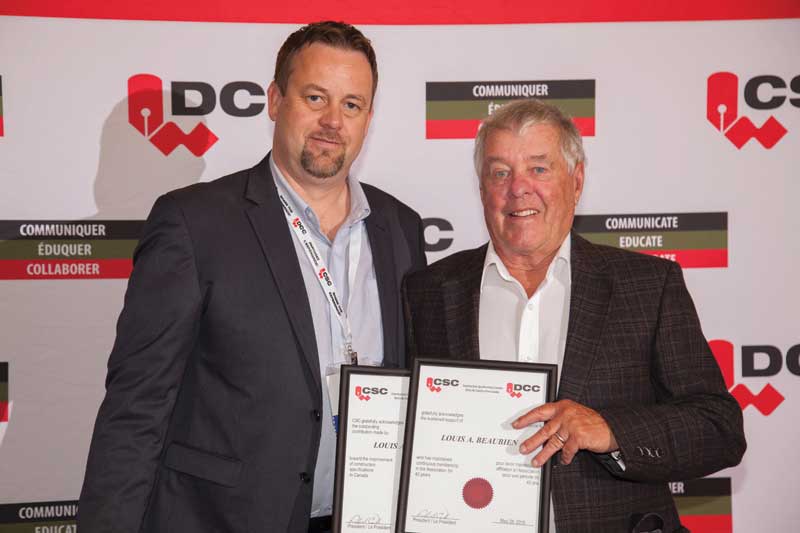 As always, CSC embraces its new members for the fresh ideas and vitality they bring, but also pays homage to its long-term design/construction professionals that offer an insight, legitimacy, and continuity otherwise unattainable. Therefore, while there was much excitement over the Toronto Chapter's Kaz Kanani, CCCA, CSP, taking the Russell W. Cornell Award for sponsoring 28 new members, there was also great respect for those who came up to receive their Longevity Awards.
CSC vice-president Greg Hofsted stands with the Atlantic Chapter's Louis Beaubien, who celebrated 40 years of continual membership.
55 years
David R. Gillard, RSW
Donald Ivkoff, RSW
50 years
Forrest D. Grierson, RSW
Joe Liff
Chris R. MacPhail, FCSC
Wayne N. Watson, FCSC, RSW
45 years
John Clinckett, FCSC, RSW, CCCA
40 years
Louis A. Beaubien
Guy Duchesneau, FDCC, FCSC
David J. Egan, FCSC, RSW
Gino L. Ferri, FCSC
John Grava
Ronald G. Giberson
Herb T. Guhl, RSW
Fred A. Wright, FCSC
35 years
Eric Boettger
Eileen J. Bredeson, FCSC, RSW
Wayne M. Hydeman
Norbert H. Maertins
Edward C. Medynski, RSW
Thomas Daly
Bob Trafananko
30 years
J.N. Adkins
Alain Belanger
Steve Carter-Edwards, CCCA
Serge Gosselin
Chris S. Johnson, FCSC, RSW
Kevin McIlmurray
Michael Pace
Bruce Peberdy
David Reburn, FCSC, CTR
Guido Rapone
Catherine L. Saar-Paradis, FCSC, RSW, CCCA
25 years
Tom Atkins
Michel Briere
Bob Friesen, CCCA
David M.A. Gill
Guy F. Hewlko
Ralph Jamieson
Timothy Lee, RSW
Rick Martin, CTR
Bradley A. McGill
Sam Menzies
John A. Vlooswyk
David Watson, FCSC, CSP
20 years
Garry N. Booth
Michel Bourassa
Greg Brown
Rick Burton
Jeff Cordick
Dragan Djurickovic
Len Gendall
Colin Goheen, CTR
Peter Hiebert, CTR
Ian Hutcheson, CTR
Paraic Lally
Allan Law
Alan Martin
Ian McKay
Gerald Morin, CTR
Dwayne L. Penner, CCCA
Steve Zupko
15 years
Jason Alsip
Serge Arsenault
Kevin Blanchette
Peter C. Bowden, CTR
Donato Cafarelli, CCCA
Gordon W. Debbert, CCCA
Gene Drouin
Don Falconer
Mark Felt, CCCA
Terry Fish
Harry P. Forbes
Shane Friars
Dean Garbutt
Mike Garlinski, FCSC
Gerald Garvin
David A. Graham
Joy Griggs, CCCA, CSP
Shawn Harrington, CCCA
Tom Heisler
Jason Hicks
Joe Ippolito, CTR
Richard Kassner
Ted Katsoris, CCCA
Marc Koot
Krystyna Kotowski, CCCA
David Lacelle
Nick Leone
Gary Mackin
Chris Makepeace
John D. McCutcheon
David Milburn, CCCA
Richard Nichols
Jennifer Osther
Patricia Paz-Soldan, CCCA
Marcus Poirier, CTR
Greg Popowich, CCCA
Mohsen Rassem
Rajiv Rattan, CCCA
Rosemary Redgrift
Moira Rowan
John Sandmoen, CTR
Paul Schepens
Cathie Schneider, CTR
Peter Serino, CTR
Dr. Davor Stefan
Jozef Urban, RSW, CCCA
Keith Wilson
Emery Yakowich
10 years
Nives Ambrosia
Gary L. Beimers
Christian Bisson
Joe Black, CTR
Sophie Brochu
Dean Buchholz
Don Casey
Frank Cavaliere
Daryl Cherry
A. John Cope
Susan M. Cunha
Hugh Davison
Guy Diamond
Steven Gaudet
Mark Gensey, CTR
Rory Gin, CCCA
Anik Girard
John Harquail, CTR
Barb Hilderman
Roanne Kelln
Bettina Kurian
Terry Ledger
Brian Lindgren, CTR
Steve Londry
Mario Maggio
Jeff Mannix, CCCA
Faith Neil
John Pystchula
Jayne Raeburn
Martin Renault
Ralph Sandl
Tim Senkow, CCCA
Jon M. Shaw
Edward A. Sheridan
Hank Staresina
Gary Sturgeon
David P. Thompson
Richard Toth
Manon Tremblay
Scott VanderSchoor, CCCA
Lucie Vézina
Donald Wood, CCCA
Shelagh Wright, CTR
Source URL: https://www.constructioncanada.net/2016-csc-conference-setting-sail-for-halifax-harbour/
---