MEMBERSHIP HAS ITS PRIVILEGES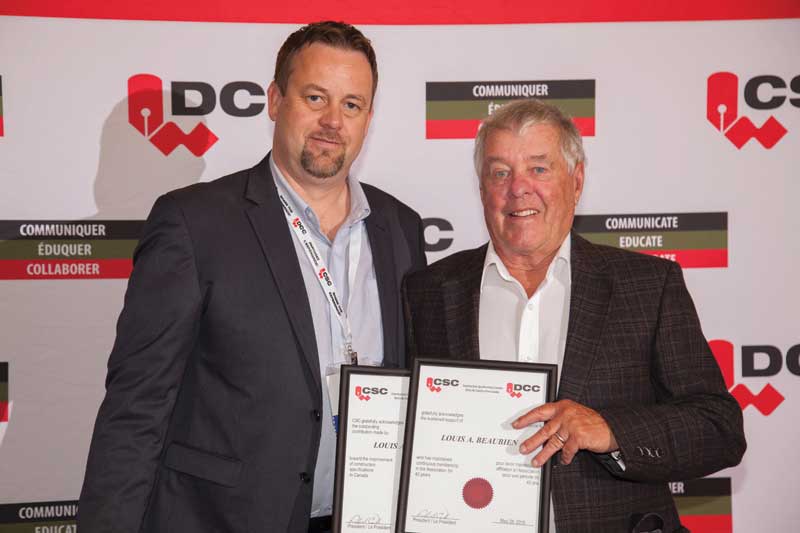 As always, CSC embraces its new members for the fresh ideas and vitality they bring, but also pays homage to its long-term design/construction professionals that offer an insight, legitimacy, and continuity otherwise unattainable. Therefore, while there was much excitement over the Toronto Chapter's Kaz Kanani, CCCA, CSP, taking the Russell W. Cornell Award for sponsoring 28 new members, there was also great respect for those who came up to receive their Longevity Awards.
CSC vice-president Greg Hofsted stands with the Atlantic Chapter's Louis Beaubien, who celebrated 40 years of continual membership.
55 years
David R. Gillard, RSW
Donald Ivkoff, RSW
50 years
Forrest D. Grierson, RSW
Joe Liff
Chris R. MacPhail, FCSC
Wayne N. Watson, FCSC, RSW
45 years
John Clinckett, FCSC, RSW, CCCA
40 years
Louis A. Beaubien
Guy Duchesneau, FDCC, FCSC
David J. Egan, FCSC, RSW
Gino L. Ferri, FCSC
John Grava
Ronald G. Giberson
Herb T. Guhl, RSW
Fred A. Wright, FCSC
35 years
Eric Boettger
Eileen J. Bredeson, FCSC, RSW
Wayne M. Hydeman
Norbert H. Maertins
Edward C. Medynski, RSW
Thomas Daly
Bob Trafananko
30 years
J.N. Adkins
Alain Belanger
Steve Carter-Edwards, CCCA
Serge Gosselin
Chris S. Johnson, FCSC, RSW
Kevin McIlmurray
Michael Pace
Bruce Peberdy
David Reburn, FCSC, CTR
Guido Rapone
Catherine L. Saar-Paradis, FCSC, RSW, CCCA
25 years
Tom Atkins
Michel Briere
Bob Friesen, CCCA
David M.A. Gill
Guy F. Hewlko
Ralph Jamieson
Timothy Lee, RSW
Rick Martin, CTR
Bradley A. McGill
Sam Menzies
John A. Vlooswyk
David Watson, FCSC, CSP
20 years
Garry N. Booth
Michel Bourassa
Greg Brown
Rick Burton
Jeff Cordick
Dragan Djurickovic
Len Gendall
Colin Goheen, CTR
Peter Hiebert, CTR
Ian Hutcheson, CTR
Paraic Lally
Allan Law
Alan Martin
Ian McKay
Gerald Morin, CTR
Dwayne L. Penner, CCCA
Steve Zupko
15 years
Jason Alsip
Serge Arsenault
Kevin Blanchette
Peter C. Bowden, CTR
Donato Cafarelli, CCCA
Gordon W. Debbert, CCCA
Gene Drouin
Don Falconer
Mark Felt, CCCA
Terry Fish
Harry P. Forbes
Shane Friars
Dean Garbutt
Mike Garlinski, FCSC
Gerald Garvin
David A. Graham
Joy Griggs, CCCA, CSP
Shawn Harrington, CCCA
Tom Heisler
Jason Hicks
Joe Ippolito, CTR
Richard Kassner
Ted Katsoris, CCCA
Marc Koot
Krystyna Kotowski, CCCA
David Lacelle
Nick Leone
Gary Mackin
Chris Makepeace
John D. McCutcheon
David Milburn, CCCA
Richard Nichols
Jennifer Osther
Patricia Paz-Soldan, CCCA
Marcus Poirier, CTR
Greg Popowich, CCCA
Mohsen Rassem
Rajiv Rattan, CCCA
Rosemary Redgrift
Moira Rowan
John Sandmoen, CTR
Paul Schepens
Cathie Schneider, CTR
Peter Serino, CTR
Dr. Davor Stefan
Jozef Urban, RSW, CCCA
Keith Wilson
Emery Yakowich
10 years
Nives Ambrosia
Gary L. Beimers
Christian Bisson
Joe Black, CTR
Sophie Brochu
Dean Buchholz
Don Casey
Frank Cavaliere
Daryl Cherry
A. John Cope
Susan M. Cunha
Hugh Davison
Guy Diamond
Steven Gaudet
Mark Gensey, CTR
Rory Gin, CCCA
Anik Girard
John Harquail, CTR
Barb Hilderman
Roanne Kelln
Bettina Kurian
Terry Ledger
Brian Lindgren, CTR
Steve Londry
Mario Maggio
Jeff Mannix, CCCA
Faith Neil
John Pystchula
Jayne Raeburn
Martin Renault
Ralph Sandl
Tim Senkow, CCCA
Jon M. Shaw
Edward A. Sheridan
Hank Staresina
Gary Sturgeon
David P. Thompson
Richard Toth
Manon Tremblay
Scott VanderSchoor, CCCA
Lucie Vézina
Donald Wood, CCCA
Shelagh Wright, CTR

Control the content you see on ConstructionCanada.net!
Learn More.